Melbourne Royal Show moves to calm the farm with return to rural roots
Save articles for later
Add articles to your saved list and come back to them any time.
The Melbourne Royal Show has declared it will return to its agricultural beginnings after some farmers abandoned last year's event and criticised it for moving away from its rural roots of livestock and farming.
Donning a wide-brimmed hat, Melbourne Royal chief executive Brad Jenkins said this year's Show would be all about agriculture. "There are going to be more farm experiences than ever before," he said at Wednesday's official launch.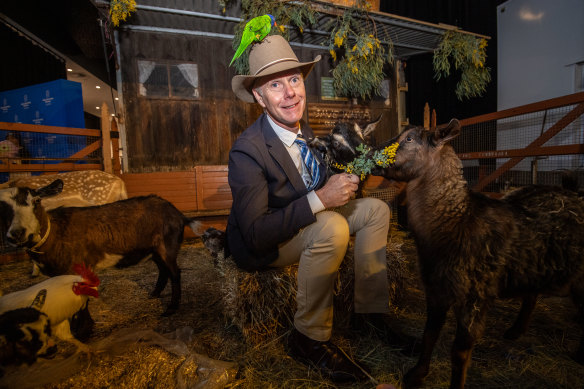 Melbourne Royal chief executive Brad Jenkins says this year's Show will focus on agriculture.Credit: Justin McManus
The Show – which runs from September 21 to October 1 – will mark its 175th year with more than 7000 animals, two new animal precincts and a new rural pavilion offering pony rides and showcasing working dogs.
In a first, a new executive general manager for agriculture – Darren Keating – will oversee the estimated 20 per cent increase in agricultural content.
"Every day there will be sheep, beef cattle, and alpacas for children to interact with," said Keating, who took the role six months ago.
Victorian farmer Darryl Sheridan, who has been attending his "favourite" event since 2015, will take 200 animals to the Melbourne Showgrounds.
Chloe (left) and Olivia Alabakis try the amusements on offer at this year's Melbourne Royal Show.Credit: Justin McManus
"I'm basically picking up my farm from Kyneton and bringing it to the Showgrounds," he said.
Keating was confident there would be no biosecurity scares, after last year's event was overshadowed by the threat of foot and mouth disease.
"We've got a clean bill of health for our animals this year," he said.
Favourites such as the animal farmyard and nursery will return, with the latter moved to a central location offering more space for children to interact with animals.
Carlie Young and son Arlo try their luck on the clown mouth game.Credit: Justin McManus
The main stage will focus on family fun with daily Bluey, SpongeBob SquarePants and Cocomelon shows.
There will also be a new Paramount+ parade, with live characters from Paw Patrol and Teenage Mutant Ninja Turtles, and a Jurassic Unearthed animatronics exhibition, where the adventurous can crack a plaster dinosaur egg.
A daily 15-minute performance will celebrate Indigenous Australia and the outback, while international comic daredevil Bello Nock will perform tricks to rival Airtime Freestyle Motocross, the team that has long been a crowd favourite.
There will be four new rides: the Warrior – the tallest ride in Australia, which drops thrillseekers 55 metres – along with the swinging Joker, and the family friendly, octopus-themed Beach Party and Samba Balloons.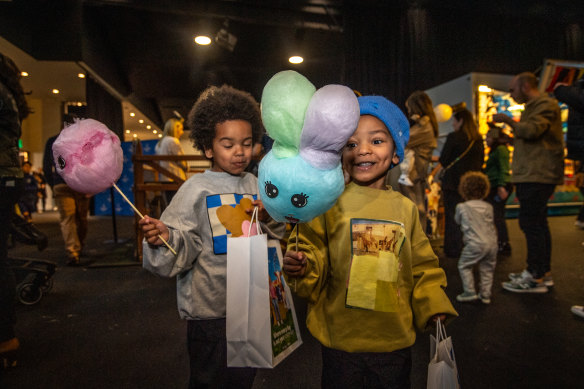 Easton and Hudson Mutepfa with fairy floss. The Show staple will be at a fixed price this year.Credit: Justin McManus
And of course, there are the showbags, with 367 on offer this year.
Organisers hope to again attract young adults after the success of last year's live music event The Show After Dark, in a partnership with music promoter Live Nation. The 2023 lineup will be announced this month. Concert tickets are $29 for adults and $15 for children aged 5-14.
There will be 15 food precincts and, in a response to cost-of-living pressures, there is a price freeze on top sellers including potato spirals and fairy floss, said Hannah von Bibra, who is responsible for feeding up to half a million visitors.
"Food options will range from the budget friendly to premium options with some of Melbourne's best names like Mr Miyagi, Tokyo Lamington and Wonderbao, as vendors," von Bibra said. "There's something for everyone."
Organisers will cap the attendance to 50,000 a day – previously it was unlimited – to "provide the best experience possible".
Attendees are encouraged to use public transport to get to the event, which changed its name from the Royal Melbourne Show last year.
The City of Moonee Valley Council has repeated its call on the state government to offer free public transport to discourage people from driving, to avoid the traffic bedlam of previous years. Last year, the government only encouraged people to use the extra train and tram services running through the school holidays.
The council also warned it would ramp up parking enforcement to reduce the impact in nearby residential streets.
"We would encourage anyone going to the show by car to be respectful of our local residents by not parking in their driveways, nature strips or areas where everyone's safety could be reduced," Moonee Valley Mayor Pierce Tyson said.
Show tickets are on sale online now. Tickets for adults are $47.50 and $34 for concession holders. Tickets for children aged 5-14 are $25, and younger children enter for free.
Get the day's breaking news, entertainment ideas and a long read to enjoy. Sign up to receive our Evening Edition newsletter here.
Most Viewed in National
From our partners
Source: Read Full Article