Quick to help: Fun run has serious role changing lives
Save articles for later
Add articles to your saved list and come back to them any time.
In 2010, when she was 18 years old, Al Viney was seriously injured in a car accident. She suffered nerve and joint damage to her left arm, which crushed her dream of being an Olympic rower.
Then there was the mental fallout. Viney says that for years, a gentle golden retriever called Charlie was a lifeline, helping with her post-traumatic stress disorder.
Al Viney finished the Run Melbourne 10-kilometre course in a faster time than she anticipated.Credit: Wayne Taylor
"I'm not sure what my life would have looked like without him," she said. "If I had one of my panic attacks or moments of sadness, he would pick up on it really quickly.
"He'd come and sit near me, or on my legs, or put a paw on me.
"It allowed me to thrive because I knew that I had him to rely on. He was there to support me."
Viney, 31, who went on to row for Australia at the Tokyo Paralympics in 2021, wants others in need to have access to therapy dogs.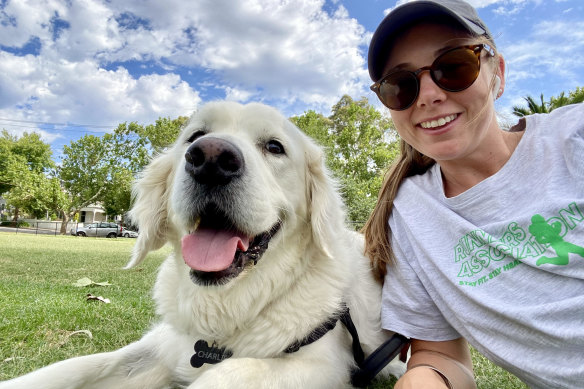 Best mates: Viney with Charlie, her therapy dog that died in February.
On Sunday, she ran in Run Melbourne's 10-kilometre event to raise money and awareness for Guide Dogs Victoria, which trains therapy dogs
Viney was one of more than 20,000 runners who defied the cold to take part in 5.2-kilometre, 10-kilometre or half-marathon runs.
The runners combined raised about $1 million for more than 300 charities.
Since Charlie died in February, Viney has volunteered caring for puppies at Guide Dogs Victoria's Kew headquarters.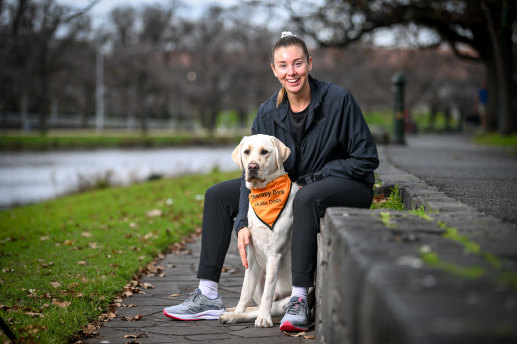 Paralympian Viney near the Princes Bridge rowing sheds with a Guide Dogs Victoria therapy dog called Paolo.Credit: Eddie Jim
Viney, a full-time athlete who hopes to qualify to row at the 2024 Paris Paralympics, also took up running for recreation.
"It was a way for me to look after my wellbeing and mental health after Charlie passed away and to get back outside, which is where I would walk my dog," she said.
Viney completed the Run Melbourne 10-kilometre course – along Birrarung Marr and around the Royal Botanic Gardens and Fawkner Park in South Yarra, finishing at Grand Slam Oval near Rod Laver Arena – in just over 50 minutes. It was five minutes faster than anticipated.
"About halfway in, I was like, what the hell, I'll have a little crack," she said. "I went a bit faster than I was going to. But it was fun."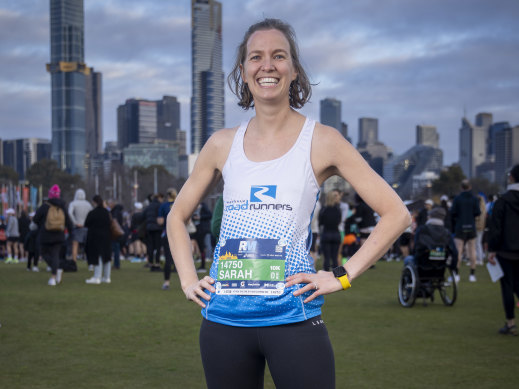 Sarah Kelly at Grand Slam Oval at Melbourne Park before Run Melbourne.Credit: Wayne Taylor
Sarah Kelly, of Beaconsfield in Melbourne's south-east, ran the 10-kilometre course to celebrate her return to health after being diagnosed with brain cancer almost two years ago.
The 38-year-old resumed running, which she used to love, earlier this year after completing treatment, which involved brain surgery, radiotherapy and chemotherapy.
Kelly, who also recovered 10 years ago from years of chronic fatigue syndrome, ran with fellow survivors of chronic illness who wore duck hats to symbolise rising above adversity.
Kelly, who has a toddler, says training for Run Melbourne has motivated her to exercise.
Terry and Joan O'Halloran, who founded Run Melbourne in 2008.Credit: Wayne Taylor
"There are days when you don't want to get out and run, but you have to, because you signed up," she said.
Joan O'Halloran, who founded Run Melbourne with her husband Terry in 2008, ran the 5.2-kilometre course on Sunday with her daughter-in-law Katie and granddaughters Millie and Eliza.
More than $19 million has been raised for charities by supporters sponsoring Run Melbourne entrants, she says.
She says Run Melbourne has promoted health and fitness, sometimes for people who "couldn't run around the block" before the event spurred them to train.
"It has changed lives," she said.
Lifeline: 13 11 14
The Morning Edition newsletter is our guide to the day's most important and interesting stories, analysis and insights. Sign up here.
Most Viewed in National
From our partners
Source: Read Full Article