Car use zooms back, risking Australia's climate targets
Save articles for later
Add articles to your saved list and come back to them any time.
Australia's love affair with the car is zooming back after COVID-19 travel restrictions and coupled with a sustained scepticism of public transport that sunk in during the pandemic, the rising trend of transport emissions is threatening Australia's ability to reach its legally binding climate targets.
In the year to March 2021, at the height of the pandemic and its lockdown travel restrictions, Australia's transport emissions – driven predominantly by car use – fell 13.2 per cent to 86.5 million tonnes of greenhouse gas.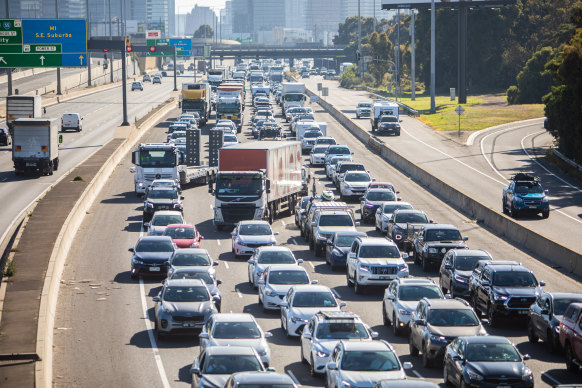 Australia's love affair with the car is creating headaches for policymakers. Credit: Scott McNaughton
Since the lifting of restrictions, people are enthusiastically resuming their pre-pandemic driving habits, and they're not getting back on to public transport. Weekday public transport travel in Sydney and Melbourne is down about 20 per cent compared with pre-COVID levels.
Car use is as enthusiastic as ever, and transport emissions rose to 93.1 million tonnes in the year to September 2022, which is the most recent government data – up 7.6 per cent since March 2021.
If the trend in car use continues, emission levels could soon draw level with pre-pandemic levels, which reached a height of 100.2 million tonnes in December 2019.
The Albanese government announced in April that mandatory pollution caps will be applied to new cars for the first time under a fuel efficiency standard to be imposed on manufacturer's fleets of passenger vehicles. This will limit the average emissions produced by the overall fleet of vehicles sold into the market by a manufacturer to encourage them to sell more electric vehicles.
However, independent ACT senator David Pocock, whose vote could be crucial to the government when it seeks parliamentary support for the reform, said the government's failure to detail a goal for the pollution reform was a "deficiency that leaves the design of the [fuel efficiency standard] directionless and ineffectual".
The 15-year average lifespan of a car means that petrol or diesel vehicles that are sold in 2035 or later could be on the road in 2050, risking Australia's commitment to reach net zero emissions by mid-century.
Pocock said in his submission to government consultation on its yet-to-be-finalised fuel efficiency standard that the government must impose caps that ratchet up over time to bar the sale of petrol and diesel vehicles by 2035 and should be strong enough in its initial years to reduce sales of polluting vehicles from 2024 onwards.
Australia has trailed other wealthy nations in adopting electric vehicles. They made up 3.8 per cent of new car sales in 2022, compared to 8 per cent in the US, 23 per cent in the UK and 25 per cent in Europe.
The Albanese government has policies in place to decarbonise the energy sector by driving renewables to 82 per cent of electricity generation by 2030 and to cut emissions from the nation's 215 biggest heavy industry polluters with its revamped safeguard mechanism.
Professor Frank Jotzo, director of the Centre for Climate Economics and Policy at Australian National University, said major transport reform, including public, is a major hurdle on Australia's path to net zero emissions by 2050.
"In the not-too-distant future, transport will be the dominant source of emissions," Jotzo said.
"A long-term modern transport strategy absolutely needs to include much greater shares of public transport.
"It will not do for governments to simply say that people should take public transport," Jotzo said. Australia's relatively low share in public transport use compared to other developed nations was largely driven by the fact infrastructure had not kept pace with population growth and demand, he said.
"To get people out of their cars and onto public transport it needs to be very attractive, it needs to be comfortable and more importantly, it needs to be frequent, it needs to be reliable and it needs to be affordable."
Every Friday, Please Explain's expert panel brings you analysis and the inside take on the big political issues of the week. Subscribe here.
Most Viewed in Politics
From our partners
Source: Read Full Article