Female-specific cancers to be added to firefighter compensation scheme
Save articles for later
Add articles to your saved list and come back to them any time.
Female-specific diseases such as cervical, ovarian and uterine cancers will be added to the list of conditions that are automatically presumed to be caused by professional firefighting, under a plan to be unveiled by the Andrews government on Friday.
A cabinet minister, who was briefed on the changes earlier this week, said the incoming reforms would extend to female firefighters, female mechanics employed by fire services and women who work in forest fire prevention.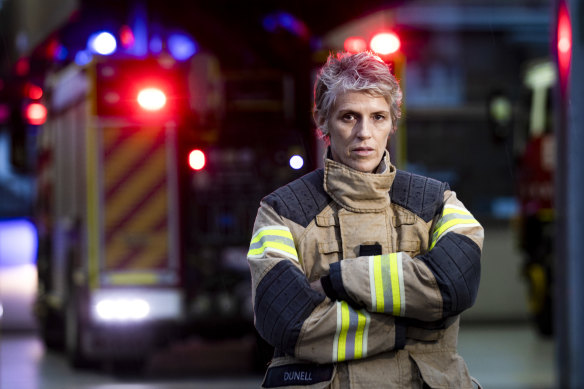 Firefighter Katherine Dunell welcomes the expansion of the presumptive cancer laws to female-specific cancers but says it should only apply to firefighters, not other fire services workers.Credit: Jason South
"It's taken a while, but we're getting it done," said the senior Labor MP, speaking on the condition of anonymity to discuss government matters.
The government promised former Derryn Hinch Justice Party MP Tania Maxwell two years ago that it would add female-specific cancers to the existing workers' compensation scheme.
Under the scheme, if a professional firefighter develops cancer it is presumed to be as a result of their profession – effectively reversing the traditional onus of proof. About 5000 paid firefighters are covered, as are some 90 maintenance staff.
The reform, which could be brought before parliament within weeks, will likely reignite tensions between Labor and the professional firefighters' body.
While the United Firefighters Union (UFU) is supportive of expanding the number of cancers covered by the laws, it has long campaigned against them applying to employees who work on vehicle and equipment maintenance.
Personal injury lawyers have previously warned the inclusion of people who aren't firefighters could make it easier for insurers to challenge claims because mechanics are exposed to fewer risks from toxic fumes. The government has insisted maintenance workers who attend fires should have the same rights as professional firefighters.
UFU boss Peter Marshall on Wednesday called for an urgent parliamentary inquiry.
"The presumptive cancer legislation that supports professional firefighters is underpinned by comprehensive scientific medical research, which establishes the link between the occupation of firefighting and cancer," he said.
"By ignoring that scientific evidence and expanding presumptive cancer legislation to non-firefighters, the Andrews government is putting the integrity of those laws at risk."
Geelong-based firefighter Katherine Dunell, who has been present at major chemical blazes, told The Age: "Mechanics don't go into burning buildings. Firefighters do."
However, she said she wanted to see female-specific cancers added to existing laws. Testicular and prostate cancers are already covered by Victoria's scheme.
"At the moment, female firefighters, who do the same job as their male counterparts, do not have the same presumptive cancer protections in place," she said.
Dunell said she was not aware of any female firefighters in Victoria with cancer, but did know of one in Western Australia who wasn't covered by presumptive cancer laws. There were just over 20 women firefighters in Victoria as of 2019.
The Greens unveiled their own bill on Wednesday, arguing that the government had taken too long to close the "gender medical data gap". That bill focuses on covering firefighters with primary site ovarian, cervical and uterine cancer once they've been in the job for a decade.
Asked if the party was open to supporting legislation that covered female mechanics, Greens leader Samantha Ratnam said: "This is the reform that we're putting on the table."
The UFU has called on Labor to support the Greens' bill. During last year's state election, the union urged voters to put government candidates last in key seats, including Richmond, which Labor lost to the Greens.
Marshall campaigned for Premier Daniel Andrews in 2014, but the pair later had a public falling out over controversial fire services reforms, which included presumptive cancer laws.
Andrews rubbished the Greens on Wednesday, describing the party as the "commentators in the cheap seats".
"We won't be having to rely upon a Green political party bill," he said. "Let me make it clear: we will have more to say about this, and it'll have precisely nothing to do with the Green political party.
"I'm not at liberty to talk about matters that cabinet may well have considered a couple of days ago, for instance. That's not appropriate. But announcements will be made in due course."
In response, Ratnam said the Greens had been championing these reforms for more than a decade.
"We really welcome more and more people getting on board so we can have a multi-partisan agreement on this," she said.
"One of our jobs as the Greens in the Victorian parliament is to push the government to go further and faster at every opportunity on progressive reforms."
While shadow cabinet has not yet discussed Labor's plans or the Greens bill, the government's changes are expected to pass the upper house given the opposition did not oppose previous expansions of the presumptive cancer scheme.
The Coalition's emergency services spokeswoman, Ann-Marie Hermans, told The Age that all firefighters, regardless of their sex, deserve to be supported by "appropriate" presumptive cancer laws.
The Morning Edition newsletter is our guide to the day's most important and interesting stories, analysis and insights. Sign up here.
Most Viewed in Politics
From our partners
Source: Read Full Article