Drew Barrymores New York Mag profile is so good & also kind of heartbreaking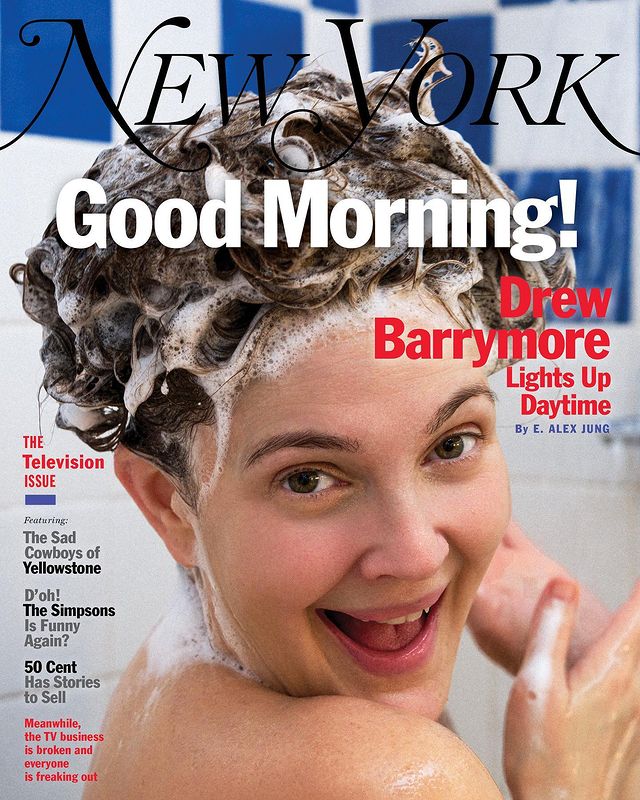 Drew Barrymore covers the latest issue of New York Magazine, and this profile is a total fever dream. Drew is… Drew. At this point, I feel like people know what they're getting, for better or for worse. She's not someone who secretly has a completely different personality off-camera. She's the same enthusiastic, dorky work-in-progress as always, just with more therapy and wisdom these days. Drew is also riding high with her daytime talk show, which is why she's on the cover of New York. The show is filmed in New York, and she lives in the city now with her two daughters, and she's still close to her (third) ex-husband and his family. This profile is about how Drew didn't have to change, she just stayed true to herself and people eventually started watching her talk show. It helps that she has a world-class social media team, and that she started booking guests who were willing to really talk about their own troubled histories (because Drew will sit there and be like "me too, girl"). Anyway, the profile is chaotic and messy but also very Drew. Some highlights:
Active love: Her longtime therapist Barry Michels would call this "active love." With his colleague Phil Stutz, Michels is a practitioner of what they call "the tools," a fusion of Jungian psychiatry and self-help. (It's very popular in Hollywood.) In so many ways, the emotional structure of The Drew Barrymore Show, which is to say, how Drew Barrymore thinks and feels, manifests these precepts. Active love, a technique used to shove negativity out of the mind, goes something like this: "Imagine you're in a universe completely made out of love. It's a world that's almost dense with loving energy. Feel yourself taking in all the love in the universe and gently but firmly place it all in your heart. Right at that moment, you're the principal leader of love in the whole universe."

She actually sets non-negotiable rules for her daughters: "Like, 'Can't do anything else until homework is finished.' Just consistency. Homework, dinner, bath. It took me so long to learn the simplicity of how to say 'no' because growing up, I didn't know how comforting and safe that is."

Her three marriages: "In my early 30s, I realized I didn't have any relationships that could have gone to the next level, a.k.a. marriage and kids," she says. At 37, she married Kopelman, an art consultant and son of the former president of Chanel. She sold her house in L.A. and moved to New York so they could be closer to her husband's family. "I think that's why I took the marriage so hard. Because I was the best I could have ever been."

The third divorce: She was drinking to numb the pain, and Michels (her therapist) broke up with her because she was stuck in an endless rut. She doesn't want to elaborate because the fact that there has been no public scandal around the divorce is something she's proud of. But she stopped drinking for two years, which convinced Michels to take her back. "Then the pandemic happened, and I was like, Thank God I got my sh-t together. Because I am the strongest I've ever been. Then we were building the show, and it was hard, challenging, scary, emotional, exhausting, and overwhelming, but I could handle it. Which was so great because the divorce convinced me I couldn't handle things."

The Drew Barrymore Show: "We have been told we were DOA — dead on arrival — almost every year by higher-ups. The show spoke to us odd birds, but it wasn't necessarily speaking to a commercial audience. I knew we weren't reaching our potential in year one. It was a public-access show on premium television."

Her father, John Drew Barrymore, was an abusive drunk: "Talk about someone who was not a careerist. He was like, 'I will burn this f–king dynasty to the ground.'" As she grew older, her attitude toward her father softened. "I just understood what an incapable human being he was," she says. When he was diagnosed with multiple myeloma, she paid for his hospice care until he died in 2004. Then she spread his ashes around Joshua Tree. Meanwhile, she and her mother have never fully reconciled since she left the house at 14, though Barrymore still supports her financially. "I know that must be so hard for my mom. It's like she gets all the heartache and he gets given a free ticket."

Moving on even though her mom is still alive: "All their moms are gone, and my mom's not. And I'm like, Well, I don't have that luxury. But I cannot wait. I don't want to live in a state where I wish someone to be gone sooner than they're meant to be so I can grow. I actually want her to be happy and thrive and be healthy. But I have to f–king grow in spite of her being on this planet." An hour after the words leave her mouth, she already regrets suggesting any ill will toward her mom. "I dared to say it, and I didn't feel good. I do care. I'll never not care. I don't know if I've ever known how to fully guard, close off, not feel, build the wall up."

Her love life nowadays: "I spent a lot of my life loving romance and drama and all of that. I just burnt myself out on it. I genuinely am tired and exhausted…. I'm curious to examine why I'm not open to a relationship. I really think I have some serious sh-t buried. And I don't know if it's like I need to try an MDMA treatment or psilocybin as a way to get to some state where I could see things in a different way."

But still, the rest of her life is going well: Her makeup & furniture lines are selling out and "I want to be cereal and toilet paper and underwear, just commonly used things that don't make you angry and bring us all together."
[From Vulture]
There wer several gut-punches in this piece, but this one hurt: "I think that's why I took the marriage so hard. Because I was the best I could have ever been." This is why she's a successful talk show host though – because that's the kind of statement which brings people to tears and you want to curl up with her and hash it out. I do think that's how she experienced her third marriage too – she tried, she attempted to be who she thought she needed to be, someone with her sh-t together, a mother, a supportive wife, someone who didn't need to put self-help quotes on post-its in her closet. But even though she tried to be that person, it still didn't work out. This one also hits hard: "I have to f–king grow in spite of her being on this planet." It took her decades of therapy to say that and she immediately regretted it. For what it's worth, Drew has come out this week to say that she's not wishing her mother would die. I interpreted her comment as more like "I'm not going to be in stasis just because my mother is still alive."
https://www.instagram.com/p/CtG9dgAuv30/
Cover & IG courtesy of New York Mag.
Source: Read Full Article