Being an international student is not all bad. Some of it is terrible
Save articles for later
Add articles to your saved list and come back to them any time.
In the summer of 2006, my family had taken the day off only to usher me towards the promise of a big bright future in which I was about to scale continents only to educate myself. Three weeks later, in a sketchy Melbourne suburb, I was battling stubborn stains in the heat of a commercial kitchen.
The international student experience is not as advertised. But, 15 years after I was one myself, I now know exactly why: university brochures are to blame.
Daksh Tyagi pictured in 2006, soon after he arrived in Australia as an international student.
Now look, I am not saying that we replace those curated brochure photographs of big lawns and white teeth from various ethnicities, with say – a burdened kitchen sink. You don't want potential students wondering if this is really the kind of education they need. But a better way forward might be to provide a more realistic picture of what students can expect upon their arrival.
Do not promise them they will get to "live like a local" only because they can catch a game of footy at the MCG. Instead, inform them that finding work is not as easy as it sounds.
Brochures do not tell would-be international students that a 20-hour-per-week job is hard to find unless it is cash-in-hand. But they should at least tell them that in a job market, an international student is a first-time golfer playing with a single-digit handicap. Working 20 hours per week means you cannot apply for full-time jobs. Not even half-time jobs. The permissible hours are designed specifically so you can only get menial work.
"Menial being the operative word," a friend had told me.
Also, how about we fix those multicultural covers for university brochures. I am yet to see an international student arrive in Australia and jump into a healthy mix of ethnicities. The instructions from home are clear. Stick to your own. Like me, most folks who had travelled from overseas stuck to people from their part of the world. Preferable, if they spoke the same language. Ideal, if they shared the dietary restrictions. Heavenly, if their surnames resembled. And nirvanic, if both parents knew where the other set lived.
The ongoing rental crisis has amplified student concerns, but the challenges remain similar. I had arrived in Melbourne hoping that the money I had brought might last until I found a job and a place to live. But, even finding an apartment was turning out unaffordable. A daily train ticket was $6. A bottle of milk was $3. At the time, a dollar was 35 times an Indian rupee, so I had to multiply my depression. I was converting everything. Bread, coffee, soap. A friend took me to the beach. I saw one woman topless. I told my friends back home I saw 35.
More concerning, however, was that the money it had taken my father four months to earn was about to run out within weeks. I only had to step out of the house, and the city had a knife to my throat and a hand in my pocket.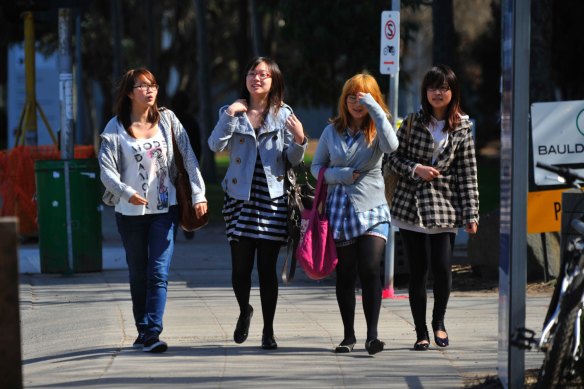 International students can find their reality in Australia is far from what was promised.Credit: Wayne Taylor
This resulted in a change that no brochure had prepared me for. Even though I had arrived in Melbourne for my education, the city had shuffled up my goals. My focus had shifted to first finding work and accommodation. Formal education barely made the syllabus.
An international student goes through challenges that not many can see. Whether you are hauling a mattress across town or orchestrating international wire transfers only to be able to afford lunch, nothing comes easy. Well, except for failure.
You travelled away from your family on a trip sponsored by a bank. Your parents probably bet the house on your success, and your neighbourhood bank readily took those odds. Your options of work are severely restricted by visa conditions, and you are combating a currency conversion that makes an eye water profusely.
To top it up, it is week one.
But while expectations are the grimmest casualty here, no university brochure bothers to lay out the challenges that an international student might face. Ironic that an industry, which deals in handing down life skills, designs brochures that lure rather than prepare.
I mean, all it takes to alter the experience of international students in Australia is to offer them a life jacket of realistic information. Otherwise, international education is not an industry but a hustle. And the question is, sooner or later, will students stop falling for it?
Daksh Tyagi is a Sydney-based author of Indian-origin. He wrote A Nation of Idiots and Tripping Abroad.
Most Viewed in National
From our partners
Source: Read Full Article