Kyle Richards Reveals Where She Stands with Kathy Hilton After Feud, Recent Reunion
The two sisters, whose rocky relationship imploded on RHOBH, were recently photographed together at their niece's bridal shower.
Just because Kyle Richards and Kathy Hilton took photos side-by-side at a recent family event doesn't mean things are totally hunky dory between them.
Last month, Richards shared a photo from niece Whitney Davis' bridal shower in which she could seen standing next to her sisters Kathy and Kim Richards, as well as some of their daughters. This, of course, came after a very drama-filled season of "Real Housewives of Beverly Hills," which ended with Kyle and Kathy's relationship more fractured than ever before.
Appearing on E! this week, Richards was asked if that meant the two were "speaking again," before giving an update on where they stand now.
Unable to render YouTube Video.
"We spoke at the shower," said Kyle. "Things are obviously not great, I think most people know that. But we're family, we're blood. We'll always come back together."
Richards said it was Whitney's "special day," so it's only natural for them to all be together at such an event.
"We'll be, of course, civil and nice and hopefully, one day, be back to normal again," she added.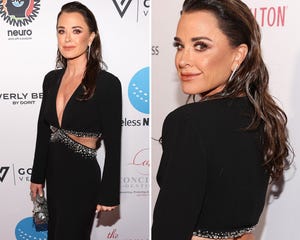 Kyle Richards Hits Back at 'Moron' Follower Over Weight Loss Drug Accusations
Last season, Lisa Rinna accused Kathy of spewing some pretty vile comments about both Kyle and the rest of the cast during a drunken rant in Aspen. While Kathy apologized to her sister and Kyle seemed ready to move on, neither Rinna nor Erika Jayne would drop the subject — and it really blew up at the reunion.
With Rinna quitting the show and Kathy's involvement up in the air, Kyle still teased the upcoming season during her E! appearance as well.
"Obviously, Rinna is great for the show but I have to say we had a really great season. It's different but we had a great season," she said. "There's a lot of drama, but we all also have a lot of fun. I don't think you saw that least season. I don't think I had any fun last season, now that I think about it."
She added, "There's a lot of drama and a lot of personal story amongst the cast. There's a lot going on."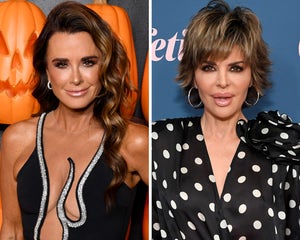 Kyle Richards On Where She Stands with Lisa Rinna After Her RHOBH Exit
Source: Read Full Article