Bringing Indigenous stories and objects into the light
Save articles for later
Add articles to your saved list and come back to them any time.
In cities across Australia, there are monuments to men – and they are all men – who committed crimes against First Nations people.
Those monuments are tributes to invaders and they are still revered as heroes, says Kimberley Moulton, Yorta Yorta woman and senior curator of the First Peoples collection at Melbourne Museum. "The reality is there is another side to that story. It's a story of colonisation and violence and massacre."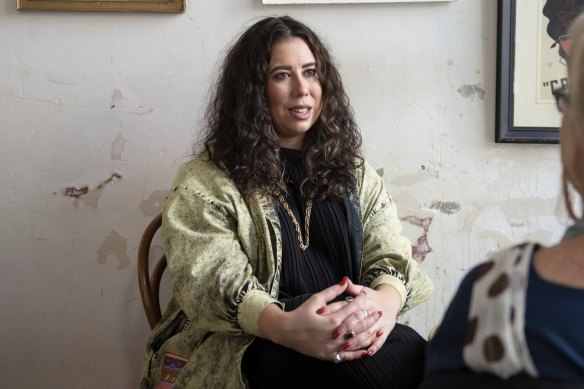 Kimberley Moulton.Credit: Penny Stephens
Born and raised in Shepparton, the 39-year-old is an associate artistic director of Rising, the two-week Melbourne international arts festival that kicks off on Wednesday.
We meet for lunch at Kirk's Wine Bar on Hardware Lane, not far from the festival's office. After a quick look at the menu, we decide to share a black fig and buffalo mozzarella charcuterie, followed by the fish, a pan-fried hapuka with pomegranate, capers and curry leaf for her, and the steak frites for me, with a salad to share.
Her festival show, Shadow Spirit, is being installed as we speak. Moulton is excited to finally see several years of work come to fruition in what will be the biggest exhibition of Indigenous art ever mounted in Victoria. The theme is many-layered, referring to stories she and many Indigenous people grew up with, from the Min Min lights and the bunyip to ancestral stories such as the Seven Sisters. But they are more than stories, she says – they are knowledge systems.
The works featured also examine the shadowy side of this country's history, plus contemporary stories and realities. "They speak to the spirit world, or to metaphysics, to time and memory and the slipstream of time, you know, we don't necessarily consider ourselves within a linear timeframe in an Indigenous worldview," she says.
The show is housed in the rooms upstairs at Flinders Street Station, including the famous ballroom, in spaces recently vacated by Rone; Patricia Piccinini's show was installed in the same area for Rising in 2022.
Moulton had a list of artists whose work she wanted to include and managed to get everyone she invited. Karla Dickens, Warwick Thornton, Julie Gough and Tiger Yaltangki are just a few of the 30 or so featured, from all across the country.
As well as Shadow Spirit, she has a new show at the museum opening later this month, a collaboration between Museums Victoria and the Wominjeka Djeembana Indigenous research lab at Monash University. Called More Than a Tarrang (tree), it looks at the significance of trees in south-eastern First Peoples' cultures and the continued practices of mark-making and design. Calling them "scar trees", as we commonly do, is incorrect and misleading, Moulton says; the way they were marked was considered and careful, ensuring the trees would live on.
"My practice is based on relationships and ensuring that the community feels heard and supported, and that we can share our culture … I love my people, I love our humour, I love our generosity. And of course, the strength and power and resilience but there's actually just so much goodness that is happening in community in the face of constant racism, and we're seeing that happening right now with Stan Grant. This isn't an isolated event, it's just a very public version of what goes on for people all the time."
Working at Melbourne Museum involves access to its extraordinary collection, an absolute privilege, she says, but with sometimes harrowing experiences, especially around ancestral remains.
The receipt for lunch at Kirk's Wine Bar.
Her work has taken her around the world. Visiting London's British Museum for research some years ago, she came across the shield taken during one of Captain Cook's first encounters with Indigenous people in Australia. "It was very visceral to walk in and to see that the only representation of our people was this point of contact, and this shield with a bullet hole in it; it has been documented that Cook shot at the people on that beach."
Another significant moment reconnecting with ancestral items was in the Kelvingrove Museum in Scotland. "There were stone tools collected from Shepparton, from the early 20th century. And no one had seen them since they were taken … these are from my Country. And so many emotions come through, there's an overwhelming sadness," she says.
"There's this excitement as well, when you're in these spaces, seeing these things, frustration, anger, but also a sense of at least I can connect to them and say hello, and care for them in a cultural way. And the hard part of it is putting them back in the box and covering them with the plastic and putting them back in these locked cases and potentially never seeing them again, maybe you're going to be the only person that sees them for the next 50 years."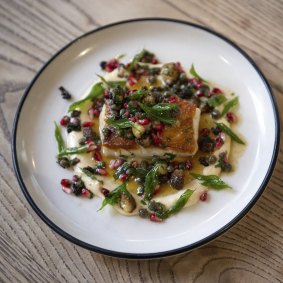 The pan-fried hapuka with cauliflower, pomegranate, capers and curry leaf at Kirk's.Credit: Penny Stephens
As our exquisite starter arrives, we discuss the massive issue confronting institutions around the world: restitution.
For Moulton, that involves not only physically getting back cultural material – stolen goods as she describes them – but looking at what contemporary art can offer in addressing and reconciling those histories. While there has been some progress in repatriating cultural belongings over many decades, she argues there is much more to be done.
"Where we could be doing better is in representation, the employment of Aboriginal people in these organisations. And the way that we commit resources into developing community programs and exhibitions, it's how far the institution goes into that space that's important."
As the descendent of several significant civil rights activists, Moulton is keen for Australians to know more about them and their work. "We know about Nelson Mandela, we know about Martin Luther King and all of these amazing civil rights leaders, but we have them in our own country as well."
Her great-great-uncle, William Cooper, is one, the founder of one of the first Aboriginal political parties in the country. In Melbourne he also led the first protest against the Nazis' treatment of the Jews in the 1930s.
When the mains land – her fish pretty as a picture and my steak with its seaweed butter – I ask how she got into this field. Immediately after secondary school she came to Melbourne to study at Monash, where she majored in Indigenous studies, visual studies and journalism. A lover of culture and history, her interest was in storytelling, ideally in the context of a gallery or a museum. "Back then I didn't even really understand what a curator was," she laughs.
Her father Murray was an artist and she grew up surrounded by books about ancient cultures and their family and the history of their people and Cummeragunja, the Aboriginal mission their family lived on. "And I grew up with this obsession about the olden days and art and history."
Seeing Destiny Deacon's work Meloncholy was a turning point. "It transformed my thinking because I had no idea that Aboriginal art could be like this and that female Aboriginal artists were making this kind of work. It was so political and interesting and subversive," she says, describing Deacon's stunning, shocking series that sees headless dolls cradled in watermelon skin.
Curating was a natural progression, particularly the melding of the old and the new. "Reading art and reading culture, and communicating that – that's what curating is, it's weaving stories and collections and interpreting that, working with artists and realising their vision for their work and story."
Kirk's steak frites, with seaweed and sesame butter.Credit: Penny Stephens
Straight from university she landed a job at Melbourne Museum – where she has now worked for 15 years. Starting in the museum's outreach program, she took parts of the collection to communities who couldn't get to the physical museum, working with kindergartens and aged care, plus people with brain injuries and community groups such as the youth at the Parkville Detention Centre. She then spent seven years as project officer and then curator of Bunjilaka, and since 2015 she has been senior curator of the First Peoples' Collections.
While there has been progress, she says, "there is no end point to this". "Institutions are very hard colonial places, there are always going to be issues in any institution, whether it be a museum or a gallery or a university. But it's then up to the ethics and position of those institutions as to how they do actually act in good faith and commit to what they say and to working with First Peoples."
As we approach the referendum on the Voice to parliament, she recommends more critical thinking about the media: "I don't think there's any coincidence that some of the more negative stories around our communities have been surfacing in the last six months, leading up to the referendum. We see this formula happening time and time again, in certain media, around our community."
Moulton is hopeful that the Yoorrook Justice Commission will help the process of reconciliation, which she – and many others – argue cannot happen until we examine our history.
"We need more truth in this country. There is a Royal Commission right now in Victoria, around truth-telling of this state, and I hope that that does bring some light and acknowledgement to these histories, to community and those still feeling the effects of ongoing systemic discrimination, and ultimately I hope it can bring some healing," she says.
"We can't be afraid of truth – and I think that's a problem in this country. There's only one side being told, and we have to tell both sides. It's good for all of us to honour that, no matter where you are from."
More Than a Tarrang (tree): Memory, Material and Cultural Agency is at Melbourne Museum from June 24 until November 5.
Shadow Spirit is at Flinders Street Station as part of Rising until July 30. Bookings required.
The Booklist is a weekly newsletter for book lovers from books editor Jason Steger. Get it delivered every Friday.
Most Viewed in Culture
From our partners
Source: Read Full Article