John Olsen farewelled as 'master of the brush' in state memorial
Save articles for later
Add articles to your saved list and come back to them any time.
The comic entertainer, Barry Humphries, made it clear that if John Olsen was to predecease him he wanted to write the artist's eulogy.
As it happened, the two giants of the arts world died within weeks of each other and Humphries could not lead tributes at a state memorial service held Monday to farewell the eminent 20th-century landscape painter who helped transform the way Australians saw themselves and their country.
"They left us roughly at the same time, and life will never be the same again," Olsen's friend and former Coalition minister, Michael Yabsley said.
The 95-year-old Olsen, who won the Archibald prize in 2005 for a self-portrait, died last month at his home in the Southern Highlands, his adult children by his side. Prolific to the end despite bouts of ill health, he created four works in the last weeks of his life.
Leading politicians, media scions and gallerists joined Olsen's children, gallerist Tim and designer Louise, and their extended families at the state memorial at the Art Gallery of NSW to pay tribute to Olsen and a career spanning seven decades.
Restaurateurs Lucio and Sally Galletto, who ran the eponymous Paddington eatery described as Olsen's "happy place", were present, as were Lachlan and Sarah Murdoch, Gretel Packer, and Nicola Forrest.
NSW Governor Margaret Beazley, Prime Minister Anthony Albanese and NSW Premier, Chris Minns, and their respective arts ministers, Tony Burke and John Graham, represented the highest echelons of government office.
Friend and art historian, Lou Klepac, said Olsen was part of a second wave of 20th-century contemporary artists and a worthy successor to the first generation of Arthur Streeton, Russell Drysdale, and Arthur Boyd.
Yabsley remembered Olsen as a "master of the brush" and a charming bon vivant, with a head for business: "The only embellishment to an outstanding piece of art should be a red dot, he said."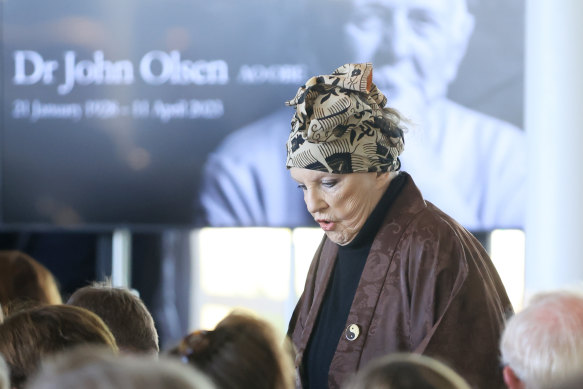 Wendy Whiteley arrives at the Olsen memorial.Credit: POOL
The public farewell to Olsen took place inside the modern extension of the AGNSW, the first public institution to purchase Olsen's work. It was 1958, and the artist was 30. The gallery now holds 133 of Olsen's works – 11 of them paintings and the rest mainly works on paper with some tapestries and ceramics.
Grandchild Georgia Blake read from Kenneth Slessor's Five Bells, a meditative poem that had inspired one of Olsen's most acclaimed works, Salute to Slessor's Five Bells, installed at the Opera House. Regarded as one of the high points of Olsen's career, it had inspired this year's projection of Olsen's works on the Opera House sails for the Vivid winter lights' festival.
To mark the artist's death, AGNSW installed Olsen's Spanish encounter (1960) on an exterior gallery wall in Sydney Modern, a seminal work immediately seen as a turning point in Australian art.
Klepac said it was a talisman for what came after, and heralded a great period of Australian art. "It was like Moses striking the rock."
Daughter Louise Olsen said her father was painting until the end. "Passion and urgency was his lifeforce." As a girl, she'd wake to find her father at the kitchen table painting, the smell of turpentine overwhelming. Cooking was always at the heart of the family. In lean times it was a board of cheese and olives. The sale of a painting was celebrated with champagne.
Gallerist and son, Tim Olsen, said his father lived a great life, had used every moment to observe Australia, and passed up the opportunity to become a big touring international artist.
"Dad was a landscape poet to the end, maybe a solid musician," he said. "He didn't use words or letters, he had a vocabulary of his own."
Although he had always put art first, Olsen said his father had loved his family enormously and had gifted them a unique way to see beauty in life.
Olsen's career began in the late 1950s, his oeuvre encompassing painting, drawing, watercolours, tapestry design, printmaking and ceramics. After travelling to Europe, residing mainly in France and Deia, on the island of Mallorca, he returned to Australia with fresh eyes.
In his You Beaut Country series, Olsen brought a revolutionary approach to painting.
In 1977 Olsen received an OBE for services to the Arts and an Order of Australia in 2001. He is one of a rare group of artists to have taken out the Wynne Prize (1969 and 1989), the Sulman Prize (1989) and Archibald Prize (2005).
Our Breaking News Alert will notify you of significant breaking news when it happens. Get it here.
Most Viewed in Culture
From our partners
Source: Read Full Article