'Think about what you did': Anonymous email to Bruce Lehrmann revealed
Former federal Liberal staffer Bruce Lehrmann told police he received an anonymous email titled "coming for you" and urging him to "have a think about what you did" before he was publicly named as the man accused of raping Brittany Higgins, documents tendered in the Federal Court reveal.
The court released a tranche of documents on Friday that were filed in Lehrmann's defamation suit against Network Ten and News Corp over interviews with his former colleague Higgins on The Project and news.com.au, broadcast and published on February 15, 2021.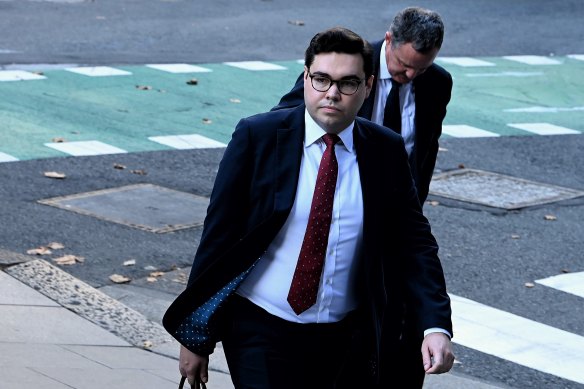 Bruce Lehrmann entering Federal Court earlier this month.Credit:Kate Geraghty
Federal Court Justice Michael Lee has yet to decide whether he will extend a one-year limitation period to allow Lehrmann to sue over the interviews, which are now two years old. He reserved his decision on that issue on Thursday and will deliver a judgment at a later date.
The media outlets argue the limitation period should not be extended.
Among a raft of documents filed as part of the preliminary dispute is a transcript of Lehrmann's interview with Australian Federal Police in Sydney on April 19, 2021, during which he told police he had received "two emails from a domain name, not owned by me" in January that year.
Days later, he forwarded the emails to police. The first, titled "Coming for you" and dated January 25, 2021, appeared to have been sent by "Bruce Lehrmann", although Lehrmann said the corresponding email address was not his.
The email appeared to refer to a speech delivered that night by 2021 Australian of the Year Grace Tame, a survivor of sexual abuse, and said: "A woman spoke about what happened to her tonight, and she's Australian of the Year.
"I want you to think about what you did, and what might be around the corner for you. It's inspiring when justice is delivered and the truth comes out. You know what they said: The truth will set you free."
The email concluded: "It's going to be a magical 2021."
The second email said: "Truth will come out."
The identity of the author or authors is unknown.
Lehrmann alleges the Ten and News Corp interviews, which did not name him, conveyed a series of defamatory meanings, including that he raped Higgins in then-defence industry minister Linda Reynolds' office in 2019. He denies the rape allegation.
He names Lisa Wilkinson, a Ten employee who left The Project last year, and news.com.au political editor Samantha Maiden as respondents to the lawsuits against their respective employers.
Lehrmann was named in the media in August 2021 after he was charged with sexual intercourse without consent.
He pleaded not guilty to the charge. His trial was aborted in October last year due to juror misconduct. The charge was later dropped altogether amid concerns about Higgins' mental health. Lehrmann has always maintained his innocence.
The Morning Edition newsletter is our guide to the day's most important and interesting stories, analysis and insights. Sign up here.
Most Viewed in National
From our partners
Source: Read Full Article