Tourists left in limbo as vintage City Circle trams pull vanishing act
Key points
Melbourne's W-class trams first entered service in 1923.
The state government has spent millions so the trams can operate on the free City Circle tourist route.
Yarra Trams says it reduces City Circle services during major events.
The familiar rattle of Melbourne's heritage W-class trams is being silenced because Yarra Trams does not have enough drivers to operate them during major events.
W-class trams have been a familiar sight for almost a century, first entering service in 1923. The state government has spent millions refurbishing a dozen to run along the free City Circle tourist route every 15 minutes.
Cheryl O'Brien waits for a tourist tram in the city on Thursday.Credit:Luis Enrique Ascui
But visitors hoping to enjoy the quintessential Melbourne transport experience have had to wait for up to an hour between trams over the past two weeks.
Yarra Trams, operated by Keolis Downer, cancelled the route entirely on Thursday, Friday and all weekend, so it could free up drivers to run extra trams to the MCG for the start of the AFL season.
The Yarra Trams contract, worth an estimated $2.65 billion over seven years, says the company must operate the City Circle service every 12 minutes in both direction between 10am and 6pm daily.
Cheryl O'Brien and her husband, Rick Best, were waiting in vain for the City Circle (also called Route 35) tram at the corner of Collins and William streets on Thursday afternoon.
They had planned to hop on and off to see attractions around the city centre during their four-day visit from the Gold Coast, and were disappointed to learn it was cancelled until Monday.
"We wanted to feel what old Melbourne was like – it would have been nice to breathe in that atmosphere and hear it rattle and ricket around," O'Brien said. "Having to think about how we're going to get around Melbourne will be a little less relaxing."
Best added that there was no information telling visitors the City Circle service was not running. "We would have been waiting here all day," he said.
Public Transport Victoria's website and app advised travellers on Thursday the City Circle service was operating every 15 minutes. Yarra Trams' website and the TramTracker app both advised the next service was on Monday morning.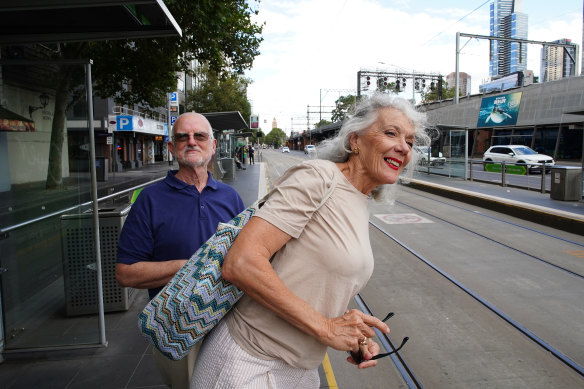 Cheryl O'Brien and Rick Best wait for the City Circle tram on Thursday.Credit:Luis Enrique Ascui
Since last Monday, The Age has tracked City Circle service frequency on six different days. There were waits of an hour between trams on three days, 55-minute waits on two days, and 30-minute waits on one day.
A Yarra Trams spokesperson said it reduced City Circle services during major events, so it had drivers available to operate more trams to venues like the MCG.
"We always work to provide a regular service on our iconic W-class trams, however, some City Circle trips may be reduced or cancelled on any given day due to driver availability and special events," they said.
Yarra Trams cancelled a quarter of its scheduled City Circle services in February, the spokesperson said. Network-wide, Yarra Trams has a service reliability target of 98.5 per cent.
A spokesperson for the Department of Transport and Planning confirmed that it sometimes approved requests from Yarra Trams to operate the City Circle at reduced frequency to free up drivers.
"We are working with Yarra Trams to continually improve performance on the City Circle service," they said.
Rail Tram and Bus Union tram division secretary Tarik Koc said Yarra Trams was moving the small number of drivers trained to operate the W-class onto other routes amid a driver shortage.
"Why aren't people receiving the services they deserve, and they [Yarra Trams] are getting paid for?" he said. "This has been going on for a very long time."
Victoria started to phase out the last of the W-class trams operating on regular commuter services (routes 78 and 79) in 2009 to replace them with newer trams.
The National Trust listed W-class trams in its register as being of state, national and international significance and worth of protection in 1998, describing them as "distinctly Australasian" and "the predominant Melbourne icon".
"The National Trust of Victoria is encouraged to see that these trams are still running and
would be disappointed to see any further reductions to the trams scheduling," National Trust of Victoria's CEO Simon Ambrose said on Thursday.
The Yarra Trams contract also says it must have at least four tour guides on duty across the City Circle service at all times. The contract says the service should run until 9pm on Thursdays, Fridays and Saturdays, but it does not appear to have operated past 6pm since it was suspended during the COVID-19 pandemic lockdowns.
Two 70-year-old W-class trams that operated as the Colonial Tramcar Restaurant were retired in 2018 because they did not meet modern safety standards.
Keolis Downer has operated Yarra Trams since 2009. Its current contract expires on December 1 next year, and the state government confirmed last week it would soon put it out to tender. Keolis Downer said it would bid for the new contract.
The Morning Edition newsletter is our guide to the day's most important and interesting stories, analysis and insights. Sign up here.
Most Viewed in National
From our partners
Source: Read Full Article