Andrew Garfield Was Born to Be an Oscars Meme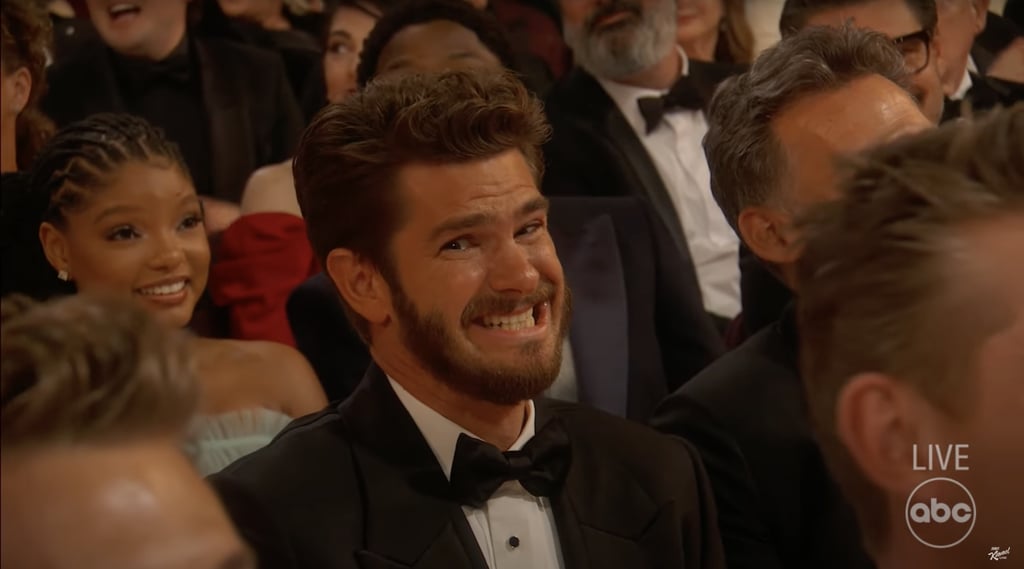 Andrew Garfield Was Born to Be an Oscars Meme

Just 11 minutes into the Oscars, Andrew Garfield sparked the most relatable meme of the evening. During host Jimmy Kimmel's opening monologue on March 12, the "Spider-Man: No Way Home" actor cracked an awkward grin that instantly became a topic of discussion on social media.
The GIF-able reaction came about when Kimmel joked about last year's Oscars slap by listing the many attendees who'd be equipped to help him if a similar incident went down. "If any of you get mad at a joke and decide you want to come up here and get jiggy with it, it's not going to be easy. There are a few of my friends you're going to have to get through first," he said, referencing Will Smith's 1997 single "Gettin' Jiggy Wit It."
The talkshow host then mentioned "Creed III" star Michael B. Jordan, martial arts movie icon Michelle Yeoh, and "The Mandalorian" actor Pedro Pascal as his potential defenders before warning, "You are going to have to tangle with Spider-Man." The crowd remained oddly silent as the camera panned to Garfield — perhaps they were expecting Tom Holland instead? — and the actor reacted to the lack of cheering with an uncomfortable toothy smile. He shrugged and held direct eye contact with the camera for several seconds, after which the crowd finally gave him the applause he deserves.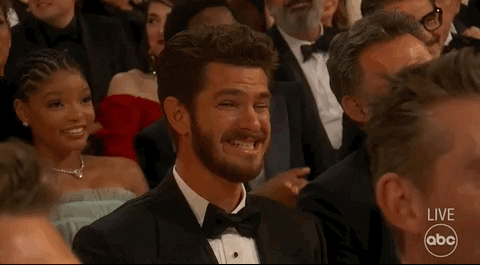 Image Source: ABC via Giphy
As soon as the cringe moment played out, our wheels started turning and the memes practically wrote themselves. Below are just a handful of moments Garfield's Oscars grin is applicable for:
When you spot your coworker while commuting to work but it's too early to socialize
When your significant other cooks dinner and you have to pretend it tastes good
When your drunk friend asks if you want to go to another bar but it's already 1 a.m. and you're dreaming of bed
When you're trying to stay positive during your 17th Zoom meeting of the day
When your friend introduces you to someone you've already stalked on social media and you have to pretend you know nothing about them
When a toddler is telling you an unintelligible story and you're trying your darnedest to politely follow along
Later during the ceremony, Garfield was in the spotlight yet again while presenting the awards for original screenplay and adapted screenplay alongside Florence Pugh. The actor has yet to nab his first Oscar — he was nominated for best actor in both 2017 and 2022 — but he's certainly solidified his status as the king of Oscars memes. During last year's Academy Awards, he was spotted nonchalantly texting under the table moments after Will Smith slapped Chris Rock on stage, and the footage inspired hilarious social media chatter.
Read ahead to watch Garfield's awkward smile unfold and to see photos of him serving looks at the Oscars.
Source: Read Full Article