Sally Rugg to be dismissed from Monique Ryan's office, as trial looms
Social activist Sally Rugg has failed in her bid to return to the office of Kooyong MP Monique Ryan.
The former chief of staff argued she was pushed out of the office after months of hostile behaviour from Ryan and was seeking to return to her job as she prepared for a broader trial.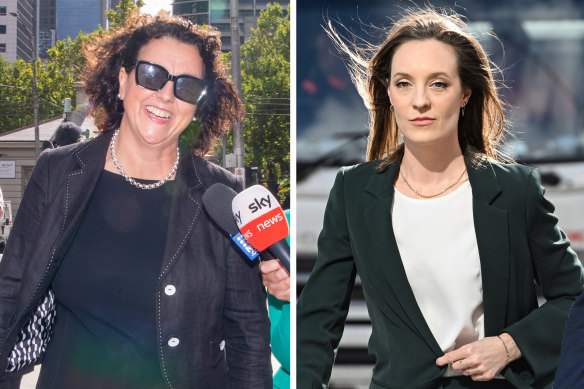 Social activist Sally Rugg has failed in her bid to return to the office of Kooyong MP Monique Ryan.Credit:Justin McManus
Federal Court Justice Debra Mortimer dismissed the application in a brief hearing on Tuesday. Mortimer and lawyers for Ryan and the Commonwealth argued in an earlier hearing that it would be impractical for Rugg to work alongside Ryan as she sued the MP for allegedly breaching the Fair Work Act.
Rugg will now stop being paid by the Commonwealth as her lawyers gear up for a broader trial on whether she was asked to work unreasonable work hours, which the independent MP denies.
Lawyers for both parties last week said they expected the trial is to be held in the next few months and take up to two weeks. A hearing to decide on timing for the broader trial will be held before March 20. It may hear from other staffers and Ryan's lawyers intend to present office swipe card data to contradict Rugg's claim of working 70-hour weeks.
The decision to deny Rugg a pathway back to the office represents a small win for Ryan, who did not want the former same-sex marriage and anti-News Corp campaigner to return to work. Ryan's lawyers argued the relationship between was damaged beyond repair.
But the court's call on Rugg's immediate employment does not settle the substantive question of whether Rugg was mistreated. This will be settled in the future trial and could turn into a test case for the limits of reasonable work hours across politics and other sectors.
Rugg's lawyer, Maurice Blackburn's Josh Bornstein, declined to comment immediately after the decision was handed down.
"We're going to go away and look at [the ruling]," he said.
Ryan's legal team left the Federal Court without commenting.
The former head of change.org launched action against the Commonwealth and Ryan late last month, alleging she was dismissed from her job as Ryan's chief of staff for exercising her right to refuse to work unreasonable, additional hours.
"Ms Rugg will seek to add claims of 'serious contraventions' of the Fair Work Act against the Commonwealth. A serious contravention occurs where the breach of labour standards is knowing and systematic. The penalty for serious contraventions is a maximum of $660,000," Bornstein said in a statement last week.
"The serious contravention claim is made in circumstances in which Dr Ryan publicly acknowledged that her staff were working 70-hour weeks and that it was not safe."
The grievances of both parties were aired at a preliminary hearing on Friday in which Rugg's lawyers alleged Ryan asked her former adviser to do the job of four people. Ryan's case relies on the argument that she acted with departmental approval when she threatened to sack the high-profile recruit and asked her to resign.
Both women have sought to avoid a lengthy court trial.
Four sources with direct awareness of the case, who spoke anonymously because of legal sensitivities, said Rugg's and Ryan's lawyers had spent weeks attempting to strike a pre-trial settlement, potentially involving compensation.
The Commonwealth – which is also a party to the trial, and is accused of breaching the Fair Work Act by allowing a culture of excessive work – has not agreed to repeated offers to settle, the sources said.
Cut through the noise of federal politics with news, views and expert analysis from Jacqueline Maley. Subscribers can sign up to our weekly Inside Politics newsletter here.
Most Viewed in Politics
From our partners
Source: Read Full Article