Hydrogen trucks promise a green garbage run you won't hear coming
Key points
Hyzon Motors is betting that hydrogen fuel cells are a more viable option than rechargeable batteries.
Its hydrogen-powered truck is due to go into commercial trials this year.
Transitioning Australia's 400,000 heavy vehicles to zero emissions will be an enormous task.
The makers of Australia's first locally designed and built hydrogen-powered truck say it will be towing cars and potentially collecting garbage this year in a rollout they believe could spur a shift away from highly polluting diesel vehicles.
Hyzon Motors says the 27-tonne truck it will unveil at its headquarters in Noble Park, in Melbourne's south-east, on Monday is an Australian first and shows the trucking industry can go green.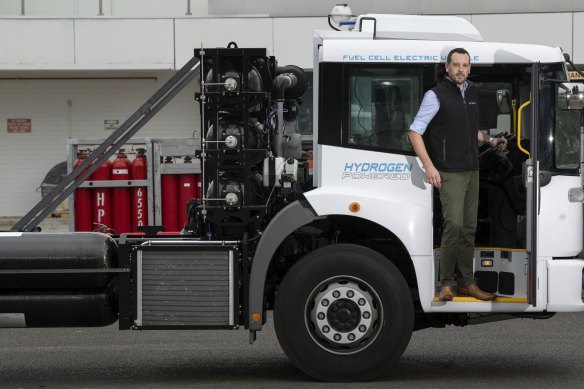 Hyzon is launching a hydrogen-powered truck that could be used for towing and garbage collection instead of the current high-emissions diesel vehicles.Credit:Penny Stephens
"We're making it very clear that we've got a product now, the first product that's been designed locally, that's ready to go into market," said John Edgley, Hyzon's Melbourne-based international president. "That will give more confidence that actually we can start transitioning these big fleets in companies that have thousands and thousands of these trucks."
Electric models made up 10 per cent of new car sales globally last year, but heavy vehicles have been harder to turn green. The US-headquartered Hyzon is one of several start-ups betting that hydrogen fuel cells are a more viable option than rechargeable batteries, which are large and heavy, and need downtime for recharging.
Hyzon established an Australian outpost in 2020 to capitalise on the wealth of industry talent left behind when Holden, Ford and Toyota shut down their local operations, and has grown to a team of just over 50 engineers, fabricators, welders and designers.
Edgley said the truck would go into commercial trials this year, with three on order from the RACV-owned towing company Nationwide Group, and discussions under way with waste management groups and other potential operators.
Trucks produce about 4 per cent of Australia's carbon emissions, and there is growing concern about the impact on public health of the country's relatively old and dirty truck fleet. Diesel fumes are now recognised as a carcinogen, with fine particulate matter and nitrogen dioxide also causing heart disease, stroke, diabetes and childhood asthma.
But zero-emissions trucks like Hyzon's cost around three times the price of diesel alternatives. The Grattan Institute's transport program director, Marion Terrill, said narrowing the price difference was a critical challenge.
But she said it would be possible to spark a quicker uptake with binding sales targets. Norway has a 50 per cent target by 2030, and 15 US states have pledged 30 per cent that year.
"As the price comes down, and because of the much cheaper fuel and maintenance costs, there will be a tipping point, but it's just much further into the future for trucks than it is for cars," Terrill said.
Hyzon's lead engineer, Chris Heraud, said the hydrogen-powered vehicle was designed to be a Swiss Army knife of trucks.Credit:Penny Stephens
Hyzon's team designed and built the first three trucks over the past year, replacing the diesel engines in new Mercedes trucks with hydrogen gas tanks and a fuel cell. They ran the first vehicle at Holden's former proving ground in Lang Lang, near French Island, over summer.
Lead engineer Chris Heraud said the vehicles were designed to be a Swiss Army knife of trucks that could be adapted to replace garbage trucks, tow trucks, concrete mixers and other heavy vehicles. As well as producing no emissions, the trucks had the advantage of being far quieter than those now on the road, he said.
"You'll hear compressed air, and other than that, it's like an EV. You don't have any of the vibrations and harshness you get in a diesel vehicle, and you don't get shaken all day," Heraud said. "We just need to remove the brake noise … and you've almost got a silent vehicle."
Hyzon has contracts to deliver prime movers to Coregas in NSW and Ark Energy in Queensland, and is preparing to break ground on a 10,000-square-metre manufacturing facility at its Noble Park site through a partnership with the RACV. The facility will have the capacity to produce 1000 trucks a year when it opens in 2024.
But Edgley said transitioning Australia's 400,000 heavy vehicles to zero emissions was an enormous task that would not happen without government support. Germany's government, for example, was subsiding 80 per cent of the extra cost for operators that bought zero-emissions trucks.
"The government supporting programs which help bridge that gap and provide confidence for fleets to make that transition is really essential and will have a dramatic impact on accelerating that," he said.
Hydrogen fuel cells generate electricity by splitting molecules in hydrogen gas, producing water vapour as the only byproduct. The gas is made through a process called electrolysis, in which electricity splits water into hydrogen and oxygen. If made with solar, wind or other clean power, "green hydrogen" is considered a renewable energy, one which backers say may be the key to cutting emissions in sectors such as manufacturing, freight and aviation.
Edgley said the cost of hydrogen would have to come down for it to be a viable alternative to diesel, but that would happen as more than 100 production projects announced across Australia started to come online.
He said the RACV and Hyzon planned to make their own solar-powered green hydrogen at the Noble Park site, and other fleet operators could adopt that type of self-sufficient hydrogen fuel production out of their own depots.
RACV managing director Neil Taylor said the organisation was "looking forward to trialling Hyzon-built hydrogen tow trucks, starting in 2023".
Get to the heart of what's happening with climate change and the environment. Our fortnightly Environment newsletter brings you the news, the issues and the solutions. Sign up here.
Most Viewed in National
From our partners
Source: Read Full Article