The Grammys red carpet, where fashion refuses to play by the rules
In fashion, as in life, we love to rank things. And when it comes to red carpets, the Grammys fashion show frequently sits above the Oscars and Golden Globes for excitement but also outside it, such is its incongruity. After all, where else can Brazilian singer Anitta stand in a vintage Atelier Versace gown – worthy of a J.Lo or Beyonce (more on her, later) – alongside a 16-year-old influencer, Dai Time, in a fluoro green mini dress by H&M, and both feel totally relevant?
Indeed, the Grammys red carpet has no rules, and therefore the bar for what is considered interesting is much higher than, say, the Academy Awards, where fashion writers seem to quake when a man dares to wear a green suit (although thanks to the Billy Porters of the world, what passes as "normal" is slowly broadening). Even seemingly demure black dresses were given the "extra" treatment, thanks to Taylor Hane's opera gloves, Charlotte Lawrence's sheer Saint Laurent bodice, and poet Amanda Gorman's gold choker.
The Grammys is also a playground for male fashion, albeit not all good. While some looked like they were off to do a Woolies click and collect rather than an awards show, others played with denim, Docs and even a cardigan to great creative effect. It didn't always scream style, but at least it was rarely boring (also, see Shania Twain in black-and-white polka-dot Harris Reed).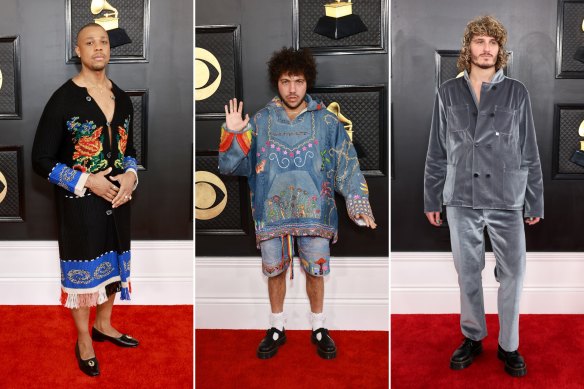 From left: Davone Tines, Benny Blanco, Rutger van Woudenberg on the Grammys red carpet.Credit:Getty
Despite its history of whiteness in who wins the awards, the Grammys red carpet has a reputation for being more inclusive than its Hollywood cousins. Here is a place where the black, the not-so-well-known and the non-binary get to wear the good stuff. Proving the maxim at this year's show was Sam Smith, answering his body-shaming trolls in billowing red Valentino, and Lizzo, in Dolce & Gabbana, who arrived so early that her outfit almost became a footnote in the sea of zaniness that followed.
Three of Harry Styles' Grammys looks.Credit:Getty
But at least Lizzo showed up (with now "Insta-official" partner, TV personality Myke Wright), as did Taylor Swift in a midnight blue (a play on her album name, perhaps?) set by Roberto Cavalli that is bound to inspire Year 12 formal outfits everywhere. Jennifer Lopez skipped the red carpet but her ruffled indigo Gucci gown earned comparisons to her famous green Versace gown, if for no other reason than the amount of leg on display. Also repping blue was Cardi B, whose Gaurav Gupta gown was straight off the couture week catwalk and made her look like a one-woman sunshade at Camp Cove, in the most glorious way.
Blue was the hue for (from left) Taylor Swift, J.Lo and Cardi B. Credit:Getty
Although Harry Styles' performance of As It Was received some pretty lukewarm reviews from music critics, fashion pundits were aflutter with his numerous looks throughout the night. On the red carpet, he chose a harlequin jumpsuit by Parisian brand Egonlab. He then changed into a cream cropped jacket and beige pants to accept the award for Best Pop Vocal Album from J.Lo, before changing yet again into a tassled silver jumpsuit by Gucci for his live performance.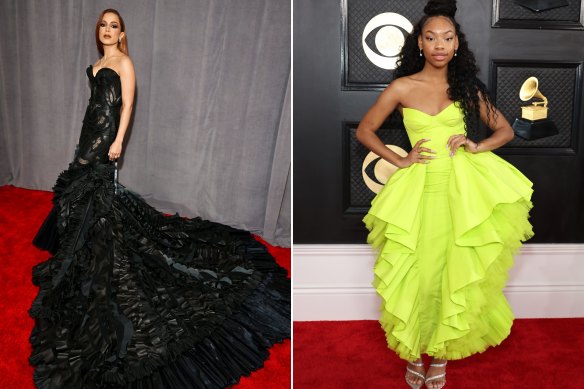 Anitta (left) in vintage Versace, and Dai Time, wearing H&M, at the Grammys.Credit:Getty
But fans hoping for a Beyonce moment on the red carpet were left disappointed. Ultimately, it took until one hour and 20 minutes into the awards for a glimpse of the most-awarded artist of all time, with traffic cited as the reason for her late arrival (surely, her entourage has heard of Google Maps?). And once we did get a squiz at Queen Bey, in Balmain, she was … sitting down. Luckily, she won a few more awards, for fashion's sake.
Make the most of your health, relationships, fitness and nutrition with our Live Well newsletter. Get it in your inbox every Monday.
Most Viewed in Lifestyle
From our partners
Source: Read Full Article