Nerves, joy and a few tears as preps start their schooling journey
Five-year-old Marlow was first at the gates of St Augustine's Primary School on Monday morning, pushing on the bars and rattling the locked handles to see if she could get in. It was not long after 8am, and the school was still closed.
"She's so ready," Marlow's mother, Brooke Mezo, said. "I'm really excited for her, but she's so ready."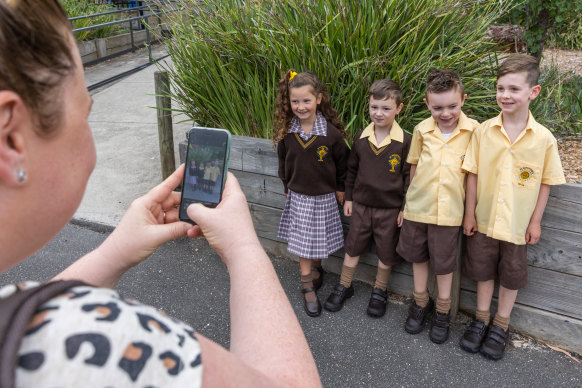 Prep students Marlow Mezo, Felix Cullen, Jack Moorcroft and Sullivan Callejan line up for a photo before their first day of school.Credit:Jason South
Marlow said she was feeling nervous and looking forward to homework.
While many schools delay the first day of school for prep students by up to a week, St Augustine's Primary School in Keilor went the other way, giving its 42 preppies and their families priority entry on Monday morning.
A throng of brothers, sisters, mothers, fathers, grandparents and miscellaneous well-wishers filed through the front gates at 8.30am, phones out to capture the milestone moment, before the first-time students were lined up in their two classes on the school courtyard, then steered inside for the first session of their next 13 years of schooling.
Parents Stephanie and Joe Dzidzic were with their preppie daughter, Alessia, and big sister Aria, who was chuffed to finally have her younger sibling alongside her.
Graduate teacher Hollie Saad with some of her prep students on Monday morning.Credit:Jason South
"She can't wait – she's been waiting for this day so they can be together," Stephanie said.
Alessia's nerves were soothed as her big sister gave her a loving squeeze before she went inside.
Aria's worldly advice about getting through school was to roll with the good and the bad.
"It's good, but sometimes it's tense," she said.
Stephanie said she expected a lot of fatigue and emotion as her second child adapted to the new routine of being in school five days a week. She said she felt some pangs herself, even though she'd been through this before.
"There's still those emotions. It's their first day on a long school journey."
St Augustine's principal, Cathy Steere, said the school had staggered the first day of the year, with half of its students beginning alongside the preps on Monday, then being away again on Tuesday while the other half begin, before the entire school comes together on Wednesday.
"It just allows for a bit more of a small school [feel]," Steere says. "We're not a big school, about 260 students, but it allows the preps to come with half the school attending, and it won't be so daunting with kids everywhere."
Also starting on Monday was graduate teacher Hollie Saad, one of three prep teachers at the school this year.
Saad, whose first child is also starting in prep later this week at a different school, said it was great to be having her first day as her students were having theirs.
A fascination with her own young children's early learning and development had led her to enrol in a teaching degree, she said.
Crates full of building blocks, tiny plastic dinosaurs and coloured pencils had been pulled out, which the children duly dived into, getting down on their knees on the carpet.
"A lot of the first couple of days we'll just be setting routines, making sure the kids are feeling settled and happy to be at school, and just building on that excitement that they've got this morning," Saad said.
Not every child shared in the excitement. There were tears from a few, and at least a couple who clung to their mothers long after the other families had drifted away, unable to say goodbye.
On Wednesday, each prep student will also be assessed one-on-one by their teacher, to understand where their learning development is at and whether they might have any special needs.
The Morning Edition newsletter is our guide to the day's most important and interesting stories, analysis and insights. Sign up here.
Most Viewed in National
From our partners
Source: Read Full Article