IBAC commissioner's U-turn on lower threshold for public hearings
Victoria's anti-corruption commissioner has implored the Andrews government to lower the threshold for public hearings, increase funding for the agency's police oversight division and redefine the types of corruption it is empowered to investigate.
Independent Broad-based Anti-corruption Commissioner Robert Redlich, KC, has called for a suite of legislative reforms and walked back his previous stance that Victoria should maintain its high threshold for public examinations.
IBAC commissioner Robert Redlich, KC.
IBAC conducted 115 days of private examinations and 24 days of public examinations in 2021-22 — more than double the previous year — according to its annual report tabled in Parliament late Tuesday evening.
"In 2021/22, IBAC faced an unprecedented number of legal challenges," Redlich wrote in the report.
"While IBAC recognises and respects the importance of persons and organisations being able to bring proceedings to protect their rights, as it stands, elements of IBAC's legislation cause investigations to be unnecessarily delayed or frustrated by lengthy litigation."
People mentioned in IBAC reports are entitled to receive draft copies before the documents are finalised as part of the natural justice process to give them an opportunity to respond to the watchdog's claims and conclusions.
However, if disputes arise, they are only allowed to be resolved in the Supreme Court, which could take up to a year.
Developer John Woodman, who was being investigated as part of Operation Sandon into allegedly crooked land deals in Melbourne's south-east, took IBAC to the Supreme Court over a draft report he received in two parts last December and January, seeking access to footnotes.
Last month, Justice Tim Ginnane ordered IBAC to provide Woodman with footnotes supporting adverse findings from Operation Sandon. The court released the confidential judgment on Monday, and IBAC's final report is likely to be tabled early next year.
"Public hearings may provide IBAC with an alternative means of meeting natural justice requirements," Redlich said in the annual report.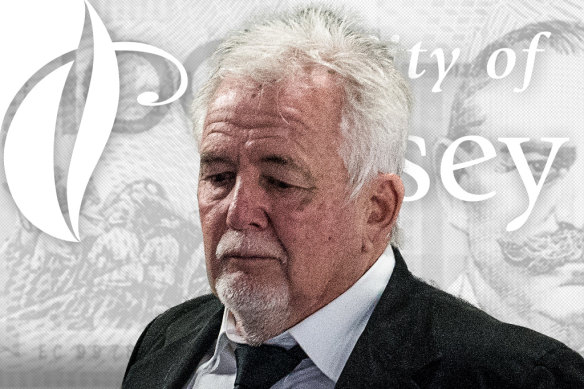 John Woodman, the key figure in the Operation Sandon inquiry.Credit:
"I anticipate that in the near future, the opportunity will arise to revisit the definition of corruption and the value of the commission having greater flexibility in conducting public hearings. In these and other important areas, some legislative changes are necessary."
Redlich has previously lamented the lack of "sufficient recognition" given to the importance of exposing soft or grey corruption, such as pork-barrelling. But the government is unlikely to expand the definition of corruption to capture issues that fall within the "grey zone".
Redlich has previously told The Age he believed Victoria's strict requirements for public hearings are superior to the less-private model used by NSW's Independent Commission Against Corruption, which doesn't work under the same stringent restrictions.
IBAC is only allowed to grill people publicly when there are "exceptional circumstances, it is in the public interest, [or] they can be held without causing unreasonable damage to a person's reputation, safety or wellbeing".
The anti-corruption commissioner, whose five-year term ends on December 31, noted in his final annual report he believed he was leaving IBAC as a "strong and effective integrity agency" and he was pleased to see the issue of integrity taking centre stage in the public discourse.
He said while IBAC was proud of its police oversight work, he believed more needed to be done.
The government last year announced a systemic review into Victoria's police oversight body, a key recommendation of the Royal Commission into the Management of Police Informants, which investigated Victoria Police's use of barrister Nicola Gobbo as a human source against her clients.
"As we have advised government and said publicly many times, we cannot increase our oversight activities without additional resourcing and legislative change," Redlich said.
Legal experts, academics and Aboriginal service providers have called for an independent police oversight agency, modelled on the world-leading Police Ombudsman of Northern Ireland model. However, senior sources have told The Age the government was not contemplating any wholesale reforms to the existing model.
Attorney-General Jaclyn Symes in October said the government was still committed to strengthening the external oversight of Victoria Police and would have more to say after the November state election.
"We want to make sure that we have an oversight system that Victorians can have public confidence in, and we know we need to be complaint-focused in relation to a new model," Symes said.
IBAC has pushed the government for some time for increased funding to investigate more police misconduct and public service corruption. In 2019, the now former special minister of state Gavin Jennings was moving to meet its demands and increase IBAC's capacity, according to sources with knowledge of the issue.
Jennings' proposal was not backed by Premier Daniel Andrews or then-police minister Lisa Neville.
The Morning Edition newsletter is our guide to the day's most important and interesting stories, analysis and insights. Sign up here.
Most Viewed in Politics
From our partners
Source: Read Full Article