Meghan Markle did wear 'rainbow' colours on purpose during her 'royal farewell tour' Netflix documentary reveals
When the Duchess of Sussex came back to the UK for the first time since she and Prince Harry revealed they would be stepping down as senior working royals back in March 2020, you may remember there was a big change to her wardrobe.
Gone were the days of creams, muted tones and beige and Meghan's wardrobe was awash with colour. Who can forget her emerald green Emilia Wickstead cape dress, or turquoise blue dress and umbrella moment?
MORE: "It has to be flawless" Meghan's wedding dress designer reveals all in Harry & Meghan documentary Part 2
RELATED: Did Meghan Markle just have her own 'revenge dress' moment?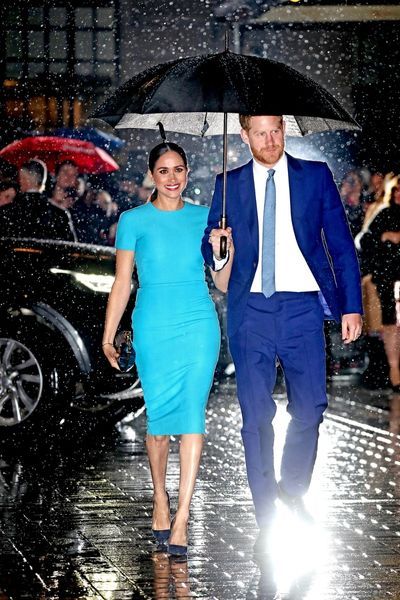 Harry and Meghan attend The Endeavour Fund Awards on March 05, 2020
It turns out that her decision to wear colour was actually very deliberate, the Sussexes reveal in Part 2 Episode 5 of their Netflix documentary Harry and Meghan.
Harry explains, "that farewell week, we did all these engagements back-to-back. It was just like… it was a real whirlwind." The couple undertook five engagements in five days. Meghan revealed, "Until that last week in the UK, I rarely wore colour." The reason for that she explains was because, "I never wanted to upstage, or ruffle any feathers. So I just tried to blend in."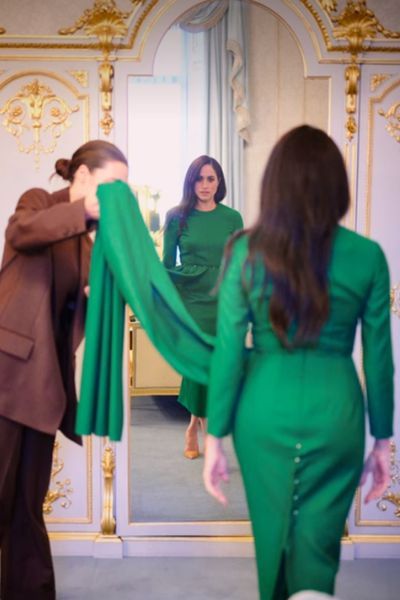 Meghan has a fitting in her green Emilia Wickstead dress
Then she continues, "But I wore a lot of colour that week… I just felt like, 'Let's just look like a rainbow.'" Harry elaborates that "We weren't with the family. It was our opportunity to go out with a bang to be honest."
MORE: Harry & Meghan's 2nd Netflix trailer just dropped, and she reveals her never seen before interiors
RELATED: Meghan Markle wears a stunning lavender jumper in trailer for Netflix documentary 'Harry and Meghan'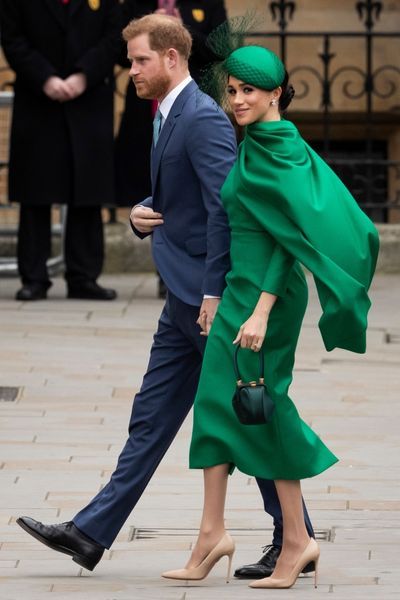 Harry and Meghan at the Commonwealth Day Service on March 9, 2020
In the first part of the series the royal style icon previously told viewers tells the poignant reason why colour was eschewed in her formal outings when still a working royal, (and no it wasn't just because her usual sartorial style is neutral-hued.)
She explained, "Most of the time that I was in the U.K. I rarely wore colour—there was thought in that." She continues, "To my understanding, you could never wear the same colour as Her Majesty if there's a group event, but then you also shouldn't be wearing the same colour as one of the other more senior members of the family. So I was like, 'Well, what's a colour that they'll probably never wear?' Camel, beige, white… so I wore a lot of muted tones, but it was also so I could just blend in. I'm not trying to stand out here. There was no version of me joining this family and me not doing everything I could to fit in."
Source: Read Full Article