Labor stares down industry revolt as it races the clock to pass swathe of laws
Labor is staring down an industry revolt over its workplace changes in a bid to gain victory for its agenda within two weeks, with Prime Minister Anthony Albanese flatly declaring his critics are "wrong every time" in their complaints about the reform.
The prime minister will launch a bid to pass the divisive bill by arguing the changes are needed to improve workers' pay, but he faces an escalating business campaign that warns of rising costs for employers and higher prices for consumers.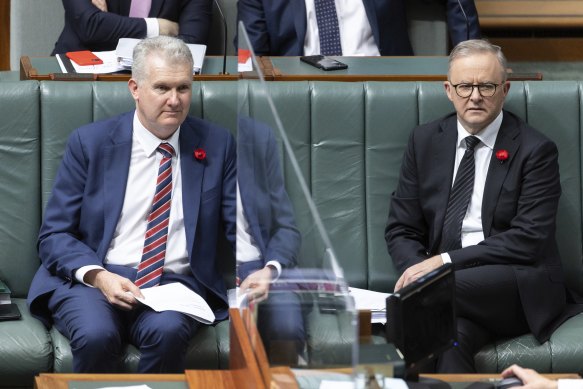 Employment and Workplace Relations Minister Tony Burke and Prime Minister Anthony Albanese will stare down an industry revolt in a bid to pass controversial industrial relations reforms in the next two weeks.Credit:Alex Ellinghausen
With a deal in the Senate hanging in the balance, Albanese will use a speech to union leaders on Monday morning to dismiss critics with an "ideological objection" to Labor reforms that seek to lift pay and conditions.
"Now, of course, there are those who oppose these changes," he will say of the Labor record on industrial relations.
"We know there are always those who say that any improvement in workers' pay, any improvement in the status quo, will see the sky fall in.
"They say it every time, they are wrong every time. And we will push ahead like we do, every time.
"We know fairness has to be fought for, we know progress has to be earned."
The Australian Chamber of Commerce and Industry will launch an advertising campaign with other industry groups on Monday to warn they will incur higher costs under multi-employer bargaining laws that could empower a union to negotiate a single deal with many companies across an entire sector.
"Higher costs will drive inflation and put upward pressure on interest rates," the campaign says.
Parliament resumes on Monday for the final sitting fortnight for the year with the government yet to secure the numbers for the workplace bill and also facing calls for amendments to the draft law to create a national anti-corruption commission and new tax breaks on electric vehicles.
The government is privately conceding the need for additional sitting days – most likely on Friday this week and next week – to pass laws that also include election pledges on childcare funding, the creation of a "disaster ready fund" for future emergencies and incentives for pensioners to downsize to smaller homes.
On energy costs, cabinet ministers are working on regulations that would force gas companies to keep prices down through the mechanism of a code of conduct for exporters to keep more gas supply in the country, a preferred option over a "windfall tax" that might discourage investment.
"We'd like to introduce the price considerations into that code of conduct, so that's the best place to start. And that is an indication really of our preference for regulatory changes rather than taxation changes," Treasurer Jim Chalmers said on Sunday.
Opposition Leader Peter Dutton linked the energy cost pressure to the workplace agenda by saying the government "doesn't know what it is that they want to do" on gas and risked damaging the economy on industrial relations.
"You've got a situation where the government is trying to impose an economy-wide 1970s-style industrial relations system at exactly the wrong time," he said.
"So, you end up with a position where you get a perfect storm and I really worry about what the government is doing to the Australian economy and what will happen over the next few years when families and small businesses just can't afford the sort of price increases that are projected."
A key point of contention in the workplace bill is the scale of the change to multi-employer bargaining to cover not only low-paid workers in childcare and healthcare but all industries including some, such as mining, with high wages.
ACT Senator David Pocock wants the government to split the bill to allow more time to debate the most complex changes while passing the sections that seek to help workers on lower salaries.
Greens leader Adam Bandt is backing the multi-employer bargaining changes but is holding out on separate changes that amend the "better off overall test" in workplace law and could, he fears, allow deals that sacrifice pay or conditions.
Greens leader Adam Bandt said the party will use its numbers in the Senate to improve the bill.Credit:Jason South
"Labor needs the Greens to pass almost all of the government's legislation and we'll be using our numbers in the Senate to improve it," Bandt said on Sunday.
A key point of contention is that Labor did not go to the election with a policy for multi-employer bargaining and only unveiled the change after ACTU secretary Sally McManus called for it on August 24.
The bill was introduced to the lower house on October 27 and was subject to a parliamentary inquiry that will deliver its findings this Tuesday. The government is seeking to pass the law within five weeks of it being introduced, a relatively quick timetable for complex reform.
One industry fear is that a union could reach an agreement with a few employers and then seek to extend it to hundreds of other companies despite their objections, setting up the potential for industry-wide strikes.
Another industry concern is a veto power in the bill to allow unions to block an enterprise bargaining agreement.
"Australian jobs are now in jeopardy," said ACCI chief executive Andrew McKellar ahead of his group's advertising campaign.
The government chose to make December 1 the last sitting day for this year when it set the calendar for federal parliament after the election, and it stuck to this plan when it had to cancel parliament after the death of Queen Elizabeth in September, despite calls from Pocock for more time for debate.
"We might well have to sit extra days and that's fine," Albanese said on Sunday morning.
Cut through the noise of federal politics with news, views and expert analysis from Jacqueline Maley. Subscribers can sign up to our weekly Inside Politics newsletter here.
Most Viewed in Politics
From our partners
Source: Read Full Article