Gardens and public spaces can be funny as well as beautiful
A sense of humour in a home garden is a private thing. You may find your ironic gnome or topiaried chicken screamingly funny; visitors don't have to get the joke. In public places though, the fun has to have wide appeal. This means we usually only see outdoor humour in temporary installations; in the wit of a clever work in Sculpture by the Sea, say.
If you lived in Toronto, though, you might have come to expect a permanent sense of fun in the parks, gardens and streetscapes of the city because of the work of one of Canada's leading landscape architecture firms, Claude Cormier et Associes.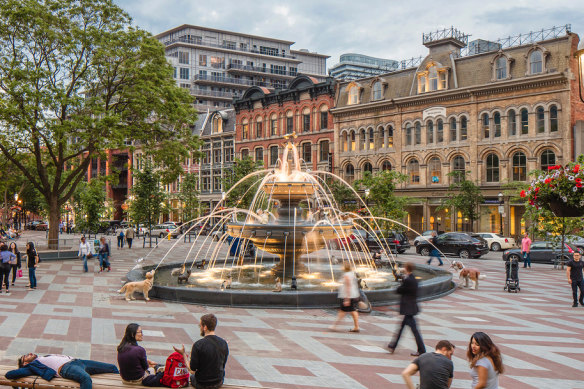 The dog fountain in Berczy Park, Toronto.Credit:Industryous Photography
Cormier worked with landscape provocateur Martha Schwartz in New York before returning to Montreal in 1994 and launching his own company. His studio works exclusively in the public realm – no private gardens – and has developed an international reputation for public spaces that are sensitive to history, ecology and contemporary context, while sometimes also being funny.
Take for example the fountain at Berczy Park in Toronto. "A fountain is a fountain – it's a body of water – but it's also supposed to create animation in the city, and there are so many ways of doing that," Cormier told Azure magazine. "You can design a fountain that does its job, matches the stone of a nearby building and has water jets. Okay, fine. But it can also be expressive."
Cormier's Berczy Park fountain celebrates the locals' love affair with their dogs. It's a dog fountain: realistic, full-colour sculptures of dogs are the source of the water. Six large dogs spout long arcs of water at the base of the fountain while at their feet/paws, basins provide water for real dogs to drink. On the second level of the fountain six smaller dogs, including a Jack Russell and a beagle, add to the splash, and at the next there are puppies, with the crown of the composition being a golden bone.
You can't see it and not smile. Yet it also has something to say about urban contemporary life – the park receives 1,500 visits a day from dogs and their human companions.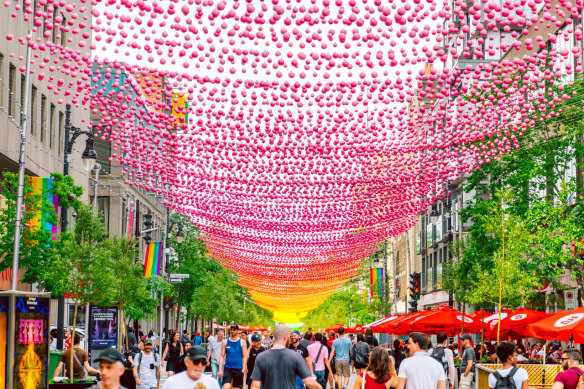 The 18 Shades of Gay, in Toronto.Credit:Jean-Michael Seminaro
Cormier believes that not just our parks but our streetscapes can do a better job of telling stories and bringing human relationships into public space, using colour, light and a sense of humour.
Montreal's 18 Shades of Gay is a kilometre-long rainbow pride banner comprised of 180,000 suspended balls that celebrates the culture of Sainte-Catherine Street. Part of Toronto's industrial waterfront has been transformed into a summer destination called Sugar Beach, complete with sand, fairy floss pink beach umbrellas and a water feature in the shape of a maple leaf.
The pandemic has taught us about the importance of public space; our next conversations need to be about what those spaces can offer us; including how they might make us smile.
Cormier is one of the headline draws for next year's Australian Landscape Conference, in Melbourne March 17-20. Also on the line-up, two expert gardeners, Fergus Garrett of Great Dixter and Dan Hinkley of Windcliff; naturalistic designer Lucian Guibbilei; Kongjian Yu, the Chinese landscape architect tasked with making China's cities more livable; and the Tokachi Millennium Forest horticulturist, Midori Shintani. Check www.landscapeconference.com for details.
Make the most of your health, relationships, fitness and nutrition with our Live Well newsletter. Get it in your inbox every Monday.
Most Viewed in Lifestyle
From our partners
Source: Read Full Article