Criticism of Liz Truss 'gendered', says Gillard
London: Former Australian prime minister Julia Gillard says some of the fierce criticism directed at Liz Truss during her disastrous six-week British prime ministership were gender-based.
Truss' 49-day leadership ended spectacularly last month after her plan to grow the economy by borrowing billions to fund tax cuts crashed the pound, spooked the financial markets and sent the cost of long-term government borrowing skyrocketing.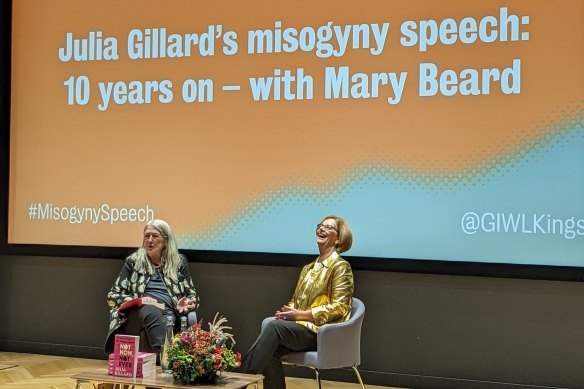 Julia Gillard, right, during a conversation with classicist Mary Beard at the Global Institute for Women's Leadership at London's King's College.Credit:Latika Bourke
Speaking at a packed-out Global Institute of Women's Leadership event at London's King's College, Mary Beard, the British classicist, author, television presenter and prominent critic of the Conservatives, told Australia's only female prime minister that Truss was portrayed by some media differently because of her sex.
While she did not agree with Truss' politics, Beard felt uneasy about the way the leader was treated in the media and how "people used to go on about her terrible voice."
Gillard, who chairs the institute, agreed and added that any prime minister would have been heavily scrutinised for the economic decisions Truss made, but some coverage would not have occurred if she was a man.
"There is no doubt that any prime minister who delivered an economic plan like that which caused such instability in global markets … they would have been in profound political trouble, no doubt about that," Gillard said.
"But that doesn't mean that some of the things along the way weren't gendered."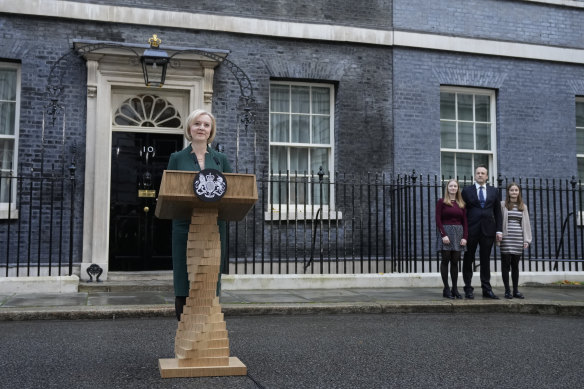 Former prime minister Liz Truss speaks outside Downing Street supported by her family.Credit:AP
That included reporting around Truss' decision to fire her chancellor Kwasi Kwarteng and install one of her ideological opponents, Jeremy Hunt, into the role in a bid to turn around her political fortunes.
"When she did need to appoint Jeremy Hunt as chancellor, under acute political pressure, all of the reporting is that Jeremy Hunt is basically now the prime minister, she's becoming chair of the board and he's now the CEO," Gillard said.
"Well, would they really have written it quite like that if it was two men?"
"I think there was a bit of gender in that."
Truss was often criticised for her wooden communication skills, something she herself acknowledged when she told Tory members she wasn't "the slickest" communicator.
Beard and Gillard were in conversation to discuss 10 years since she delivered her famous speech savaging then opposition leader Tony Abbott as a misogynist in the twilight of her prime ministership.
Liz Truss' short leadership – made shorter by the Queen's death and period of mourning – was compared to the shelf-life of a lettuce.Credit:AP
She said she had "mishandled" the issue of gender during her tumultuous time in power.
Gillard said she should have dealt with the instances of sexism when they arose but had wrongly believed that her performance on the job would kill off sexist critiques.
She had only ever seen Abbott once since leaving politics, and their encounter left those who witnessed it frozen.
"I was in the Qantas flight lounge and the Qantas woman was a bit anxious and a bit flustered … then she came over and said 'we're not supposed to say this for security reasons but Mr Abbott's about to join the lounge'," Gillard recounted.
"He enters the lounge and literally … you could have heard a pin drop, everyone was halfway to their mouths, just about to bite that piece of toast but they were frozen into immobility because they didn't know what was going to happen next."
Gillard said she approached Abbott to defuse the situation and he had wished her well in post-political life.
She said that 10 years on from her speech, which has been reinvented on social media with young women videoing themselves miming Gillard, progress had been made in improving the discussion around female power and leadership with a new generation of feminists more confident.
But she said the merging of online abuse with real-world violence against women had been a major step backwards.
"We've seen what's just happened with Nancy Pelosi's husband, I mean these things are real and so that I think is a truly worrying trend," she said.
Get a note directly from our foreign correspondents on what's making headlines around the world. Sign up for the weekly What in the World newsletter here.
Most Viewed in World
From our partners
Source: Read Full Article