'You can't have your cake and eat it too': Price and supply plan sparks fury in gas states
Talking points
Victoria, which has a moratorium on coal seam gas, is expected to be a net importer of gas as soon as the coming winter.
Premier Daniel Andrews has called for a domestic gas reserve.
But the SA Chamber of Mines and Energy says the states needing more gas seem to be the most reluctant to facilitate its exploration or development. 
And Queensland Resources Council head Ian Macfarlane says Andrews shouldn't expect other states to fill the supply gap caused by its moratorium.
A state divide is threatening to derail efforts to reserve gas at low prices for households in Victoria and NSW after producers ridiculed plans to send more supply to the southern states.
With Victorian Premier Daniel Andrews calling for a domestic gas reserve, industry chiefs in Queensland and South Australia lashed out at proposals that would require their states to bear the cost of a looming shortfall in the south.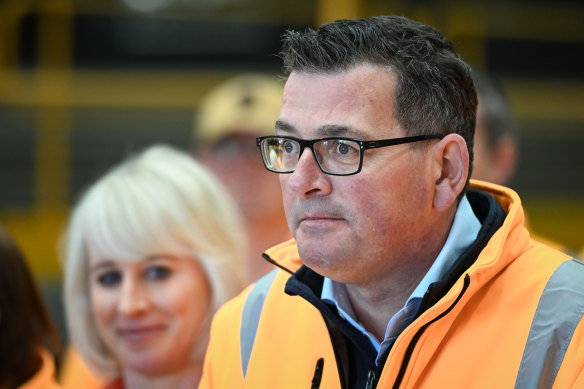 Victorian Premier Daniel Andrews on Monday said Australians wanted their gas to go to the domestic market first before meeting demand from customers overseas.Credit:Justin McManus
Behind the dispute is the national forecast for a fall in the production of gas in NSW and Victoria – which has a moratorium on coal seam gas – over a period when gas will be needed to supply manufacturers as well as gas-fired power stations that offer reliable electricity supply when solar and wind power is unavailable.
"It appears that the states needing more gas, like Victoria, are those most reluctant to facilitate exploration or development of gas," South Australian Chamber of Mines and Energy chief executive Rebecca Knol said.
"Rather than supporting gas extraction in their own state, Victoria is seeking to impose income restrictions on the states that produce gas.
"You can't have your cake and eat it too, and yet this is exactly what Victoria is trying to do."
Andrews drew the reaction after saying on Monday that Australians wanted their gas to go to the domestic market first before meeting demand from customers overseas.
"We need a domestic reserve in this country so that our gas is for our business and our households first," the premier said.
"And then the bit we don't need, these private companies can sell that to the world and good luck to them, they can get the best price possible. But we should not be competing against the world for something that comes out of our ground, nor we should be paying European prices for gas when we are not in Europe."
Victoria was a major producer of gas over several decades, due to the exploration of Bass Strait, but it is expected to be a net importer as soon as the coming winter.
"The forecast large reduction in Victorian production prior to winter 2023 is expected to result in Victoria becoming a net gas importer during winter," the Australian Energy Market Operator said in its latest Victorian gas planning report update.
"It is possible that winter consumption may exceed available production and storage capacity."
Seasonal changes in demand mean Victoria will produce more gas than it consumes on an annual basis but the surplus will shrink from 149 petajoules this year to 68 petajoules in 2026 under the AEMO's "step-change" scenario that assumes a transition to net zero carbon emissions.
NSW Treasurer Matt Kean has also drawn criticism from other states for suggesting liquefied natural gas from Western Australia could be shipped to NSW and pumped into the eastern gas pipelines. There is no terminal to import LNG on the east coast, although mining billionaire Andrew Forrest is proposing one at Port Kembla in NSW.
"Just like WA wants NSW taxpayers to prop them up by taking our GST, NSW families expect WA to do their bit to support them during this energy crisis," Kean said.
Federal Infrastructure Minister Catherine King called the NSW idea a "thought bubble" and WA Infrastructure Minister Rita Saffioti said the economics of the plan would not make sense.
"I think it's NSW wanting to try and cut us down and they've been trying to do that for a few years," Saffioti said.
The head of the Queensland Resources Council, Ian Macfarlane, said the proposals aired in the southern states would cut royalty payments to the Queensland government and restrict industry in the state to make up for mistakes in NSW and Victoria.
"Queenslanders have already stepped up to the plate and we're supplying the failings of NSW and Victoria, which have not developed their own resources," he said.
Macfarlane was resources minister in the last five years of the Howard government and the two years of the Abbott government and argued at the time for the development of the Narrabri gas field in northern NSW, which Santos says could produce 70 petajoules a year for the domestic market.
Macfarlane said Andrews should not expect other states to fill the gap in supply caused by the Victorian moratorium when Queensland had developed its gas fields with acreage reserved for the state market.
"It's not his gas, it's Queenslanders' gas," he said.
"What we're seeing in Victoria is a rant against any form of fossil fuel. And then, all of a sudden, this absolutely ridiculous suggestion that not only should we supply gas, which we're doing all we can to do, but we should supply it at an even cheaper price than Queenslanders are currently paying.
"The only thing that surpasses this ridiculous proposal is the stupidity of the proposal that LNG be made in Western Australia and exported to NSW at a discount."
Cut through the noise of federal politics with news, views and expert analysis from Jacqueline Maley. Subscribers can sign up to our weekly Inside Politics newsletter here.
Most Viewed in Politics
From our partners
Source: Read Full Article