Melbourne University to pay casuals $22m in unpaid wages
Thousands of current and former casuals at the University of Melbourne will be paid $22 million in wages they were denied between 2013 and 2021.
The university said on Wednesday that about 15,000 casuals had been found to have been underpaid after the analysis of 3.2 million payslips over eight years.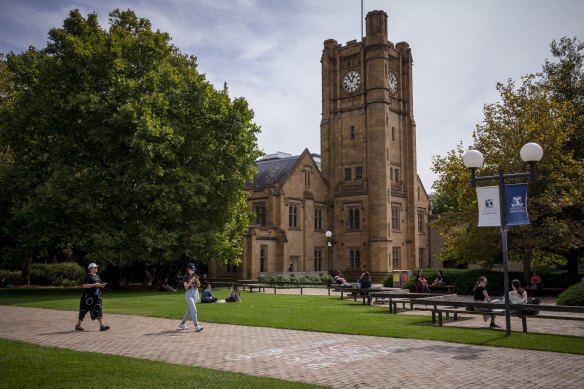 About 15,000 current and former casuals at Melbourne University will be paid a combined $22 million in unpaid wages.Credit:Wayne Taylor
The total size of the underpayments by Australia's wealthiest university could ultimately exceed $22 million, with the tertiary institution saying it expected to continue its remediation program over the coming months.
Affected employees from the initial tranche of underpayments will receive an average payment of $1476.
Vice-chancellor Professor Duncan Maskell said the university apologised to any past and present employees who have not been paid correctly for the work they performed.
"We are committed to remediating these discrepancies and fully complying with our obligations," Maskell said.
"We remain committed to strengthening the university's governance structures, systems and processes, and this continues to be an area of focus for our institution."
Findings of the review by Deloitte indicated that the most common issues were incorrect payment for the casual minimum engagement period (59 per cent of payments) and for weekend and public holiday overtime (29 per cent of payments).
The underpayments were in breach of workplace agreements the university made with staff in 2013 and 2018.
Back payments will include superannuation and interest. The university said it will not ask anyone who has been overpaid to repay any money.
Universities have been placed on a watch list this year by the Fair Work Ombudsman over systemic underpayments of casual staff.
The university has committed to reviewing its heavy reliance on casual labour. According to its most recent annual report, 51.5 per cent of employees are on fixed-term or casual contracts.
"In 2022, the University will review its approach to workforce planning to reduce reliance on casual employment, recognising that workforce structures which rely heavily on casual employment are neither desirable nor sustainable," its 2021 report says.
The Fair Work Ombudsman said late last year that it was investigating potential wage theft at 14 Australian universities. Separately, it is also pursuing Melbourne University in court, alleging it coerced and took adverse action against two casual academics to stop them from claiming payment for work performed.
More to come.
Most Viewed in National
From our partners
Source: Read Full Article