Rishi Sunak, Boris Johnson eye British prime ministership after Liz Truss resigns
London: Former chancellor Rishi Sunak has emerged as the early favourite to become Britain's next prime minister after Liz Truss resigned and became the shortest-serving prime minister in British history.
Truss, whose time in Downing Street was marked by financial and political turmoil, was told she had lost the confidence of the majority of Tory MPs and cabinet ministers on Thursday morning and should stand down. She resigned after just 44 days in the top job.
Britain's Prime Minister Liz Truss announcing her resignation outside Downing Street on Thursday.Credit:AP
Her resignation has left a bitterly divided Conservative Party with the challenge of choosing Britain's third prime minister in a matter of months amid growing calls for a general election.
Sunak, who stood against Truss for the Tory leadership in the summer, had warned that his rival's economic plans would set off panic in the markets if she pressed ahead with a massive package of debt-funded tax cuts.
But the race now threatens to be overshadowed by a campaign to bring back former PM Boris Johnson, who several Tory MPs have publicly implored to run. Others, however, regard the prospect of him returning with horror.
Potential successors have been given until 2pm on Monday to attract nominations from 100 Conservative MPs. That threshold was widely seen as an effort to deter Johnson – reported to be returning early from a holiday in the Caribbean – from attempting an unlikely comeback six weeks after leaving office.
Johnson was forced out on September 6 this year after having won an 80-seat majority as leader fewer than three years earlier.
Truss' shock statement outside Number 10 at 1.35pm (UK time) lasted for less than two minutes. She did not take any questions but said she had notified King Charles III in a short telephone conversation that she was standing down as Conservative leader and a new leader and prime minister would be chosen next week.
"We delivered on energy bills and on cutting national insurance. And we set out a vision for a low-tax, high-growth economy – that would take advantage of the freedoms of Brexit," she said.
"I recognise though that given the situation, I cannot deliver the mandate on which I was elected by the Conservative Party," she said.
Truss, 47, said she had met 1922 Committee chairman Sir Graham Brady on Thursday morning to take the mood of the party room after at least a dozen Tory MPs had called on her to resign.
Conservative Party Chairman Sir Jake Berry and Deputy Prime Minister Therese Coffey were also seen entering Downing Street, adding to the sense that the crisis surrounding Truss' premiership was coming to a head.
She said she had agreed with Brady that there would be a leadership election within the next week.
"This will ensure that we remain on a path to deliver our fiscal plans and maintain our country's economic stability and national security. I will remain as prime minister until a successor has been chosen," she said.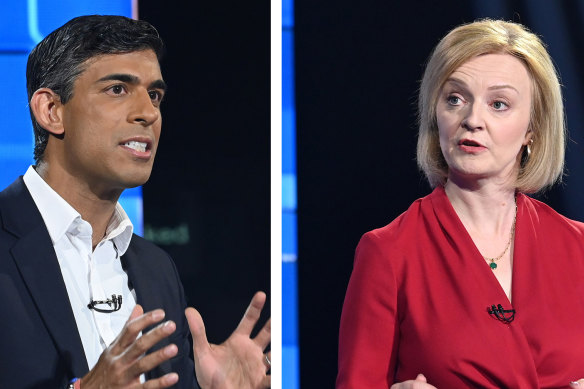 Rishi Sunak and Liz Truss take part in a debate in July 2022.Credit:Getty
Brady later told journalists the party had set a "high threshold" of 100 MP nominations for candidates to appear on the ballot, which he said should be "achievable for any serious candidate". He said with 357 Conservative MPs, it would allow for as many as three candidates to run.
After MPs have reduced the list to two, the 170,000 Conservative Party members will vote online for the next leader. Nominations are open now and will close at 2pm on Monday. The leader will be chosen by October 28.
Former British prime minister Theresa May called for MPs to compromise as they started the process of selecting a new leader. May, who led the country between 2016 and 2019, said the party had a duty to provide "sensible, competent government".
Labour leader Sir Keir Starmer issued a statement immediately after Truss' resignation, saying the Conservatives had shown they no longer had the mandate to govern.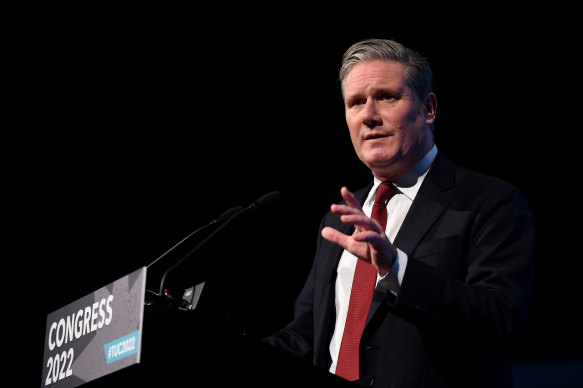 Britain needs a general election now, says Labour leader Keir Starmer.Credit:Getty
"The Tories cannot respond to their latest shambles by yet again simply clicking their fingers and shuffling the people at the top without the consent of the British people. They do not have a mandate to put the country through yet another experiment; Britain is not their personal fiefdom to run how they wish," he said.
"We must have a chance at a fresh start. We need a general election – now."
Truss' six-week tenure has been engulfed in financial chaos following a disastrous growth-focused mini-budget that included borrowing billions of pounds to subsidise energy bills and massive tax cuts that sent the currency to record lows against the US dollar.
Her short reign saw her economic strategy crash and burn, the sacking of her chancellor Kwasi Kwarteng after just 38 days, and Suella Braverman's forced resignation as home secretary on Wednesday.
The Bank of England was forced to take emergency action to calm turmoil in financial markets amid the collapse in the pound and the increase in government borrowing costs and Truss' authority was stripped when she was forced to abandon all her promises weeks later.
Truss had won the support of 57 per cent of Conservative members in September following the resignation of Boris Johnson after just three years, following months of scandal.
She will likely end her stint in office after about 50 days – a long way behind the next shortest premiership of George Canning, who spent 118 full days as prime minister in 1827 before dying in office from tuberculosis.
Following her resignation the sterling remained higher, trading up 0.5 per cent on the day against the greenback at $US1.127.
US President Joe Biden, who was highly critical of Truss' economic decisions, said nothing would change the fact that the United States and Britain were strong allies and enduring friends.
"I thank Prime Minister Liz Truss for her partnership on a range of issues including holding Russia accountable for its war against Ukraine," he said. "We will continue our close co-operation with the UK government as we work together to meet the global challenges our nations face."
Get a note directly from our foreign correspondents on what's making headlines around the world. Sign up for the weekly What in the World newsletter here.
Most Viewed in World
From our partners
Source: Read Full Article