'Interview With the Vampire' Has Already Been Renewed for Season 2, So Let's Sink Our Teeth Into What We Know About It
If you're anything like me, you've been freaking out over AMC's sexy adaptation of Anne Rice's Interview With the Vampire. There's nothing like a vampire romance, and Louis and Lestat's is an all-timer among immortals. But will the show get an extended life? Here's what we know about Interview With the Vampire Season 2.
Spit it out! Is Interview With the Vampire getting a season 2?
You're darn tootin' it is. AMC renewed Interview With the Vampire for season 2 ahead of the series premiere. They are committed to Louis and Lestat's relationship, y'all.
"The opportunity to revisit the passionate and shocking world of Louis, Lestat, and Claudia is irresistible," said producer Mark Johnson in the official press release announcing Interview With the Vampire's renewal. "We will happily walk through the doorway that AMC has so kindly opened for us and deliver a season two that takes full advantage of the wonders bestowed upon us by Anne Rice."
What will season 2 be about?
There are several Anne Rice books that make up the "Vampire Chronicles" about Louis, Lestat, and others who enter their orbit… but based on the below quote from showrunner Rolin Jones, also from the press release, it looks like the 7-episode season 1 won't even finish the events of the first book:
Not to give it away and spoil the experience of Interview With the Vampire, but the middle section of the novel takes some of our characters out of New Orleans and to the continent of Europe. It's a wild, dramatic time that's going to make for a LOT of big moments in season 2 if it follows suit.
Who will be in season 2 of Interview With the Vampire?
Well… that could be a spoiler. If you haven't read the novel or seen the 1994 film with Brad Pitt, Kirsten Dunst, and Tom Cruise (and TBH, what are you waiting for?) then you don't know which characters may or may not make it to the second season. The only characters we know for sure make it to the present day are Louis and Daniel, the interviewer.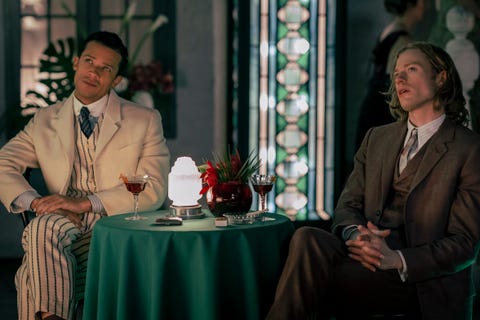 There are also exciting "Vampire Chronicles" characters that have yet to show up in season 1 and could make exciting cast additions in season 2. I, for one, would love to see a flashback of Louis meeting young Daniel at the club in the 1970s in season 2. They mentioned it in the first episode, and I haven't been able to stop thinking about it since.
When will Interview With the Vampire season 2 be released?
AMC has not announced the release date yet, but I'd put money on it being in or around October 2023. Why? The seasons are pretty short, so they probably won't take longer than a year to make. Plus, it's a spooky vampire show! It's gotta be watched in the season of spook! The Walking Dead, which usually dominated AMC in October, will be over by then. They're going to need to pull in horror fans with something.
Source: Read Full Article