Tragedy forces a warring family to reunite in absorbing new ABC drama
There's an immediately absorbing intensity to the six-part local drama, Significant Others. It opens with teenage Hanna (Zoe Steiner) waking to discover that her mother, Sarah (Jacqueline McKenzie), has left their home. She heads to the nearby beach, where she sees Sarah in the distance, signalling from the water: is she waving or indicating distress? Hanna tries to swim out to her, but can't find her. So, from the outset, there's a mystery. Did Sarah drown? Was it an accident? Or has she, for some reason, disappeared?
Soon after, Sarah's three adult siblings arrive at the house that Hanna also shares with her brother, Ciaran (Gulliver McGrath) and it's readily apparent that this is a fractured family. Den (Kenneth Moraleda), Ursula (Rachael Blake) and Claire (Alison Bell) are dismayed to discover their childhood home in the midst of a substantial renovation. It soon emerges that Sarah's inheritance of the property was the subject of a legal battle and that the siblings have since been estranged.
Fractured family: Claire (Alison Bell), Ursula (Rachael Blake) and Den (Kenneth Moraleda) are forced to settle their differences when their sister disappears in a swimming accident.Credit:Mark Rogers
The air is heavy with shock, regret and grief as tensions between the family members simmer. It's clear that the visitors are trying to tread carefully, to be sensitive to and supportive of Sarah's children. But the bitterness runs deep. Ciaran has no compunction about informing Ursula that she's unwelcome: "Mum thought you were a bitch".
Woven around the mystery in the series created by playwright and screenwriter Tommy Murphy (Holding the Man, The Twelve) and directed by Tony Krawitz (The Tall Man, Firebite, Secret City) is a probing family drama. There's so much weighty emotional baggage attached to this gathering that Claire, travelling from her mountain home, stops en-route to fortify herself at a wine tasting. Den's caring fiance, Wayne (Todd McKenney in a beautifully judged performance), soon arrives to provide support for him.
Krawitz first worked with Murphy on Devil's Playground, the excellent 2015 miniseries sequel to Fred Schepisi's 1976 film. He says that his initial reading of this script was a powerful emotional experience. "It felt specific and universal. It was specific to this family, but it reminded me of my family. And many people who worked on the show said it reminded them of their families. The characters are so well drawn."
The series was written by showrunner Murphy with Niki Aken, Blake Ayshford, Louise Fox, Vonne Patiag and Sue Smith. Krawitz notes that Murphy "brought on women who were similar ages, or a bit older, than the female characters, and it was great to have their insights".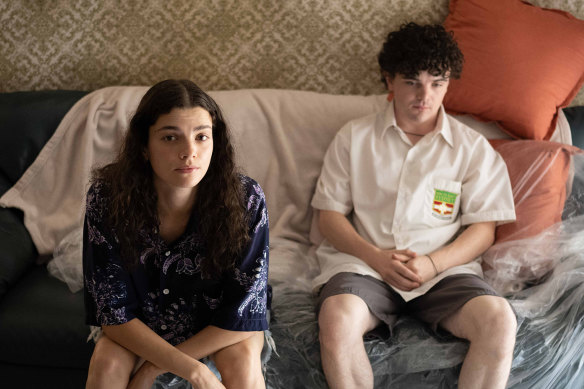 Hanna (Zoë Steiner) and Ciaran (Gulliver McGrath) will soon discover the deep bitterness between their mother and her siblings, who arrive to care for the teenagers after their mother vanishes. Credit:H. Stewart
In the atmosphere of the drama, which was filmed mainly in Malabar in Sydney's south-east, there's no hint of the classic sunny coastal lifestyle. The beach has a brooding, menacing quality, as does the house, which, in its state of transition, feels dark and shadowy. In part, that's by design, but it was aided by the relentless rain through the shoot, which began in February. "It was pretty amazing to have that powerful weather when you're dealing with powerful emotions and feelings," notes Krawitz. "It's not usual that Sydney looks that European and rainy." There was so much rain that the scripts had to be rewritten and, instead of Claire's mountain home being threatened by fire, the danger comes from potential flooding.
It felt specific and universal. It was specific to this family, but it reminded me of my family.
Meanwhile, the family home functions as a metaphor for damaged relationships in need of repair. Rachael Blake (Wildside, Lantana, Cleverman) recalls Krawitz saying that he "wanted to shoot with a documentary feeling, so that there's a sense that you just creep through this house and catch people doing whatever they're doing". What Ursula is doing, as is her wont, is trying to take charge and organise everyone. "I think as far as her siblings go, Ursula views herself as the adult in the room," says Blake. "She's the one who looks after things, who works out a plan and executes it. But I also think of her as a bit of a bulldozer: she thinks that if she says something often enough and loudly enough, she'll get what she wants. And she has a bit of an addiction to being right."
Krawitz notes, "Ursula could be played quite cold. It was important for viewers to be able to get a complex sense of her as a character. Rachael found a depth to Ursula and had empathy for a character who's not always empathetic. It's easy for us, with a character like that, to go, 'I don't like her.' But I was more interested in trying to understand why she's like that." His view is that Ursula "keeps herself so closely tied together because she's terrified of falling apart".
Director Tony Krawitz (left) on the set of Significant Others.Credit:Mark Rogers
That complexity applies to each of the family members, who are portrayed with all their flaws and frailties, not always acting wisely or well. Ciaran and Hanna are clearly lost and confused, striking out in different ways. And the presence of their aunts and uncle, who are endeavouring to provide comfort while dealing with their own issues, also serves to emphasise the distance between them.
Krawitz notes: "They're all in crisis in different ways before Sarah goes missing. The teenagers have rites-of-passage issues, coming of age, becoming adults. Den is almost at the end of his dancing career, Ursula has financial problems, Claire's in a relationship she doesn't like, selling sculpture online and wishing she was in a gallery. They're all trying to work out their lives."
While the world seems to be darkening around the family, Krawitz and Blake enthuse about the positive process of bringing their stressful situation to the screen. "It felt very open," says Krawitz. "We were trying to make the family as real as possible and Tommy gave me a lot of freedom and I gave the actors a lot of freedom."
During the two-week rehearsal period, Blake recalls the cast being encouraged to share their knowledge and experiences of dealing with death, grief and battles over wills. "We talked about the psychology of people we knew, what we'd seen and how it feels to be in those situations," recalls Blake. "So we built the texture. Everything comes from the scripts, but when you start from a place of an adult conversation, and honour that, it's a good place to set the tiller as you traverse it. On some shows, we don't get rehearsals, but it was really valued on this gig."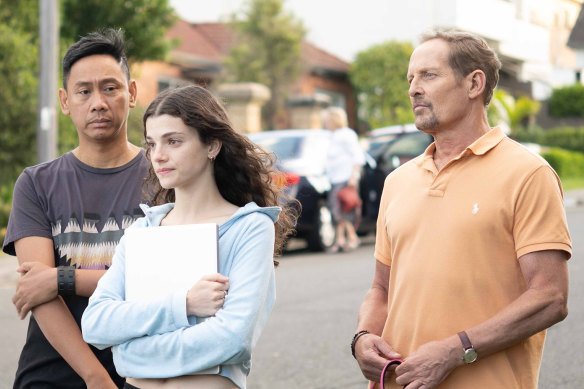 Todd McKenney (right) delivers a finely judged performance as Den's partner in the intense family drama Significant Others.Credit:H. Stewart
The actors were encouraged to finesse their characters, productively playing and replaying scenes until the desired outcome was achieved. "There was a lot of improvisation on set and a lot of those improvisations ended up in the final cut," says Krawitz.
Blake cites a sequence from the third episode where Ursula and Claire get drunk and some of the barriers between them briefly come down. They laugh and recall their shared history, conveying a sense of what they might've been like together as teenagers, before the pressures of adulthood set in. "I don't know how long we shot it, but it felt like about a year," Blake says happily. "Al [Alison Bell] and I basically stayed in it. We impro-ed between the scenes, impro-ed being shit-faced and how that conversation might go. We stayed in it for maybe two or three hours and what I didn't know was that Tony rolled on the whole thing.
"Most jobs are shot on very tight schedules," she adds. "They have to be because time is money, blah, blah, blah. You have to get to the third scene by 12.05pm, or whenever it is. But if we were still working through a scene, Tony would keep shooting, even if we were behind. And that's unusual."
The desire to portray this family with authenticity, in their raw pain, resentment and love, as their secrets and lies spill out, kept them all going, with Blake noting appreciatively, "I felt like Tony stood at the gates of quality for us."
Significant Others is on ABC, Sunday, 8.30pm and iview.
Find out the next TV, streaming series and movies to add to your must-sees. Get The Watchlist delivered every Thursday.
Most Viewed in Culture
From our partners
Source: Read Full Article