The knives are out in this kitchen sink drama
A TASTE OF HUNGER
M, 104 minutes
In cinemas October 13
★★★★
The opening scene of this Danish film is all about food as theatre. Carsten (Nikolaj Coster-Waldau) and his wife, Maggie (Katrine Greis-Rosenthal) are setting the stage for the opening of their new restaurant.
Most of the room will be in darkness with each dish sitting in its own pool of light. We're in the world of the celebrity chef here and food is centre stage. Carsten is running an establishment inspired by Copenhagen's famed Noma but he's also trained in Japan, returning with a fervent belief in the potential of the culinary art as a cross between performance art and religious experience.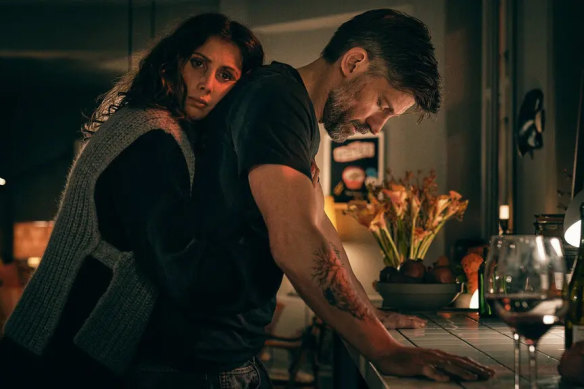 Food fight: Katrine Greis-Rosenthal and Nikolaj Coster-Waldau in A Taste of Hunger.Credit:Henrik Ohsten/Magnolia Pictures
Maggie becomes his co-worshipper and during the early years of their marriage, their shared desire to see their restaurant succeed serves as the aphrodisiac that sparks their sex life. Then Carsten's urge to attain a Michelin star starts eclipsing everything else in his life. We know the marriage is in trouble when he has a meltdown because his young daughter, Chloe (Flora Augusten) manages to spill the vinaigrette before it can be added to the salad at a family barbecue.
The director, Christoffer Boe and his co-writer, Tobias Lindholm, who's collaborated regularly with Thomas Vinterberg, one of Danish film-making's great success stories, adroitly interweave the complications of Carsten and Maggie's fractured love story with the politics of Denmark's culinary scene, although their fondness for flashbacks does require concentration.
The action moves back and forth between past and present with great frequency but it's not hard to orientate yourself once you've learnt the signals to look for and Coster-Waldau and Greis-Rosenthal certainly make an attractive couple. Their relationship reaches crisis point when Maggie has a health scare only to find Carsten can't be diverted from a drama in the restaurant's kitchen long enough to fear the possibility his wife may be in mortal danger.
In other words, Carsten is turning into a monster, which makes Maggie's short-lived affair with another chef perfectly understandable, but because of the juxtaposition of past and present, we're repeatedly reminded of what they had together. And there is the fact Coster-Waldau has so much charm that it's quite difficult to write him off as a lost cause.
Some of the plot twists are just too contrived to be true. I wasn't convinced by the ending, which is dubious on a couple of counts but all up, it's an intimate and absorbing analysis of a marriage brought to breaking point by the pressure of a shared ambition gone sour.
A cultural guide to going out and loving your city. Sign up to our Culture Fix newsletter here.
Most Viewed in Culture
Source: Read Full Article