Federal infrastructure spending to be overhauled to maintain flow of money
Federal spending on road and rail projects will be overhauled in new laws to be put to parliament within months to prevent a sudden slump in infrastructure funding from $17.5 billion this year and ensure the mammoth plans can shore up economic growth.
The federal government will use the laws to shake up its peak advisory group, Infrastructure Australia, and demand a sharper focus on a shorter list of national priorities after talks with state leaders on the construction projects that deserve the most funding. The changes will ensure federal money is committed to infrastructure projects that are likely to be built by the states within the funding timeframe.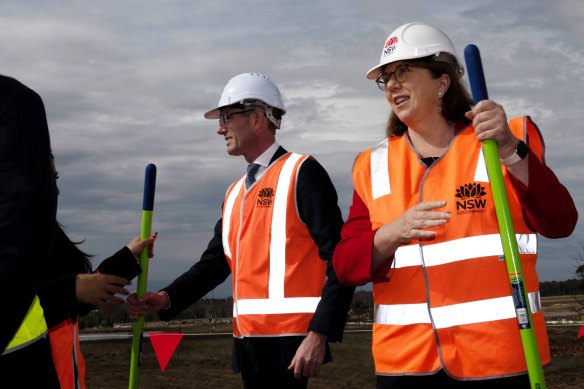 Infrastructure Minister Catherine King (right), pictured with NSW Premier Dominic Perrottet, will work with the states to achieve a smooth pipeline of federal infrastructure spending.Credit:Nick Moir
The talks have also cleared the way for a new round of infrastructure spending in the October 25 budget when the government believes a global recession is probable and wants a steady flow of spending on construction to support domestic growth.
Infrastructure Minister Catherine King said she wanted a more powerful statutory agency to advise on the priority list of major projects, which currently has 167 ideas but will need to be focused on the most urgent spending on work of the greatest national significance.
"There's a real balancing act about trying to make sure that we actually have the capacity to deliver projects, so the money is available, at the same time as not … stopping the pipeline," King said in an interview.
"That's been part of my task in the last three months, to talk really frankly with the states about whether a project can be delivered, and if the timeframe is realistic, and they've been very good about actually saying that, on lots of projects, they need to actually smooth that out a bit further.
"But we're really trying to make sure that the investment is still coming and still available."
Annual federal spending on state infrastructure is forecast to fall to $11.1 billion in 2026 unless the government adjusts the "pipeline" of work in the budget across dozens of projects including roads in every state as well as the Melbourne Airport Rail line, the Sydney Metro line and the rail line from Brisbane to the Sunshine Coast.
King has held several rounds of talks with state and territory infrastructure ministers ahead of the budget to move some of the spending from one year to the next, known as "reprofiling" because it changes the timing but not the total of the outlay.
Treasurer Jim Chalmers said last Tuesday there would be some reprofiling on October 25 to deliver projects in the "most responsible and affordable way" in light of serious budget constraints.
King acknowledged that construction costs were rising due to higher prices for building materials and higher wages due to skills shortages, adding that the objective of the budget would be to smooth out the spending over several years to support the economy.
"What you don't want to do is then put so much into the system, that what you end up doing is not being able to actually deliver, but there's also the danger that you slow down too much," she said.
King said she wanted to put a bill to parliament this year to restructure Infrastructure Australia after she receives a report in the coming weeks on how the agency should work.
"What's happened is we've seen Infrastructure Australia sidelined and then trying to be all things to all people, and we've had fairly poor relationships between the Commonwealth and the states, or some states."
Asked if the agency needed a more high-powered board, King said: "Yes – it needs it has to have a skills-based board that is taken very, very seriously."
Changes have already begun at the agency with the departure of chairman Colin Murray and directors Amanda Cooper, Elizabeth Schmidt and Vicki Mayer, all of whom were appointed by the previous government last November and none of whom are now listed on the agency's website as directors. Their departures are yet to be officially announced but a spokesman for the agency said Murray finished up on September 30.
King was strongly critical of their appointments last year and branded Murray as an avowed supporter of then-Nationals leader and deputy prime minister Barnaby Joyce. In a press release on November 25, King said that Cooper was a vice president of the Liberal National Party in Queensland, Schmidt had been a candidate for the LNP in Queensland state elections and Mayer was a former branch president of the Liberal Party.
Infrastructure Australia chief executive Romilly Madew announced in May she would leave the post in August to lead Engineers Australia, leaving chief operating officer Adam Copp as acting chief executive.
"I think it's important that we've got a board that is taken seriously as serious players within the infrastructure space and listened to by government," King said.
Federal payments on state infrastructure projects are due to climb from $12.3 billion last financial year to $17.5 billion this year and $19.2 billion next year before falling to $16.8 billion in 2024-25 and $11.1 billion in 2025-26.
The figures, from the federal budget in March this year, highlight the sharp increase in spending this year but the sudden fall in later years when the government wants a smoother "pipeline" of spending year-by-year.
Cut through the noise of federal politics with news, views and expert analysis from Jacqueline Maley. Subscribers can sign up to our weekly Inside Politics newsletter here.
Most Viewed in Politics
From our partners
Source: Read Full Article