'Kick in the guts shock': Richard Roxburgh relives the Bali bombing
Like most Australians, Richard Roxburgh remembers where he was 20 years ago on October 12, 2002. That's when news broke that a-little-known Indonesian terrorist organisation, Jemaah Islamiyah, had detonated three bombs in Bali – two of them in busy nightclubs, the Sari Club and Paddy's Bar, frequented by Western tourists.
The explosions killed 202 people, 88 of them Australians and many of them Balinese – and wounded hundreds more. It remains the single largest loss of Australian civilian life from an act of terror.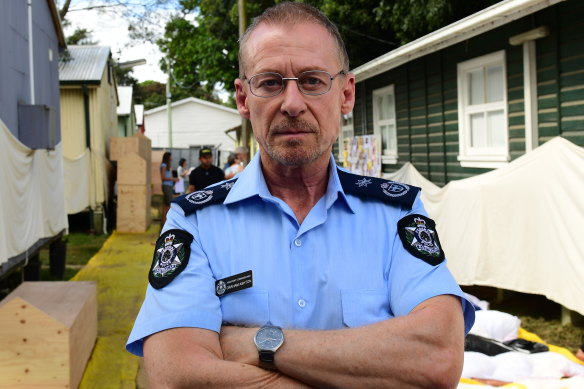 Richard Roxburgh as Australian Federal Police Commander Graham Ashton in Bali 2002.
"I was in London," says the actor/director/producer whose performance in Beckett's Waiting For Godot alongside friend Hugo Weaving was enthusiastically received on the West End stage. (Though he's still most cherished for the dissolute lawyer Cleaver Greene he co-created in Rake.)
"I felt this kick-in-the-guts shock as anyone would when something like that happens to a bunch of people on holiday."
Bizarrely, we're talking in his teenage son's maths classroom in Sydney's Terrey Hills. The school is doubling as a logistics base for Bali 2002, a four-part TV drama focusing on a dozen people (Westerners and Indonesians) and how the terrorist attacks changed their lives irrevocably.
The cast – including Claudia Jessie from Bridgerton – is rich in acting credentials. Rachel Griffiths plays the best-known character, Dr Fiona Wood (later to become Australian of the Year), a mother of six and medical pioneer whose invention of "spray-on skin" came to the fore when 28 severely burnt victims were evacuated to the Royal Perth Hospital.
Roxburgh plays Graham Ashton, the fluent Indonesian speaker and Australian Federal Police commander, who was dispatched to Denpasar in an attempt to bring order to a peaceful Hindu island targeted by terrorists.
"I've never met Graham," Roxburgh says. "But I have spoken to him on the phone. And we exchange text messages whenever I have any immediate questions I need to ask him."
Today has been a tough morning. Director and co-producer Peter Andrikidis has been filming the capture of Amrozi bin Nurhasyim, the mechanic turned "smiling assassin" who was eventually executed for his role as leader of the bombing group.
His actual arrest took place on Java, the most populous Muslim island of the Indonesian archipelago. But this footage is being filmed in a bamboo garden in Terrey Hills, best known for its horse paddocks and monster 4WDs.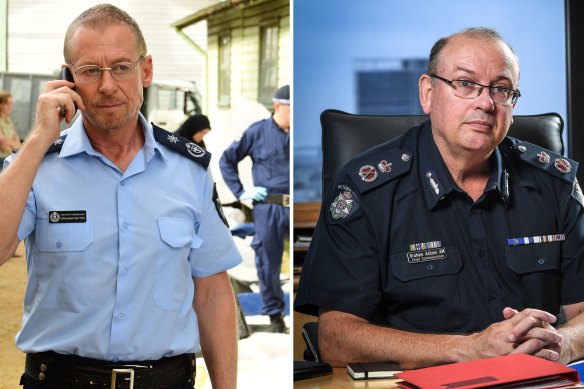 Richard Roxburgh in character as Graham Ashton, who led the international investigating team.Credit:Tony Mott/Justin McManus
Unfortunately, it has been raining for weeks and the walk to "Amrozi's hut" is a health and safety nightmare.
"When I signed on for this, I thought we'd get at least a few days in Bali," Roxburgh jokes. "Instead, we got Penrith and Terrey Hills."
It goes against casting for Roxburgh to play a decent cop. His performance in Blue Murder (banned for many years in NSW) as Roger Rogerson – the now disgraced detective and imprisoned murderer – remains a masterclass of the genre. As do his twin performances as Bob Hawke in Ten's 2010 telemovie, Hawke, and Netflix's The Crown.
However Bali 2002 – the first drama co-commission between Stan and Nine, owner of this masthead – had an extra resonance for Roxburgh.
"I have a weird and puzzling relationship with the whole Bali bombings story," says Roxburgh.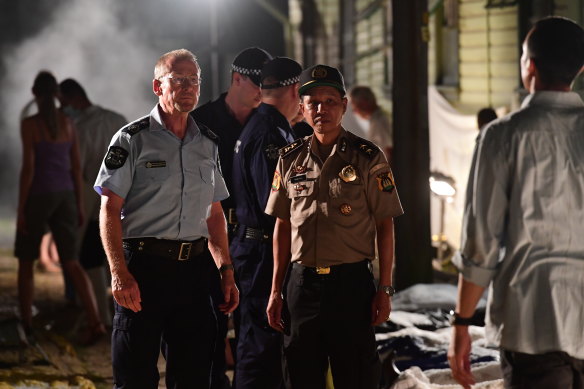 Roxburgh with Srisacd Sacdpraseuth as General Pastika.
"I'd signed on for a two-part series about the 2002 Bali bombings, directed by Michael Jenkins who did Blue Murder. But before I flew, the 2005 Bali bombings happened."
On October 1, 2005, Jemaah Islamiah struck again, planting another three bombs in Bali, killing 23 and injuring more than 150. That came less than two months after disgraced iman Abu Bakar Bashir – the so-called "spiritual leader" of Jemaah Islamiah – was condemned by Indonesia's Supreme Court to serve the full 2½-year jail sentence imposed for "inspiring" the 2002 bombings.
"I arrived in Bali from London," Roxburgh explains. "We shot for about 10 days, then the Indonesians closed the island. During that time, I got to meet David Royds, the detective I was playing and is played in Bali 2002 by Sam Parsonson. David was there to investigate the 2005 bombings, so I got to meet the real person and talk to him in this surreal hall of mirrors."
Today is almost the last of the six-week shoot. So what has he learned?
"Immense respect for what these guys [Ashton and Royds] do. There's so much diplomacy involved. They need empathy with the people grieving their loved ones, wherever they were born. There's the investigation itself. And there's the political ramifications of dealing with two cultures banging up against each other, with two methods of investigation and two completely different legal systems."
Viewers should expect a harrowing series then?
"No. Over time, terrorism constantly proves itself to be extraordinarily ineffective in delivering its ambitions. Invariably, it brings out the best in the people targeted.
"What this series shows is the level of co-operation, across cultures and across religious beliefs. Out of the wreckage of the bombings, wonderful things were achieved. It's the constant grit in the oyster of humanity that we prove ourselves better than the attempts to drag us down."
Ultimately, Roxburgh is in awe of the character he plays.
"When Graham arrived in Bali, he didn't sleep, couldn't sleep, for days. It was an unfolding, potentially cataclysmic event which someone had to step into the middle of and find a controlling and emphatic focus. Graham did that. I couldn't have juggled that many balls in the air."
The Stan Original Series Bali 2002 premieres on September 25, only on Stan. Stan is owned by Nine, the owner of this masthead.
Find out the next TV, streaming series and movies to add to your must-sees. Get The Watchlist delivered every Thursday.
Most Viewed in Culture
From our partners
Source: Read Full Article