Decades in the making and a 15-hour run time – now, epic opera is headed to Bendigo
Nearly everything about opera is big, from drama to voices, but there's nothing bigger than Richard Wagner's Der Ring des Nibelungen. An epic tale inspired by Norse mythology that spans four operas, it's the art form's most monumental undertaking. Next year it's coming to Bendigo.
This regional city has developed a reputation as an arts destination over the past decade, mainly through Bendigo Art Gallery's major exhibitions. Melbourne Opera's production of the Ring has already added to that cultural lustre with a concert of the first opera, Das Rheingold (Rhine River gold), in 2021, and a fully staged performance of the second, Die Walkure (the Valkyrie), in February this year.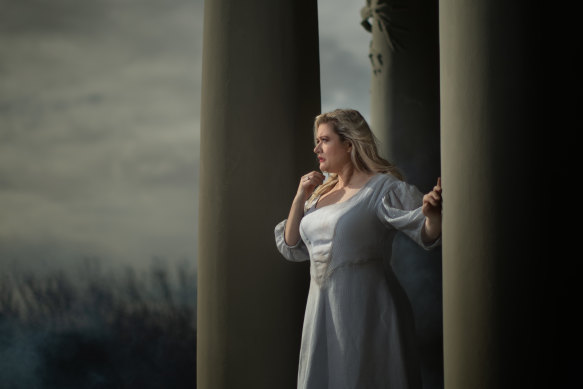 Lee Abrahmsen as Sieglinde, ahead of Melbourne Opera's production of Wagner's Ring in Bendigo in 2023.Credit:Simon Schluter
These Bendigo outings immediately followed fully staged seasons in Melbourne, where a concert of the third opera, Siegfried, is presented this Sunday. The final opera, Gotterdammerung (twilight of the gods), won't be seen until autumn when Melbourne Opera mounts the Ring Cycle of all four works, three times over, in Bendigo. So why is it the sole host city for the company's most daring project?
"They were ambitious enough to ask, and we were ambitious enough to say yes," says Bendigo Venues and Events manager, Julie Amos. "[It's] an amazing opportunity for Bendigo to be one of only three Australian cities to do the Ring Cycle."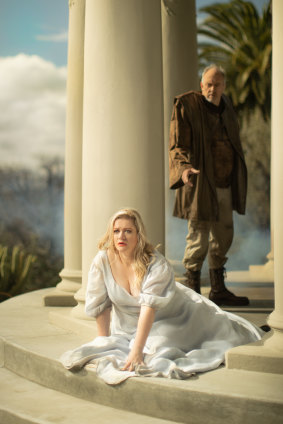 Lee Abrahmsen andSteven Gallop who will be starring in Wagner's Ring when it comes to Bendigo in 2023.Credit:Simon Schluter
This production follows those in Adelaide in 1998 and 2004, and Melbourne in 2013 and 2016. It just pips Brisbane's Ring (finally being presented in December 2023 after two pandemic postponements), and is the first in regional Australia. "It will put Bendigo on the map," says soprano Lee Abrahmsen, a principal in the all-Australian cast. A Geelong girl, she believes this calibre of performance "doesn't happen enough in the regions".
The Ring took an extraordinary 28 years from the time Wagner began writing and composing his magnum opus, to being performed in full. It's also notoriously long: presented over several days, the four operas total nearly 15 hours plus intervals.
It premiered in 1876 in the German town of Bayreuth, where Wagner established a festival of his works centred at a purpose-built theatre. He wasn't alone in thinking this was a good idea. The annual Bayreuth Festival has sold out ever since, and is the ultimate destination for those who travel the world to see the Ring.
That includes Shirley Breese, a Richard Wagner Society of Victoria member and past president. Since her first Ring in Adelaide in 2004, she has seen 24 Cycles, including four different productions in Bayreuth.
Breese is among those who have already booked tickets and accommodation for the Bendigo Ring. More than half the tickets have been sold, including 49 per cent to those in Melbourne, 27 per cent interstate, and 3 per cent overseas.
She has seen Melbourne Opera's Rheingold and Walkure, and declares this Ring directed by Suzanne Chaundy "wonderful so far. It's creative and different and looks modern, but all the bits most of us want to see are there".
Conductor Anthony Negus and director Suzanne Chaundy ahead of Melbourne Opera's production of Wagner's Ring.Credit:Simon Schluter
In other words, it includes key elements such as the dragon, sword and magical helmet – unlike some Rings of recent decades that ignore aspects of plot and libretto (opera's sung text) in favour of new settings and ideas, which may radically alter these heritage works' original intention.
"Great operas have great stories to tell," says Chaundy. "Like Shakespeare, with Wagner you'll always find a truth and a relevance for the period you're in, as long as you're not obfuscating the story that you're telling, and reducing it by putting it in a very specific framework."
"I think people want to have a grand experience at the opera, and I feel like the days of these reductive blue-jean productions are probably on the wane," adds Chaundy. "That point has been made, but I don't think it's done anything for democratising opera; it's just served to baffle people and turned them off."
Abrahmsen, who reprises her Ring roles of Freia and the pivotal Sieglinde next year, admits that when she made her professional debut with the company in 2005, "you couldn't have imagined" Melbourne Opera mounting a Ring. Although it still operates almost entirely without government funding, production standards have continuously improved – most notably when the company began mounting Wagner's operas in 2016.
All have been directed by Chaundy, and mostly conducted by British Wagner expert Anthony Negus, who is here for this week's Siegfried concert, and returns for next year's Ring. Abrahmsen, who sings the role of Brunnhilde for this concert only, is amazed by this Ring's visual grandeur, but also quick to praise its simplicity. "It's not too busy," she says, so doesn't distract from "that glorious music".
The Ring will take place in Ulumbarra Theatre, which opened in 2015 within Bendigo's 19th century heritage-listed jail.
"The city really embraces these major events," says Amos, "so I'm expecting the streets to be lined with gold for the Ring," as well as Wagner hats and dragons.
Celebrations are still being planned, but she can confirm that the big, glowing 3D 'Viva Bendigo' sign erected for the recent Elvis exhibition will be retained, sans 'Viva', and turned gold. "Brass instruments will call out across the city at the start of each Cycle, and we're looking at doing a Guinness World Record attempt."
Melbourne Opera presents Siegfried in concert at Melbourne Recital Centre on September 25, and the Ring Cycle at Ulumbarra Theatre on March 24-April 30, 2023. See melbourneopera.com for details.
A cultural guide to going out and loving your city. Sign up to our Culture Fix newsletter here.
Most Viewed in Culture
From our partners
Source: Read Full Article