Burning for three years, landfill fire's stench becomes 'completely out of control'
For three years, Emma Scott has been dealing with a stench from a landfill fire that she likens to that of a rotting animal carcass – and now, she says, it has become "completely out of control".
Scott runs Kealba's ELS School of Dance, where dozens of children stream in each day for dance classes about 100 metres from the site of the fire that has been plaguing the community in Melbourne's west since late 2019.
Emma Scott, of ELS School of Dance, is fed up with the smell from the Kealba landfill fire.Credit:Simon Schluter
The Environmental Protection Authority (EPA) has received a surge in odour reports recently, receiving 204 in the first two weeks of September. In July and August, there were about 60 per month.
"It's getting worse," said Scott, who is worried about losing members and participants of her school holiday program. "A lot of parents are asking about it. Usually, in business, there's something you can do to fix a problem but this is out of our hands."
The intensifying stink has been devastating for locals, who, having already spent years battling headaches and respiratory symptoms and unable to go for walks or open windows, expected the ordeal to end last month.
Barro Group, which owns the landfill site, missed a third deadline – August 22 – set by the EPA to extinguish the last of four fires, which were sparked deep underground beneath a 30-metre pile of construction waste – a mix of dumped concrete, carpet, timber and shredded tyres.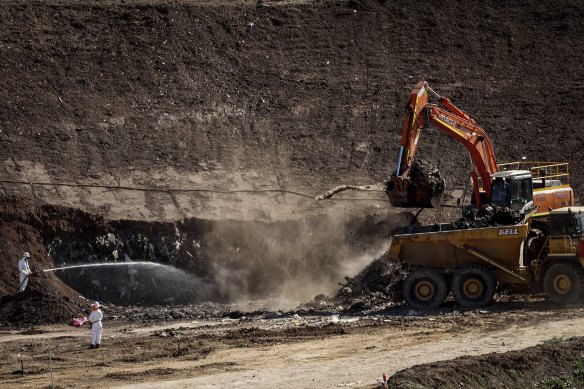 Barro Group has missed a third deadline – August 22 – to put out the fires at its landfill site.Credit:Darrian Traynor
The company's request for an extension until February was denied because the authority was not satisfied that all reasonable steps had been taken to meet the August deadline.
The final fire is more than three times deeper than those that were abated in 2021, and residents have been warned that the smell will increase over the coming months as works close in on the hotspot's core, where the oldest and most-decomposed smouldering rubbish lies.
Mums Kylie Gurrieri and Cathy Swanson are worried about how the odour is affecting daughters Alicia and Evie at dance school.Credit:Simon Schluter
Anna Jez, who lives about 200 metres from the landfill with her husband and three primary school-aged children, said the smell had become "putrid", causing breathing difficulties and nausea and amplifying the impacts on mental health and quality of life. "It sinks into your skin, your sinuses, your clothes," she said.
Jez is anxious for children, including her own, who attend gymnastics, dancing and martial arts centres just across from the landfill.
Cathy Swanson and Kylie Gurrieri take their daughters five nights a week to Scott's dance school and are concerned about the smell of "manure" or "off chemicals".
"It's really strong. I worry about my daughter," Swanson said.
"You just think, 'What are our children breathing in?'" Gurrieri said.
EPA's western regional manager, Steve Lansdell, said the authority acknowledged the effect the odour was having on people and information had been given to local healthcare providers. The EPA is testing air quality hourly and Lansdell said no issues of concern had been found for long-term health.
"We know it can impact people with physical symptoms and they do stop when the odour subsides," Lansdell said.
The EPA is preparing to announce sanctions against Barro Group following the missed deadline. Among the options is permanent revocation of its licence to operate the Kealba landfill, which residents are calling for.
Barro Group spokesman Steve Murphy said the company was reserving its right to appeal. He said the August deadline was not realistic and 39 days of extraction work were lost due to wet weather and staff in COVID-19 isolation.
Lansdell said the deadline was based on modelling of past rates that Barro Group had achieved and it accommodated for unforeseen factors.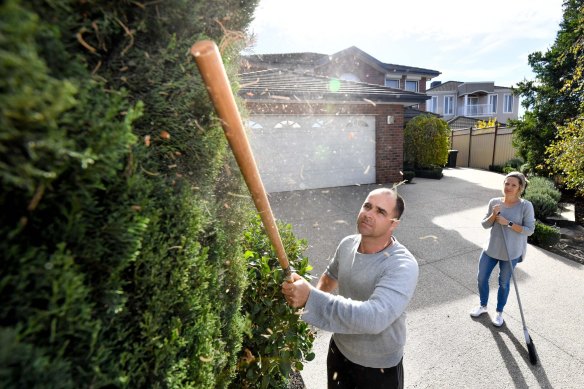 Anna and Mike Jez inspect dust from the Kealba landfill settling around their home in May 2021.Credit:Joe Armao
"We expect them to forecast challenges and demonstrate that where issues have come up, they've explored options … to work in contingency," Lansdell said. "Information provided didn't demonstrate any of that."
The works involve digging up hundreds of cubic metres of hot rubbish each day to try to reach the fire burning at the bottom. The waste, which is up to 180 degrees when extracted, must then be laid out to cool before it can be safely disposed of.
Murphy said about 30,000 litres of water mixed with an odour-masking agent was being dumped onto the pile each day to try to mitigate the stench, but the closer they got to the end, the older and smellier the waste would be. Other strategies for odour include adjusting the size and location of the cooling pads.
He was "optimistic" the fire would be out before Christmas.
"We will keep ploughing ahead and do it as quickly as is humanly and safely as possible," Murphy said.
The Kealba landfill hasn't accepted any new waste since December 2020 and the EPA suspended Barro Group's licence to operate the site in September last year. The company has received one $8000 fine for not covering up waste each day.
The landfill opened in 2015 on the site of a former quarry, despite council and community opposition that wound up in the Victorian Civil and Administrative Tribunal and the Supreme Court.
Lansdell said the impact on the community since 2019 had been "unacceptable".
"It's horrible that it's been going this long," Lansdell said. "We're really focused on holding Barro Group to account for that. We've had the community front and centre in our decision-making all along."
Brimbank councillor Virginia Tachos said residents were crying out for more support and she believed there needed to be a stronger health response to deal with the increased odour.
Jez said the community felt neglected. "People get forgotten in the west and think it's OK to be living next to a landfill that's burning."
A Victorian government spokesperson said the matter was for the EPA as the state's independent environmental regulator.
The EPA is dealing with other communities in Melbourne frustrated by stinking waste sites near their homes. The authority is assessing the licence of Cranbourne West's SBI Inert Landfill and is requiring modifications to a Visy recycling plant in Reservoir.
The Morning Edition newsletter is our guide to the day's most important and interesting stories, analysis and insights. Sign up here.
Most Viewed in National
From our partners
Source: Read Full Article