DNA allegedly links former Moreland councillor to electoral fraud, court hears
Lawyers for a former Moreland councillor and two of his family members accused of conspiring to rig an election result will question forensic experts after the trio's DNA was allegedly found on ballot material.
Financial crime squad detectives charged ex-councillor Milad El-Halabi, 59, his wife Dianna El-Halabi, 51, and their daughter, Tania El-Halabi, 25, in February with 25 offences each, including ballot paper forgery and interfering with postal ballot materials.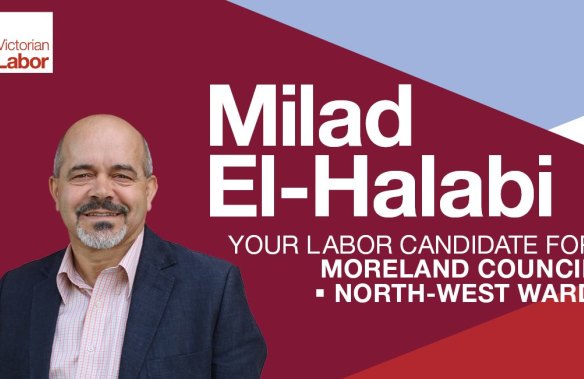 Milad El-Halabi is accused of rigging a council election.Credit:Facebook
Milad El-Halabi was elected in 2020 as one of four councillors in Moreland's north-west ward, which covers suburbs in Melbourne's north including Pascoe Vale, Glenroy and Hadfield.
On Thursday, the trio faced an online hearing in the Melbourne Magistrates' Court where it was revealed fingerprint and DNA analysis of electoral material had allegedly returned links to the family.
The court heard there were more than 4000 pages in the police brief of evidence, including 700 pages referring to fingerprints.
Forensic experts analysed 83 envelopes containing ballot slips as part of the police investigation.
The court heard fingerprint and DNA analysis had allegedly uncovered: three forensic links to Milad El-Halabi, including one fingerprint; 11 forensic links to Tania El-Halabi; and, an undisclosed number of forensic links to Dianna El-Halabi.
Defence lawyer Adrian Anderson applied to cross-examine two forensic experts responsible for the findings in an attempt to assess the reliability, admissibility and strength of that evidence.
He said the material was central to the prosecution case.
"It's voluminous, it's complex and in order to have a proper … understanding of the prosecution case it's submitted that examination of these witnesses is essential," Anderson said.
Each of the three family members faces 25 charges that include conspiring together to cheat and defraud voters, the council and the Victorian Electoral Commission; conspiring to make a false document; completing forged ballot papers; and interfering with postal ballot material. They also each face 21 counts of theft.
It is alleged that between October 6 and 24, 2020, they stole ballot papers from voters in Pascoe Vale, dishonestly completed them and submitted them to the electoral commission. The names of the voters they allegedly stole from were redacted from charge sheets released during an earlier hearing.
Milad El-Halabi resigned from the council in February after he was charged by police for allegedly cheating in the poll. He has also had his Labor membership suspended and the party is considering cancelling it.
Magistrate Donna Bakos approved Anderson's application to cross-examine the forensic experts and ordered the matter return to court in March.
Bakos said seven witnesses would give evidence over four days during the committal, including a DNA and fingerprint expert and the VEC's director of electoral integrity Keegan Bartlett.
The Morning Edition newsletter is our guide to the day's most important and interesting stories, analysis and insights. Sign up here.
Most Viewed in National
From our partners
Source: Read Full Article