Ten worst Sydney suburbs smashed by wild weather this winter
Sydney's CBD, Blacktown and Campbelltown were among the worst weather affected suburbs in the city this winter, as many residents bracing themselves for another La Nina event this summer which will see heavy rainfall and elevated flooding risk.
The NRMA Insurance Wild Weather Tracker's latest data shows there were 19,621 claims made in NSW caused by wild weather, making it the worst winter since 2016. Nationally, there were 26,515 claims from June to August.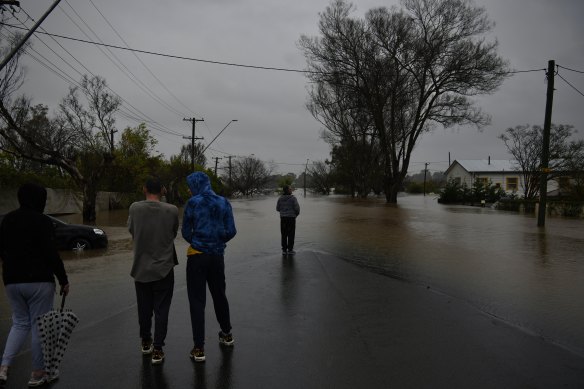 There were more than 19,000 insurance claims made to the NRMA this winter following the severe weather events across the state.Credit:Dean Sewell
About 68 per cent of all home claims were the result of severe weather, well above the seasonal average of 53 per cent, while 24 per cent of the state's motor claims were as a result of the weather, 5 per cent higher than the seasonal average.
In Sydney, the ten worst affected suburbs were Campbelltown, Liverpool, Blacktown, Engadine, Castle Hill, the city's CBD, Ingleburn, Preston, Casula and Penrith. Across the state, areas such as the Illawarra, Hunter Valley and Central Coast ranked among the highest for weather damage.
On Tuesday the Bureau of Meteorology declared a La Nina event was underway and with recent cooling in the central tropical Pacific and model outlooks indicating cooler-than-average ocean temperatures would be sustained until the end of the year. The La Nina is expected to peak in spring before weakening in early 2023.
This year marks the third summer of back-to-back La Nina events and is also the third time since records began that this has occurred. Australia has experienced 20 La Nina events since 1900 and 12 have coincided with flooding in eastern states. The average rainfall from December to March in La Nina years is 20 per cent higher than the long-term average.
Two other climate drivers, the negative Indian Ocean Dipole (IOD) and the Southern Annular Mode, will compound the wet weather across the country in the coming months.
The NSW SES said it is particularly concerned for the Hawkesbury, Nepean and Georges rivers, Northern Rivers, Mid North Coast, Central Coast and Shoalhaven catchment. The agency is preparing its units for future flooding events.
The agency has just experienced its biggest year on record. Between June 1 and August 3 this year, NSW SES members responded to 13,390 weather-related requests for assistance across NSW.
NRMA insurance meteorologist Dr Bruce Buckley said with the wet weather set to continue for the coming months, households needed to prepare.
"This is a rare coincidence of climate drivers that favour bursts of very heavy rainfall capable of producing flash and river flooding through spring and early summer," he said. "The impacts of a changing climate means that wild weather can strike anywhere at any time but taking a few small steps to both reduce our level of risk and prepare for how we will respond can make a big difference when it happens.
"At the beginning of spring, we are encouraging Australians to clear their gutters and downpipes, which is a simple but extremely effective way to minimise the likelihood of water getting into your home."
Natural Hazards Research Australia chief executive officer Andrew Gissing said some suburbs were more susceptible to weather damage than others because of their infrastructure or exposure vegetation. For example, in suburbs with a lot of vegetation, the bushfire and flooding risks were higher than in more urban suburbs. He added that roofing materials, such as slate or terracotta tiles, as well as skylights – could make them more vulnerable.
"There are different factors that influence level risk across the city," he said.
Gissing said in the long-term, governments need to implement greater flood mitigation in communities. This increased focus on prevention will need greater government support to implement to make them more resilient. About 97 per cent of disaster funding is spent on recovery and just 3 per cent is spent getting communities prepared, data from the National Recovery and Resilience Agency showed.
"Mitigation is a good thing in terms of enhancing insurance affordability. Often during large natural hazard events, it is hard to reduce damage during the actual event… reduce the risk beforehand," he said.
Get to the heart of what's happening with climate change and the environment. Our fortnightly Environment newsletter brings you the news, the issues and the solutions. Sign up here.
Most Viewed in Environment
From our partners
Source: Read Full Article