Move over Batman and Superman, DC have found their new superpower
DC LEAGUE OF SUPER-PETS ★★★½
(PG) 106 minutes, cinemas.
The differences between DC Comics superhero movies and their Marvel rivals have traditionally centred on their contrasting attitudes to raising a laugh.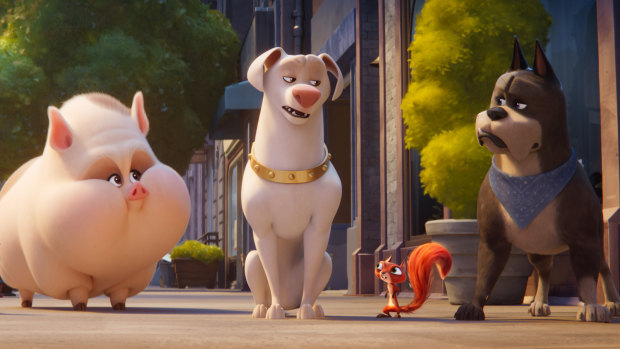 PB the pig (voiced by Vanessa Bayer), Krypto (Dwayne Johnson), Chip (Diego Luna) and Ace (Kevin Hart) are appealing bunch in DC League of Super-Pets.
Marvel superheroes have frequently made sly jokes at one another's expense, while their DC counterparts have tended to keep a straight face. This has been especially true of Batman, who's grown increasingly attached to his alternative tag, the Dark Knight.
But five years ago, the producers of DC's Lego movies upset the status quo by building a Lego Batman and making him the butt of the joke. Now the DC League of Super-Pets, directed by Jared Stern, a Lego movie veteran, is pursuing the same trend. What's more, the film's grumpy Batman (voiced by Keanu Reeves) is not alone in having to surrender his dignity. He's joined by Superman (John Krasinski) and the other members of the Justice League in supporting roles.
In Superman's household, it's his pet dog, Krypto (Dwayne Johnson), who calls the shots. Krypto also possesses his own set of powers and when his so-called master is weakened by Kryptonite and kidnapped by his old enemy, Lex Luthor (Marc Maron), Krypto comes to the rescue.
The animation is by the Australian company Animal Logic, which also worked on the Lego movies and the action is frenetic, but there are plenty of witty moments once Krypto assembles his team of assistants – an assortment of discarded pets from an animal shelter. After a confusing bit of business involving a special variety of kryptonite, they, too, acquire superpowers. They just have to work out how to use them. Since Luthor has managed to lock up the entire Justice League, the pressure is on.
They're an engaging bunch. Ace (Kevin Hart) is a street-smart boxer dog who decides to give the overly fastidious Krypto a few lessons about the grubbier aspects of being a hound, while PB (Vanessa Bayer), a pig with a pot-belly and a timid disposition, is hoping that she'll get the chance to meet her idol Wonder Woman. Merton (Natasha Lyonne), an elderly turtle, has no time for ambitions of that sort. She is caught up in having to adjust to her superpower – the ability to move at high speed.
But the real scene-stealer is the villainous Lulu. Even more dangerous than Luthor, she's a tiny, hairless guinea pig voiced by Saturday Night Live's Kate McKinnon, who gives her the airs of an old-fashioned movie star in the Norma Desmond mould.
The film's Australian release involves a novel marketing ploy. There's an Australian version with local TV personalities Dr Chris Brown and Julia Morris voicing a couple of members of Lulu's guinea pig army.
In cinemas from September 15.
Find out the next TV, streaming series and movies to add to your must-sees. Get The Watchlist delivered every Thursday.
Most Viewed in Culture
From our partners
Source: Read Full Article