'Shocked and happy': Murray Bartlett, The White Lotus, Succession among Emmy winners
Australian actor Murray Bartlett took out top honours at the 74th annual Primetime Emmy Awards, a win which ushered in a near-clean sweep for the critically acclaimed series The White Lotus, in which he stars.
The 51-year-old Sydney born actor played the excruciatingly uptight hotel manager Armand in the series, which also won Emmys for outstanding limited series, supporting actress, direction and writing.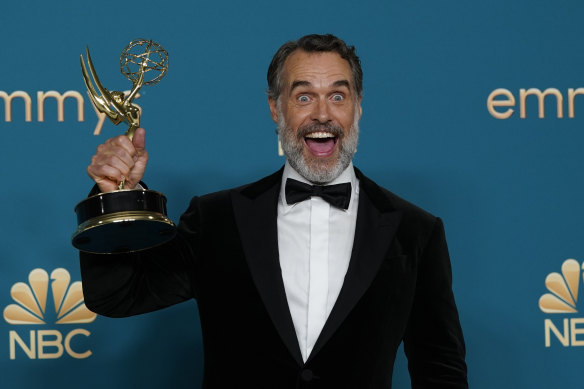 Murray Bartlett poses in the press room with the award for outstanding supporting actor in a limited anthology series or movie for The White Lotus.Credit:AP
"Thank you to my mum all the way home in Australia for giving me the most wonderful foundation of unconditional love and inspiring me [to believe] that we can all do that," Bartlett said.
Bartlett, who also starred in Looking and Tales of the City, thanked the show's creator Mike White. "Thank you for giving me one of the best experiences of my life; I adore you," Bartlett said.
White went on to win consecutive Emmys for directing and writing the series. The 52-year-old writer thanked his mother in his acceptance speech, for letting him "be the weird kid I wanted to be".
Australia's other two major nominees were not so lucky. Toni Collette, who was nominated for The Staircase in the limited series category, lost to The Dropout star Amanda Seyfried. Sarah Snook, who was nominated for her role as Shiv Roy on Succession, lost to Ozark star Julia Garner, although Succession was ultimately named best drama in a truly deserving win.
Jesse Armstrong, centre, and the cast and crew of Succession.Credit:AP
The 74th annual Primetime Emmy Awards kicked off with a reasonably bumpy opening, more confusing than actually short of expectation, in which host Kenan Thompson walked through a series of recreations of iconic TV show openings, including Friends and Game of Thrones.
The highlight: a camera flash to the original Brady Bunch cast, seated in the audience. It was a squeal-out-loud moment for the segment of the audience who recognised the stars of a five-decade-old sitcom, though you wonder what the streaming generation, who tuned in to see wins for Squid Game and Lizzo's Watch Out for the Big Grrrls, would have made of it.
Though the night ultimately belonged (mostly) to HBO's The White Lotus, supporting actress in a comedy series winner Sheryl Lee Ralph set the stage alight with a rousing acceptance speech. It was the first Emmy win for the 65-year-old actress from Abbott Elementary, and a moment which felt super-charged from the moment she stormed the stage.
"I am an endangered species, but I sing no victim song," Ralph declared. "If you had a dream and thought your dream wouldn't, couldn't, happen, I am here to tell you this is what believing looks like, this is what striving looks like, and don't you ever give up on yourself."
Sheryl Lee Ralph after winning outstanding supporting actress in a comedy series for Abbott Elementary.Credit:AP
Ralph began her speech with a verse from the 1994 Diane Reeves song Endangered Species. "I have been singing that song for years, because I think of myself as an artist, a woman, and a woman of colour, as an endangered species," Ralph said backstage. "The fact that I am here, after all this time, being recognised. Oh my god, I have got the golden ticket."
In many respects it was a typical Emmys, some gentle surprises but few shocks. Ted Lasso was a deserving winner. But to skip Steve Martin and Martin Short from Only Murders in the Building seemed to contradict expectation. And while Michael Keaton (Dopesick) was a deserving winner, overlooking Colin Firth (The Staircase) in the same category felt rough.
The White Lotus overcame a particular obstacle to secure its Emmy win: the series aired back in July, 2021. That airdate still made it an eligible entry at this year's Emmys, but Emmy voters have notoriously short memories. It is testament to the show's excellence that as other shows came and went, including The Dropout and Inventing Anna, they hung onto The White Lotus.
Australian actor Murray Bartlett said he felt "shocked and happy" when his name was called out as the winner of outstanding supporting actor category. "This ride I have been on with this beautiful group in White Lotus has been wonderful," he said backstage.
Jennifer Coolidge accepts the Emmy for outstanding supporting actress in a limited series for The White Lotus.Credit:AP
"It's a beautiful feeling to be here all together," Bartlett added. "It has been a lovely reunion for us. Obviously, I was nervous, it's this weird, surreal experience, but I just felt incredibly thankful and thrilled to be up on that stage. It takes your breath away."
The "In Memoriam" segment acknowledged performers, industry personalities and executives who passed away in the last year. They included Bob Saget, Vin Scully, Willie Garson and Estelle Harris; during the video package John Legend performed Pieces. Curiously, comedian Norm Mcdonald, who died last year, was left out of the package, despite being nominated for his last comedy special. Some online commentators also noted that the package did not include Queen Elizabeth II.
The Governors Award was given to the Geena Davis Institute on Gender in Media "in recognition of their efforts to promote gender balance and foster inclusion throughout the entertainment industry". Accepting the award, actress Geena Davis said, "we have made a great deal of progress, but there is still work to do."
Full list of winners at the 74th annual Emmys:
Best drama: Succession
Lead actor, drama: Lee Jung-Jae, Squid Game
Lead actress, drama: Zendaya, Euphoria
Supporting actor, drama: Matthew Macfadyen, Succession
Supporting actress, drama: Julia Garner, Ozark
Best comedy: Ted Lasso
Lead actor, comedy: Jason Sudeikis, Ted Lasso
Lead actress, comedy: Jean Smart, Hacks
Supporting actor, comedy: Brett Goldstein, Ted Lasso
Supporting actress, comedy: Sheryl Lee Ralph, Abbott Elementary
Best limited series: The White Lotus
Lead actor, limited series/movie: Michael Keaton, Dopesick
Lead actress, limited series/movie: Amanda Seyfried, The Dropout
Supporting actor, limited series/movie: Murray Bartlett, The White Lotus
Supporting actress, limited series/movie: Jennifer Coolidge, The White Lotus
Directing, drama: Hwang Dong-hyuk, Squid Game
Directing, comedy: MJ Delaney, Ted Lasso
Directing, limited series or movie: Mike White, The White Lotus
Writing, drama: Jesse Armstrong, Succession
Writing, comedy: Quinta Brunson, Abbott Elementary
Writing, limited series or movie: Mike White, The White Lotus
Writing, variety special: Jerrod Carmichael, Jerrod Carmichael: Rothaniel
Variety talk series: Last Week Tonight with John Oliver
Variety sketch series: Saturday Night Live
Competition program: Lizzo's Watch Out for the Big Grrrls
Governors Award: The Geena Davis Institute on Gender in Media
Find out the next TV, streaming series and movies to add to your must-sees. Get The Watchlist delivered every Thursday.

Most Viewed in Culture
From our partners
Source: Read Full Article