Rail union stares down Perrottet threat, refuses to call off industrial action
Rail unions are refusing to bow to NSW government demands to call off all industrial action by 5pm on Friday, warning they could ramp up measures across Sydney's public transport network.
A day after the government gave rail unions 24 hours to stop industrial action or be hauled before the courts, NSW Rail Tram and Bus Union secretary Alex Claassens said his members were not backing down.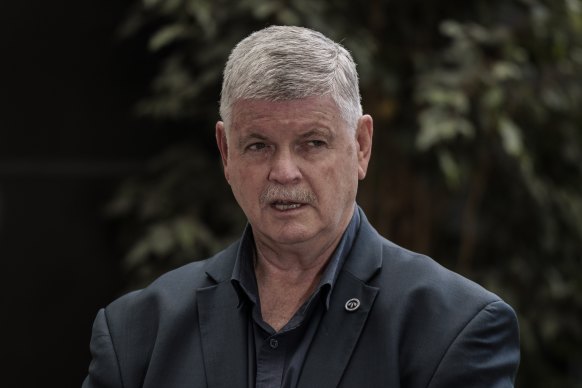 Rail, Tram and Bus Union secretary Alex Claassens has warned the govenrment his members will not stop industrial action at 5pm.Credit:Brooke Mitchell
"We have no intention of stopping our protected industrial action and the Premier shouldn't be surprised if more industrial action is called next week," Claassens said on Friday morning.
Claassens' position puts the government and rail unions on a collision course for all-out industrial warfare over coming weeks, placing Sydney's transport network at increased risk of more major disruption.
Unions NSW has fired back at the government's 24-hour ultimatum by applying to the Fair Work Commission overnight to have the state forced to continue bargaining.
It also wants Fair Work to order senior bureaucrats to ask Premier Dominic Perrottet and ministers to refrain from commenting on negotiations over the next two weeks if they do resume. The application to Fair Work also accuses the government of not bargaining in good faith.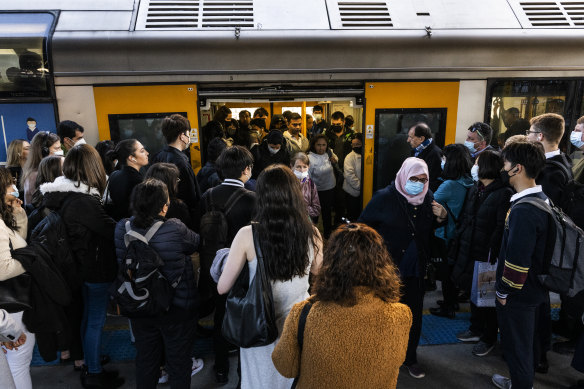 Commuters at Central Station on Wednesday.Credit:Louise Kennerlet
Unions NSW deputy secretary Thomas Costa said the application had been listed as an urgent matter, and hoped it would be heard on Friday ahead of the government's 5pm deadline.
"We need to negotiate in an environment where there aren't threats to people's workplace rights. Workers have the right to engage in protected industrial action without being threatened by their employer. We've asked the FWC to request the government withdraw those threats," Costa said.
Claassens accused Perrottet of attempting to paint rail workers as villains to ease mounting pressure on his own government.
"You have to wonder why the NSW government is targeting the RTBU when plenty of other industries are taking action like nurses and teachers," he said.
"I've never seen anything like it before. On Wednesday night, and then again on Thursday afternoon, we were sitting across from the most senior managers on our railway, and they were blindsided by political brinkmanship by the NSW government. It's like the right hand doesn't know what the left is doing.
In its application to the industrial umpire, Unions NSW said the bargaining had been "characterised by widespread and highly publicised disputation".
"The substantive matters in dispute between the parties are readily capable of being agreed. However, progress toward agreement has repeatedly been stultified and reversed by [Sydney] Trains' disorganised, inconsistent and highly politicised approach to bargaining," the application said.
It argued that the government had breached "good faith bargaining obligations" by publicly threatening to terminate the current agreements if its unilaterally proposed agreement was not approved by rail staff.
It also blamed the breakdown in negotiations on a revolving door of government ministers involved.
Senior transport officials warned union leaders late on Thursday that they will trigger Fair Work Commission proceedings to terminate existing enterprise agreements if industrial action continues after "close of business" on Friday.
The government's $1 billion offer to modify the mothballed intercity train fleet will also be scrapped if industrial action extends past 5pm today.
Most Viewed in National
From our partners
Source: Read Full Article