Albanese seeks to end the war but the battle has only just begun
It was unsurprising that Prime Minister Anthony Albanese dipped into military metaphor when opening his government's jobs and skills summit.
"We have not gathered here to dig deeper trenches on the same old battlefield," he told the 142 attendees.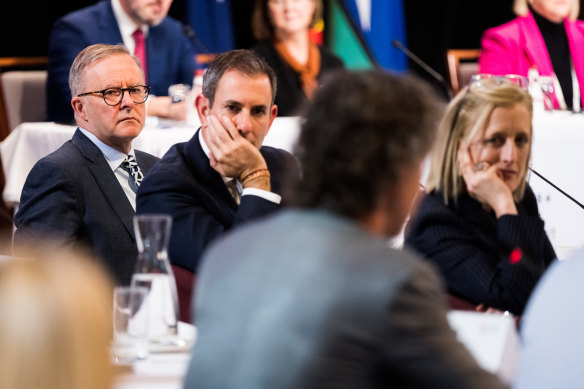 Anthony Albanese, Treasurer Jim Chalmers and Finance Minister Katy Gallagher listen to a speaker on the opening day of the jobs summit.Credit:James Brickwood
The past dozen years have become a no-man's land for policy debates.
From Ken Henry's tax plan of 2010 to the tentative deal between the Business Council of Australia and the Australian Council of Trade Unions on industrial relations reform in 2020, far-reaching change has been beyond the wit of government, unions and businesses for too long.
The fallout from that failure is written in the drop in productivity growth, poor wages growth and problems from the energy market to our ports.
Those failures informed the structure of the summit.
Albanese made sure to announce a policy win – the bring-forward of 180,000 fee-free TAFE places into 2023 – out of the gate.
Providing extra vocational training to Australians will be used as a carrot to ensure unions don't push back too hard against a likely increase of 40,000 in the nation's migrant intake this year and beyond.
The real bomb of the summit was the lunchtime announcement by Employment and Workplace Relations Minister Tony Burke of what could be the first substantial reform to the industrial relations system in a decade.
But by putting multi-employer agreements on the negotiation table, Burke immediately incurred the ire of employer groups such as the Australian Industry Group, which warned it could "open a new front for disruptive and costly industrial action".
By setting a timeline on his proposal – Burke called out to his department's secretary to start planning for talks from next week – the government is clearly taking a punt it can push through on IR where others have failed.
While cynics can rightfully complain about the set speeches and the school-hall air of the summit's seating arrangements, what cannot be dismissed easily is that people with very different views have had to confront some substantive issues.
By simply holding the summit, the government forced a variety of lobby groups, vested interests and businesses to focus their attention on solutions rather than finding a new way to avoid leaving their pill boxes.
The government used a form of Hotel California torture – particularly for business leaders, union-types and premiers – who were able to check in any time they liked but could not leave.
Tony Burke outlines part of the industrial relations changes the government is considering.Credit:Getty
It forced them to listen to rarely heard voices. 2022 Australian of the Year Dylan Alcott made it clear that despite the lowest unemployment rate in 48 years and businesses crying out for labour, disabled people still appeared invisible to too many employers.
"I had one job interview once and it was upstairs. And rather than come downstairs and interview, they just cancelled it because it was upstairs," he recalled.
Governments, too, had to lift their game. A change to age pension rules allowing older Australians to work for longer without affecting their pension payment is likely to be agreed on Friday.
Alcott noted the same sort of change should be considered for those receiving disability support payments.
The opening address from Grattan Institute boss Danielle Wood was aimed at the business, political and union class that has let down the country for too long.
Talking about Australia's supply of minerals, she channelled Donald Horne's famous insight that this is a lucky country run mostly by second-rate people.
"Once again, Australia is the lucky country – we are extraordinarily blessed with abundant supplies of renewable energies and critical minerals. I hope we can today commit to being first-rate leaders who will make the most of this luck to build future prosperity," she said.
Being forced to sit and listen to something different may be worth the effort. Even when it's a fist delivered in a velvet glove.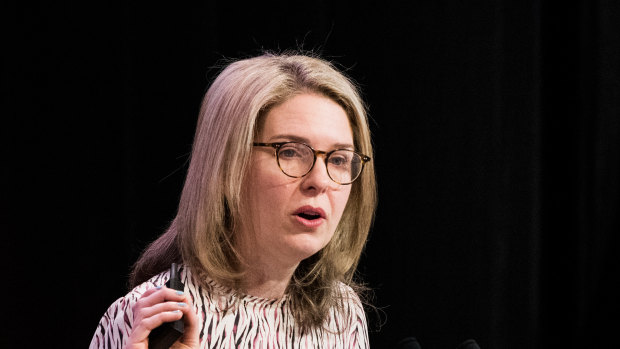 Grattan Institute chief executive Danielle Wood delivered an iron fist in a velvet glove during her summit address.Credit:James Brickwood
Holding the summit is the easy part.
Putting in place policies or incentives that bring more women, more pensioners and more people with disabilities into the workforce is a hard grind, not a two-day love-in.
So too is striking a real industrial relations deal that delivers benefits to workers and businesses, and then getting that through parliament. All is a long way from a given.
The jobs and skills summit may be only the first battle in a longer war.
Cut through the noise of federal politics with news, views and expert analysis from Jacqueline Maley. Subscribers can sign up to our weekly Inside Politics newsletter here.
Most Viewed in Politics
From our partners
Source: Read Full Article