The five virus families most likely to cause the next pandemic
Key points
Coronaviridae, Flaviviridae, Togaviridae, Orthomyxoviridae and Paramyxoviridae viruses pose the biggest pandemic threat to Australia, CSIRO research says
Coronaviridae includes coronaviruses – five of which have jumped into humans in the last 20 years
Flaviviridae and Togaviridae viruses are often spread by mosquitoes, and include dengue fever, chikungunya fever, and Japanese encephalitis.
Orthomyxoviridae viruses include all the influenza strains we live with. But it is highly-lethal Paramyxoviridae viruses like hendra that are perhaps our closest geographical threat.
Australian scientists have identified the five virus families that pose the greatest pandemic threat and have told the federal government to start bolstering its defences and developing new drugs to prevent and treat them.
The virus families include those that cause dengue fever, chikungunya and hendra – which scientists discovered last year was mutating and picking up new animal hosts.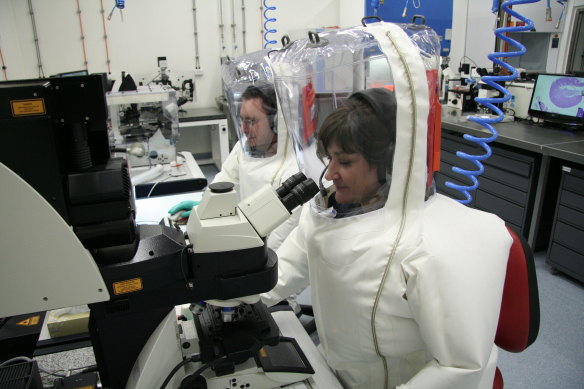 CSIRO scientists working in a secure area at CSIRO's Australian Animal Health Laboratory, a high-containment facility in Geelong.Credit:CSIRO / Supplied
Pandemic threats are increasing dramatically as the climate crisis and deforestation push humans and animals ever-closer together, while air travel allows a virus to quickly sweep the globe.
"Large scale viral outbreaks are increasing in frequency and severity," said Greg Williams, associate director of health and biosecurity at the CSIRO. "There will be another one."
The country must also continue to invest in on-shore manufacturing of vaccines, according to a new CSIRO report, Strengthening Australia's Pandemic Preparedness.
Australia still imports nearly all its vaccines. Even after Moderna's new Victorian vaccine plant opens in 2024, there will still be some vaccine types that cannot be made here.
"That can leave us vulnerable. Because we don't know which of these technologies will be needed for the next pandemic," said Williams, the report's co-author.
Scientists had been warning world governments about the risk of a coronavirus jumping from animals to humans for years before COVID-19 emerged – warnings that fell on deaf ears.
Between 1910 and 1970 there were four major infectious disease outbreaks. There have been five in the past decade alone, the report notes.
One of the five virus families highlighted by the report, Coronaviridae is responsible for the current COVID-19 pandemic. Five new coronaviruses have jumped into humans in the past 20 years.
Flaviviridae and Togaviridae viruses are often spread by mosquitoes, and include dengue fever, chikungunya fever, and Japanese encephalitis – which was detected for the first time in Australia this year, when it took five lives.
Orthomyxoviridae viruses include all the strains of influenza. But it is highly-lethal Paramyxoviridae viruses such as hendra that are perhaps our closest geographical threat.
Hendra was first spotted in 1994 after an outbreak in Brisbane. The virus spreads from flying foxes into horses and then into humans, and has so far killed four people.
The CSIRO discovered last year the virus had mutated and produced a new variant – known as hendra-2 – which has now taken up residence in grey and red flying foxes. The virus was also found in a horse near Newcastle last year, the furthest south it has been seen.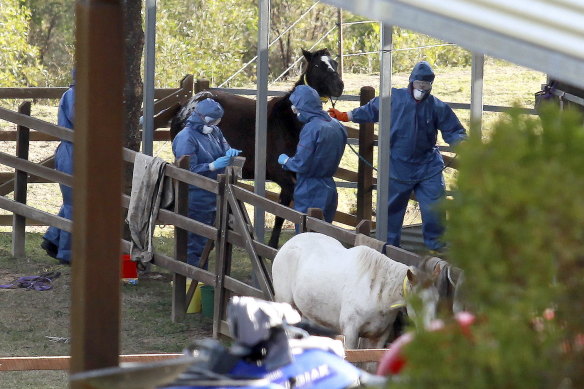 Biosecurity Queensland staff take samples from horses on a property in Mount Alford after a hendra detection in 2011.Credit:Michelle Smith
Antivirals such as Paxlovid can effectively treat people with COVID-19, but they took more than two years to be approved in Australia. The report argues that work to produce broad-spectrum antivirals for high-risk viruses must start now.
Research should also start on tools to test for a broad range of viral illnesses. A database of existing drugs that could possibly be repurposed as treatments should be set up, the report says.
A key theme running through the report is the need for better co-ordination between the state and federal governments. Britain, for example, was able to link several hospitals together to run huge and effective clinical trials.
"That's almost impossible in Australia," said Nobel laureate immunologist Professor Peter Doherty. Australia ran piecemeal trials that achieved little. "We need a much more national system."
The report was "excellent, necessary and certainly hits Australia's gaps," said Dr Katie Woolaston, a pandemic expert at the Queensland University of Technology. But in addition to improving the science, Australia needs to work on "deep prevention", she said – stopping wildlife trade, increased farming and the climate crisis, all of which are increasing the pandemic threat.
Minister for Science Ed Husic said the government would respond to the CSIRO report "in due course".
"We have already started this work, backing in Moderna's mRNA vaccine production facility in Melbourne. And we are committed to develop this capability further."
Liam Mannix's Examine newsletter explains and analyses science with a rigorous focus on the evidence. Sign up to get it each week.
Most Viewed in National
From our partners
Source: Read Full Article