Push to ban swimming pools makes waves in France
Paris: Their bright blue waters glitter enticingly in homes from the Cote d'Azur to Normandy.
But France, which has more private pools than any other country in Europe, was this week gripped by a debate on whether they should be banned after a summer of drought and water shortages.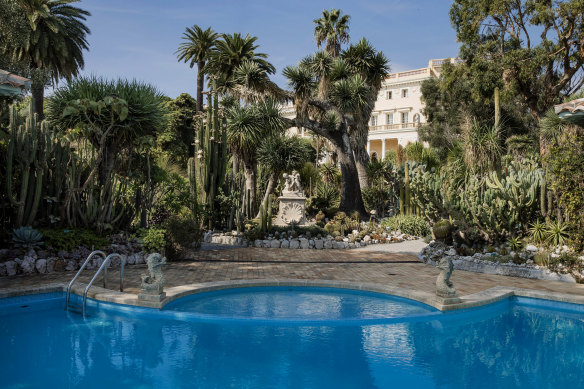 Tropical plants surround a swimming pool in the private gardens at the Villa Les Cedres, a 14-bedroom mansion in Saint-Jean-Cap-Ferrat, on the French Riveria.Credit:Bloomberg
"We need a huge adaptation plan," said Julien Bayou, leader of the French Greens party. "The climate has become a matter of national security."
"I wouldn't say no to banning [private pools]," he told BFM TV.
With more than 3 million pools nationwide, France is second in the world only to the US. The sector is booming with a further 230,000 in-ground pools expected to be built in the next two years, according to the French professional swimming pool federation.
The national champion is the town of Roquefort-les-Pins on the Riviera which has 2000 private pools for 3200 homes.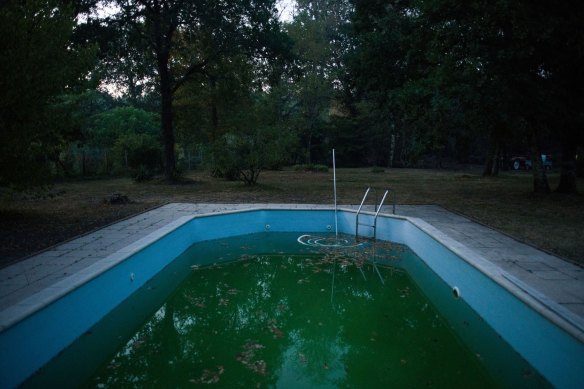 Water pumped from a property's swimming pool as farmers attempt to extinguish a fire next to homes in Hostens, Gironde, France, in July.Credit:Bloomberg
But as farmers were forced to let crops die in the heat, Christiane Lambert, president of FNSEA, France's biggest farming federation, said it was unfair to impose restrictions on watering their fields while people could -continue to freely splash in their pools.
"Isn't it more important to feed yourself than to have a swim or play golf?" she asked.
In other quarters Bayou's suggestion was denounced as an invasion of privacy.
Julien Odoul, a National Rally MP, complained on Twitter that "the fanatic Julien Bayou wants to deny the French the right to do as they see fit on their property".
Thomas Ménagé, his fellow RN MP, said it was wrong to see all swimming pools as "elitist".
"These are French people who don't go on holiday… because they don't have the means," he told France Inter.
Emmanuel Macron's Renaissance Party was only halfway in on the idea of a ban. MP Guillaume Kasbarian tweeted: "Yesterday planes, today swimming pools, tomorrow barbecues… at this rate the Greens will have to tell us what they will still allow."
Marlène Schiappa, social economy and solidarity minister, mocked the Greens by tweeting: "A solution to all things? Ban/tax, ban/tax…"
But Pascal Canfin, head of Renaissance's environmental commission at the European Parliament, said discussing a pool ban was "legitimate" and that it was "utopian" to think things could stay as they are.
It could become necessary to "ration, to limit this consumption for the very rich or this superficial consumption that doesn't correspond to essential needs", he said.
Bayou later back-pedalled to say a ban would only be a "last resort".
"What's at stake isn't a swimming pool ban, it's guaranteeing your vital water needs," he said.
The Telegraph, London
Most Viewed in World
From our partners
Source: Read Full Article