It's KISS' final tour, and they're not going quietly
This wrap of reviews for shows around Melbourne includes a KISS concert filled with explosions and spectacle, a play that twists and turns expectations on their head, and an MSO performance of two rare works inspired by the poetry of Lord Byron.
MUSIC
KISS ★★★★★
Rod Laver Arena, August 20
You don't have to be a KISS fan to have the time of your life at a KISS concert. It's as much a celebration of rock'n'roll itself as it is about the band. They pretty much tell you as much when Rock and Roll by Led Zeppelin blasts through the PA right before the iconic intro: "You wanted the best, you got the best – the hottest band in the world, KISS!" It's all filtered through the band's particular iconography, of course. The make-up, the explosions, the fireworks, the blood, the banter. But what it comes down to is the power of rock as catharsis, as role play and as spectacle.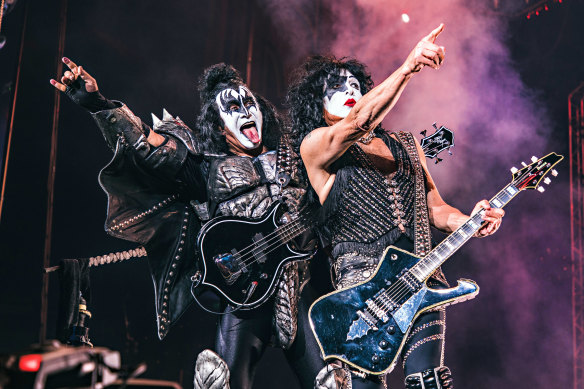 Gene Simmons and Paul Stanley of KISS perform live at Rod Laver Arena on Saturday.Credit:Rick Clifford
This was KISS' 20th Melbourne show since their first visit in 1980. Gene Simmons, just shy of his 73rd birthday, still breathes literal fire and dribbles stage blood. Paul Stanley jumps on a trapeze to fly over the audience. Tommy Thayer, playing the Spaceman role originated by Ace Frehley, shoots fireworks out of his guitar on cue, and drummer Eric Singer occupies the Cat role created by Peter Criss with finesse, riding his drum riser high into the air and later stepping up to a bedazzled piano to perform Criss' signature song Beth. These aren't spoilers; these are the things fans demand from a KISS show, and they're all not only present but cranked up to 2022 production standards.
Does Stanley still have that crystal-clear high range? Well, he does change the odd melody to avoid some of those screeches he hit when he was younger and his voice cracked a few times. But that's rock'n'roll, and at 70 years old he still puts on a more athletic performance than many musicians a third of his age. Time will tell if this really is KISS' final tour, but if it is, they're clearly not going quietly.
Reviewed by Peter Hodgson
THEATRE
Caught ★★★
Christopher Chen, Red Stitch Actors Theatre, until Sept 11
Caught brings us a slippery meditation on art and truth from one of America's brightest younger playwrights. One of its chief satisfactions lies in the way Christopher Chen develops an intricate, game-like structure that restlessly upends audience expectation. No spoilers, obviously. It wouldn't do to compromise the unsettling twists in this postmodern puzzle.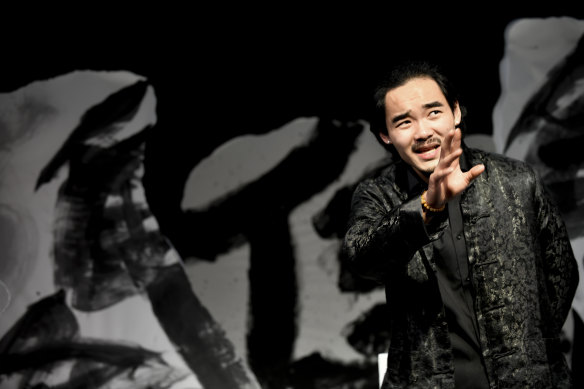 Louis Le performs in Caught at Red Stitch.Credit:Jodie Hutchinson
Reality ravels and unravels inside the world of international contemporary art. We begin with Chinese dissident artist Lin Bo (Louis Le) giving an address at a writers' festival. He has become a celebrity exile in the West after a New Yorker feature praising a career devoted to conceptual art (and resistance, especially over the Tiananmen Square massacre) that saw him targeted for detention by Chinese authorities in his homeland.
Lin Bo tells of striving to rescue genuinely subversive art in China. He describes the 798 Art District – a colossal precinct dedicated to contemporary art in Beijing – as a hall of mirrors co-opted by the state, its facade of rebellious political art finely calibrated to include only Mao-era criticisms that have received official sanction.
At the same time, Lin Bo's own story sounds too good to be true. A hint of self-interest, even artistic charlatanry plagues the scenario, and a Pinter-like interrogation follows with two white interlocutors (Jessica Clarke, David Whiteley) smelling scandal.
The play also gets turned on its head by the arrival of another artist, Wang Min (Jing-Xuan Chan), who's forced to endure a hilarious – if excruciating – interview with a vapid curator.
Disorientations take hold as the artists' lives collide and lines between truth and fiction, reality and performance start to fray.
Director Jean Tong wrestles the spiky intelligence of the script into a sharply realised philosophical comedy and although there are some slight lapses in polish, the performances are funnier and more provocative for being so poker-faced.
Shimmering between Western and Chinese spheres, Caught eerily pre-empts the post-truth era (it was written in 2014) and tries to deconstruct its effects on contemporary art. With scintillating wit and disconcerting powers of argument, it's an urgent, intellectually stimulating work that never loses the power to surprise.
Reviewed by Cameron Woodhead
MUSIC
Poetry in Music ★★★★½
Melbourne Symphony Orchestra, Hamer Hall, August 19
Two rarities inspired by the poetry of Lord Byron provided excellent opportunities for the Melbourne Symphony Orchestra to unleash an adrenaline-fuelled rush of hyper-romanticism under chief conductor Jaime Martin.
Based on Byron's Childe Harold's Pilgrimage, French composer Hector Berlioz wrote Harold in Italy in a response to a request from Italian violinist and composer Niccolo Paganini. Perhaps channelling the famous virtuoso, viola soloist Christopher Moore cast himself as something of a wandering minstrel, ascending the platform as the music started and playing his part from various vantage points on-stage, then finally from the choir gallery.
A natural performer, Moore projected a deliciously ripe, rounded tone throughout, sensitively responding to the music's various moods, particularly in the rapt devotion of the Pilgrims' March and the serenity of the Serenade. By contrast, the orchestra willingly let loose in the final Brigands' Orgy, delivering its shocking excesses with devil-may-care abandon and glorying in Berlioz's brilliant orchestration. Moore's effervescent account of Paganini's "Bagpipe" Caprice proved the perfect encore.
Tchaikovsky's Manfred Symphony summons up Byron's tortured anti-hero with an astonishing vehemence that only a fellow traveller could produce. While lacking big, memorable tunes, the symphony revealed a huge depth of feeling, not least in the magnificently bleak opening, then deftly counterpointed by the delicacy and charm of the inner movements.
In the finale, Martin opted for the relatively recent practice of replacing Tchaikovsky's closing pages with a repeat of the first-movement coda. Apart from giving the work an unrelentingly passionate finish (in contrast to the composer's envisaged quiet ending), this choice neatly sidestepped the issue of what to do with the original's blazing organ solo in a venue scandalously lacking an organ for well over a decade.
Martin and the MSO continue to impress with thrilling, visceral performances such as these. Audiences are doubtless looking forward to equally effective communication in subtler works.
Reviewed by Tony Way
A cultural guide to going out and loving your city. Sign up to our Culture Fix newsletter here.
Most Viewed in Culture
From our partners
Source: Read Full Article