It's one of the world's richest film prizes, but that's news to this contender
She's one of 11 directors in contention for the inaugural Bright Horizons prize at the Melbourne International Film Festival on Saturday night, but until she's asked how she feels about it French filmmaker Lola Quivoron has no idea there's $140,000 up for grabs.
"It's such a big prize, and a big surprise," the 33-year-old writer-director of the feminist motocross heist movie Rodeo says of the award. "I really concentrate on my work, meeting people to talk about the film, to create relationships. So for me, a prize is like a big bonus."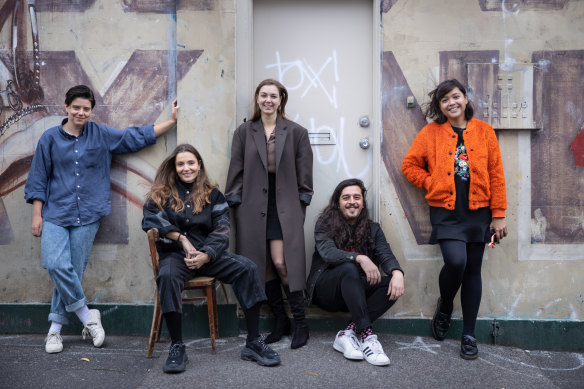 Directors Charlotte Wells, Lola Quivoron, Alena Lodkina, Ariel Escalante and Martika Ramirez Escobar.Credit:Simon Schluter
She pauses for a moment as the scale of it settles in. "Is it the first time really? Because it's huge.
"I should have thought about it more because my answer is so superficial," she adds, before veering into French philosopher mode. "But maybe I'm not superficial, because I'm not thinking about money."
Announced by former Victorian arts minister Danny Pearson and Melbourne International Film Festival artistic director Al Cossar in February, the MIFF Bright Horizons prize is open to first- and second-time filmmakers in the program. The government has committed to funding it for its first four years.
A second prize, The Australian Innovation Award, funded by Melbourne-based screen technology company Blackmagic, will bestow $70,000 upon an "outstanding Australian creative" involved in a film at MIFF.
The new prizes were designed to shine a light on the festival in its 70th year, and to hail its return as an in-person event after two years of virtual-only screenings.
As one of the four jurors who have set aside Friday to deliberate, cinematographer Adam Arkapaw (Animal Kingdom) knows how important awards can be to an emerging filmmaker.
"In a way the whole industry is based on hype, rightly or wrongly, and having an award goes a long way," he says. "I was a sucker for it when I was at film school, looking for the Cannes wreath or the AFI awards – I wanted to know what was considered outstanding by industry people."
Arkapaw and his fellow jurors – actor Shareena Clanton, interactive and documentary filmmaker Lynette Wallworth, and writer-director Mouly Surya – lunched with seven of the nominees on Thursday. And if the winner wasn't amongst them, Arkapaw will understand; by the time David Michod's Animal Kingdom was announced as the winner of the world cinema grand jury prize at Sundance in January 2010, everyone associated with the film had scarpered.
"David's pretty superstitious, and he said, 'If we stay here we won't win', so we all left," Arkapaw recalls. "And I've sort of taken that on board. I tend to avoid award ceremonies if I'm nominated for something."
He knows though that winning could make the world of difference to an early-stage filmmaker. "It could allow you to go away and write without worrying about bills, to option a book, to set up an office," he says. "There's all sorts of ways it could be spent to grow your career if you win it."
But local filmmaker Alena Lodkina isn't letting her mind wander to fantasies of how she could spend that loot if her second feature, Petrol, were to win.
"I can't even fathom what it would mean, I'm not even thinking about that," she says. "It's just an honour to be part of it."
Having moved from Sydney to Melbourne when she finished university, St Petersburg-born Lodkina holds MIFF close to her heart. "I've shown short films at the festival, I showed my first feature Strange Colours here, this is my fourth film at the festival, I've had a lot of friends' films screen here," she says.
"It's such an honour just to have our film here," she says. "On top of that, to be included in the competition, is very emotional."
The competition winners will be announced at MIFF's closing-night gala at the Forum on Saturday. There will be encore screenings of the winners on Sunday. Details: miff.com.au
Find out the next TV, streaming series and movies to add to your must-sees. Get The Watchlist delivered every Thursday.
Most Viewed in Culture
From our partners
Source: Read Full Article