Almond industry braces for $200 million hit amid beehive shortage
Key points
A shortage of beehives is looming over Victoria's horticulture sector, with the almond industry the first to feel the pain during pollination season. 
The almond industry is bracing for a $200 million economic hit due to the beehive shortage. 
The Victorian government will leave a ban on moving beehives and equipment from NSW into Victoria "for as long as necessary". 
Victoria is grappling with a serious beehive shortage that threatens to inflict a multimillion-dollar blow to the state's almond sector, the first horticulture industry to be affected during the crucial pollination season.
The season generally begins in August across warmer parts of Victoria, but has been hit by the detection of the varroa mite at the Port of Newcastle in NSW.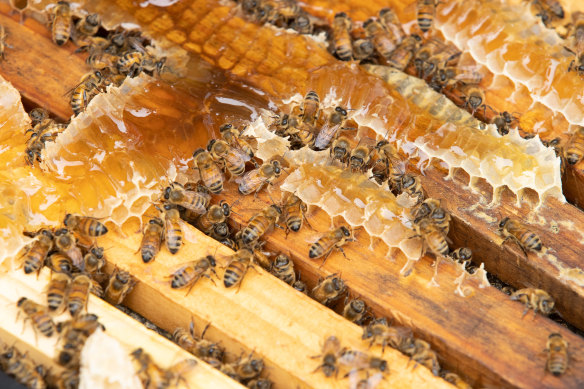 Victoria is facing a serious beehive shortage.Credit:Simon Schluter
Authorities have placed bans on the movement of bees and beekeeping equipment from NSW into Victoria to prevent the spread of the pest.
Local beekeepers are now bracing for heavy financial losses, with some unable to retrieve hives from NSW.
The hive shortage will soon affect other crops, including apples, pears, stone fruits, cherries and canola, when their pollination seasons begin.
Almond Board of Australia chief executive Tim Jackson said Victoria's almond industry had been on track to deliver $600 million in value, but the sector was about 70,000 hives short of the 150,000 it required.
He said the beehive shortage combined with wet weather meant production could take a $200 million hit this year.
"It's been an unmitigated mess," he said.
Australia had been one of the few countries that was free of the varroa mite – a tiny parasite that attack European honey bees, crippling their wings and eventually killing entire colonies.
Victoria is Australia's largest producer of almonds, with an export value of $454 million in 2019-20, according to state government figures.
Commercial beekeeper Lindsay Callaway. Credit:Justin McManus
But Jackson said the hive shortage could soon hit other crops.
"The restriction of beehive movements will have an impact on other industries as the season unfolds," he said.
It had previously been common for beekeepers to distribute hives to growers on either side of the Victoria-NSW border.
Commercial beekeeper Lindsay Callaway, who is based in Maldon, northwest of Melbourne, said he had about 500 beehives stranded in NSW.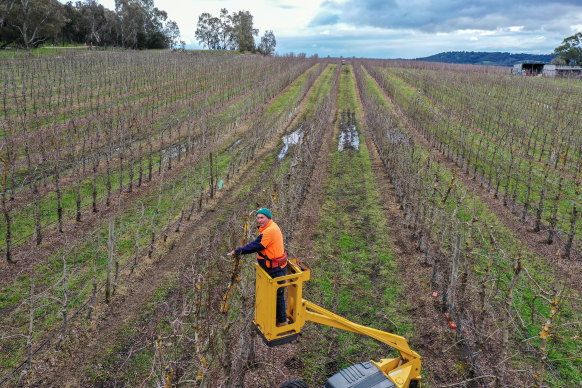 Apple grower Mark Wood at his Harcourt orchard, where he will soon have beehives for pollination. Credit:Justin McManus
He estimated his business would lose about $250,000 due to the outbreak interstate, including $75,000 in lost contracts to the almond industry.
"The varroa mite is putting the industry under a fair bit of stress," he said. "There's a lot of heartache."
Callaway said the restrictions on movement posed a bigger challenge than the pandemic lockdowns over the past two years, when beekeepers were allowed to continue travelling interstate.
"COVID was a practice run. This is harder," he said.
More than 4000 hives have been destroyed in NSW since the mite was detected in June. It has now been identified at almost 100 sites across the state.
Callaway said beekeepers would need extensive management plans, which may include chemicals, to manage the varroa mite if it became established across Australia.
"It's sad to think this could be the end of an era for beekeeping in Australia."
Paul Thompson, chief executive of publicly listed almond grower Select Harvests, said he was aware of growers who previously had up to six hives per hectare, but were now down to two.
"Fortunately, we're not in that situation," he said.
Melbourne beekeeper Rob Kerr.Credit:Simon Schluter
Thompson said it was unclear how his company's Victorian operation would be affected.
A Victorian government spokeswoman said strict measures had been introduced to protect the state's agriculture and beekeeping sectors from the varroa mite, which could cause losses of up to $295 million a year for pollination-reliant industries.
"Movement controls to protect Victoria will remain in place for as long as necessary to protect against the threat of varroa mite entry into Victoria," she said.
Harcourt apple grower Mark Wood said pollination was essential to a successful harvest and he planned to hire 35 hives this year.
"Pollination is one of the key factors to getting a good start to the year," he said.
Pollination on apple farms generally starts in October. Wood said he had been assured by his beekeeper that he would have enough hives.
Melbourne beekeeper Rob Kerr said varroa mite also threatened suburban beekeepers because of the work and time required to prevent the pest from destroying hives.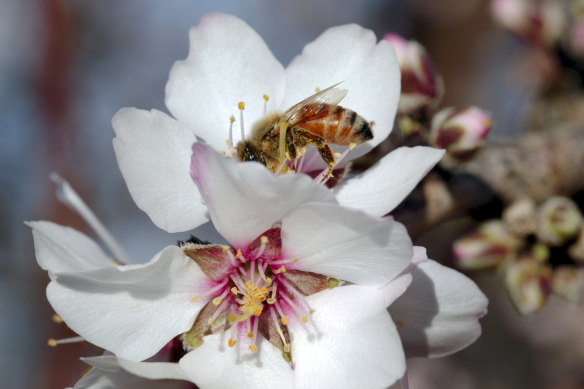 Almond crops are heavily reliant on bees for pollination. Credit:Erin Jonasson
"The burden on an average backyard beekeeper is quite a lot larger because the treatment requirements are so much more complex," he said.
Kerr said he had heard of instances in Europe where varroa mite outbreaks resulted in beekeeping clubs disbanding.
"The whole beekeeping structure can be at risk."
Get to the heart of what's happening with climate change and the environment. Our fortnightly Environment newsletter brings you the news, the issues and the solutions. Sign up here.
Most Viewed in National
From our partners
Source: Read Full Article