Education crisis calls for comprehensive plan
For most students, the problem would be obvious enough. While schools have returned to face-to-face learning this year, the ongoing pandemic is causing enormous disruption in the classroom. It is a testament to the dedication and commitment of teachers, principals and administrative staff that the vast majority of schools have managed to carry on despite the continuing waves of COVID-19 infections and a severe season of the flu and various other winter viruses.
But that determination to keep schools running is only going to go so far. There are some fundamental problems in the education sector that were surfacing even before the pandemic struck. The past 2½ years have changed them from a problem needing attention into a crisis.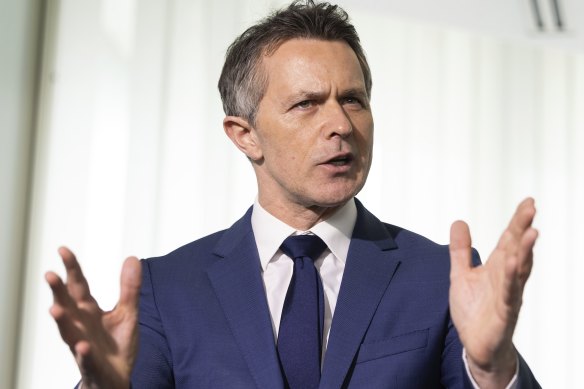 Federal Education Minister Jason Clare speaking in Canberra, after hosting a teacher workforce conference.Credit:Alex Ellinghausen
As revealed in a recent report by the federal Education Department, if something is not done to improve the situation, Australia faces a shortage of more than 4000 secondary school teachers by 2025. That is not some far-off date that can be fixed gradually over time. This is a here-and-now problem.
And to make matters worse, the school population is forecast to grow by more than 10 per cent by 2031, while enrolments in university teaching courses have slumped, falling 8 per cent between 2017 and 2020. Graduation rates for teachers sit at just 50 per cent compared to 70 per cent for university students for other degrees.
With teachers reporting feeling overworked, underpaid, struggling with poor behaviour of students and burdened by administrative tasks, it should not be surprising that the federal government is expecting more than 50,000 teachers to permanently leave the profession between 2020 and 2025, including almost 5000 teachers aged between 25 and 29.
This is the dire state of play facing the federal Education Minister Jason Clare, who on Friday met with his state and territory counterparts, teachers, principals and representatives from the unions and independent and Catholic school groups in a bid to tackle the predicament. It was not before time.
The states are largely responsible for primary and secondary schools. Victoria and New South Wales have introduced measures to lift the number of teachers entering and staying in the system, but it's clearly not enough. With the university sector controlled by the federal government, any far-reaching solutions are going to require a whole of government and education sector response.
Paid internships, study incentives, shorter courses and increases in salaries are just some of the measures proposed by the federal minister to help end the crisis. In Victoria, the Andrews government has a targeted financial incentive scheme for hard-to-fill positions and in New South Wales there are measures to promote the benefits of teaching, poach teachers from overseas and identify regional students suitable for the profession while they are still in high school.
More is needed. Education department secretaries will begin work on a national plan, to be presented to ministers at a meeting in December. There is no easy remedy. Fixing the teacher shortage cannot just be a numbers game or an issue of financial rewards and incentives. Those who front our classrooms need to be well-trained, motivated and competent.
The stay-at-home orders during the pandemic were an unprecedented challenge for students, teachers and parents. Schools may give the appearance of having returned to some normality, but that is far from true. Teachers are the backbone of an education system that largely shapes and determines what career many of us pursue. It is critical that this latest effort to tackle the shortage of teachers is done in a comprehensive and far-sighted away. The future of every child depends on it.
Gay Alcorn sends an exclusive newsletter to subscribers each week. Sign up to receive her Note from the Editor.
Most Viewed in National
From our partners
Source: Read Full Article