Man jailed over fatal bashing in BMW robbery
A man who attacked a father of three, bound his hands and left him to die in the dirt near a Melbourne primary school has been jailed for almost a decade.
Christopher McEachran didn't know Michael Mammone, but formed a plan with a woman to lure him out on a winter's night in 2020 and steal his silver BMW.
Michael Mammone was bashed and died in Cranbourne in 2020.Credit:Victoria Police
McEachran knew the woman wanted to sell Mammone's car for drug money and told her he would "scare" him into handing over the keys and would take a "toy", which Supreme Court judge Elizabeth Hollingworth found was a reference to a weapon.
The woman sent Facebook messages to Mammone and met the 47-year-old in a car park near Rangebank Primary School in Cranbourne about 1am on June 26, 2020. She asked him to help her look for drugs she had dropped.
When Mammone got out of his car, McEachran emerged from a hiding spot with a knife, demanded the keys and repeatedly punched the other man in the head. Once Mammone appeared unconscious, McEachran bound the victim's hands together with cable ties and left him.
McEachran and the woman, who cannot be named, stole the BMW. McEachran told the woman: "He's not going to get up any time soon or in a hurry."
When the woman asked if Mammone was dead, McEachran said: "No, he'll be alright."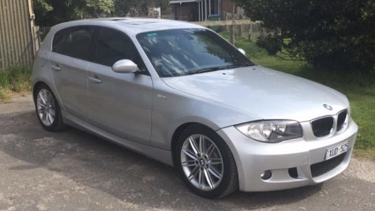 Michael Mammone's silver BMW.Credit:Victoria Police
Mammone's body was discovered about 7am that day and his car was found nearby.
He had suffered a laceration to the skull, bruising of the face and abrasions across his body, Hollingworth said on Tuesday, but authorities were unable to determine a cause of death because Mammone had ice and cannabis in his system and had prior heart problems.
The woman went to police about a month later and was later jailed for armed robbery. McEachran was initially charged with murder, but this year pleaded guilty to manslaughter and armed robbery.
Hollingworth jailed him for nine years and nine months. With two years served since his arrest, the 44-year-old will be in prison for another five years before he is eligible for parole.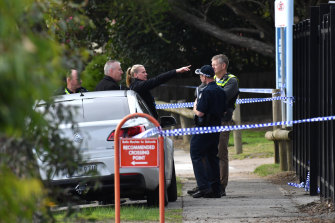 Police investigate outside Rangebank Primary School in June 2020.Credit:Joe Armao
The judge said: "Mr Mammone was lured to a remote location in the middle of the night by someone he knew and trusted. Having been tricked into getting out of his car, he was confronted by two offenders who were intent on taking his car.
"He was unarmed and did nothing to start the violence that you [McEachran] inflicted on him. Despite Mr Mammone's resistance, you overpowered him and knocked him to the ground."
Mammone was a grandfather and a father of three daughters, the court heard. Hollingworth said his family "are heartbroken that they will not be able to share the rest of their lives with him".
McEachran had a disadvantaged childhood, with a violent father, used drugs and alcohol from his teens, left school early and had no work history, the court heard.
He has previous jail time for violent assaults, and Hollingworth said his rehabilitative prospects were poor because he had no family support other than contact with his teenage daughter and former partner.
The Morning Edition newsletter is our guide to the day's most important and interesting stories, analysis and insights. Sign up here.
Most Viewed in National
From our partners
Source: Read Full Article