As good as it gets – don't miss this five-star stunner
ALBION
Reginald Theatre, July 29
Until August 13
This is the real deal: the magic that makes us keep returning to the theatre. Here's so much truth, beauty, humanity, comedy, drama and even tragedy that it fills stage and overflows into the hearts of the audience. Here are unabashedly big ideas and bigger characters, moulded by a master playwright who relishes their egocentricity, lies and bitterness as much as their humour, compassion and capacity for love.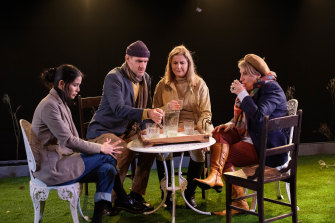 Rhiann Marquez, Charles Mayer, Joanna Briant and Deborah Jones are part of a cast of unrivalled quality.Credit:Clare Hawley
Mike Bartlett's Albion, which premiered in London in 2017, is one of the great plays of our time, and not only is it done full justice by this outstanding co-production between Secret House, New Ghosts and Seymour Centre, its cast of 11 has seldom been matched for quality in this town. Lucy Clements' direction is more than assured, it is inspired, so three hours fly by with only lapses of projection from the actors and a growing discomfort in one's posterior to mark the time.
Albion tells of Audrey (brilliantly played by Joanna Briant), a self-made businesswoman who turns her back on her shops to chase a wildly idealised vision of the past in the form of a country manor and its once-revered formal gardens. She clings to this quintessential vision of England – as variously evoked by Blake and Elgar – because it might offer some sliver of justification for the death of her son fighting in the British Army in Afghanistan.
But dreams can only come true when they lie in the future, not when they attempt to recreate an ephemeral past, and so Audrey finds herself thwarted at every turn, even as she negatively impacts the lives of almost all around her.
The play would not work were Briant not a potent force on the stage, occupying every inch of Audrey's drive, wilfulness, blindness, optimism, desperation and skewed good intentions as the world spins about her. Audrey could be seen as the very embodiment of conservatism, although that would idly politicise a play in which the waters run infinitely deeper than mere ideologies, and Briant ensures we see all her many facets.
She ensures we like some and are fascinated by others, and therefore follow her mad crusade as she shreds the lives of family, friends, neighbours and those she likes to call "staff": a classist perspective on maids and gardeners she can rationalise as everyone knowing their place and purpose.
Charles Mayer offers a winning performance as Paul, her cushion-like husband, who is so infinitely obliging as to be able to say (without a trace of irony), "My life has had no purpose, and I've been unbelievably happy." He is also fully alert to the fact that trying to stop Audrey is like "trying to stop the weather".
As exceptional as everyone is, special mention must be made of Mark Langham's deeply affecting portrayal of Matthew the gardener, who is older and wiser than Audrey to begin, and older and suffering from dementia by the end.
Rhiaan Marquez is a star in the making as Zara, Audrey's daughter, and Deborah Jones is both formidable and entertaining as Katherine, Audrey's writer friend. But then Claudette Clarke, Emma Wright, Jane Angharad, James Smithers, Alec Ebert and Ash Matthew are equally good, as is the restrained enchantment created by a design team led by Monique Langford.
Bartlett's work is knowingly part of a lineage that includes The Tempest, The Cherry Orchard and Arcadia, and it would be no surprise were it to enjoy comparable longevity. You might bury yourself in the garden if you miss this.
A cultural guide to going out and loving your city. Sign up to our Culture Fix newsletter here.
Most Viewed in Culture
From our partners
Source: Read Full Article