Victoria's Secret Doc Reveals Company's Inner "Demons"
From Fyre Fraud to Controlling Britney Spears, Hulu has practically cornered the market on shocking pop culture exposés, and Victoria's Secret: Angels and Demons is no exception. Directed by Matt Tyrnauer (Studio 54, Valentino: The Last Emperor), the three-part series charts the company's rise, fall, and reinvention after various scandals plagued the once-coveted lingerie brand.
Focusing on former Victoria's Secret CEO Les Wexner, Angels and Demons explores the billionaire's relationship with sex offender Jeffrey Epstein. The series also claims that misogyny within the company's highest ranks molded its culture. These sentiments were mirrored in shareholder lawsuits against certain former L Brands executives, which have now been settled with no admission of wrongdoing.
Here are eight surprising details from Angels and Demons:
Some Employees Described Victoria's Secret as Cult-like
"People used to say that working at Victoria's Secret was a cult," said Cindy Fedus-Fields, the former CEO of the Victoria's Secret Catalog. Annual company-wide meetings resembled megachurch services; When Wexner spoke, his image was projected onto billboard-sized screens as thousands of cheering employees looked on. "There was this tremendous adoration," said Fedus-Fields, "The founder, the leader of us all was speaking."
Wexner Invented Fast Fashion
Wexner founded his first clothing store, The Limited, in 1963. By the 1970s, The Limited became a national chain with over 100 stores across the United States. Wexner further expanded his business by acquiring brands like Victoria's Secret, Abercrombie & Fitch, and Lane Bryant. Wexner's stores dominated the American shopping mall (remember those?).
To get customers hooked, Wexner made sure his stores had inventory that was constantly revolving. In order to keep up with demand, L Brands began outsourcing manufacturing to low-wage factories in China—a practice that's now considered commonplace for many popular retailers.
Victoria's Secret Was Once Considered a Graveyard for Models

Tyra Banks, Heidi Klum, and Gisele Bündchen became household names thanks to Victoria's Secret, but posing for the brand wasn't always lucrative. In fact, the company originally struggled to find models. "If you were a Victoria's Secret contract girl, that meant your high fashion days were over… it was basically where models went to die," said the brand's former Casting Director, James Scully.
This all changed in the '90s, when supermodel Stephanie Seymour appeared in the Victoria's Secret Catalog. Eventually, some of the biggest names in fashion. People like Naomi Campbell, Claudia Schiffer, and Karen Mulder were lining up to model Victoria's Secret lingerie.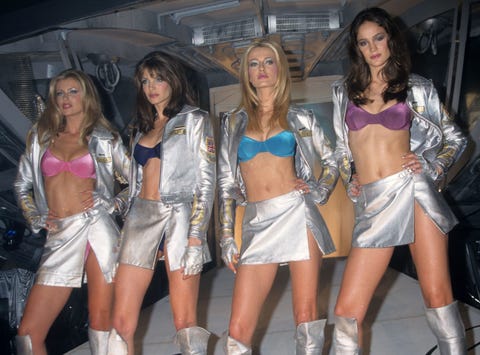 By the 2000s, working for Victoria's Secret was a lifelong goal for many aspiring models. 'Angel' contracts were worth millions and castings for the company's annual fashion show grew increasingly competitive.
Some of Epstein's Greatest Assets Previously Belonged to Wexner
In 1989, Wexner bought the biggest private home in Manhattan for $13.2 million. Wexner reportedly never moved in. Epstein moved into the townhouse in the mid '90s, but he technically didn't own the property until years later, when ownership was transferred to Epstein through a series of complicated corporate transactions.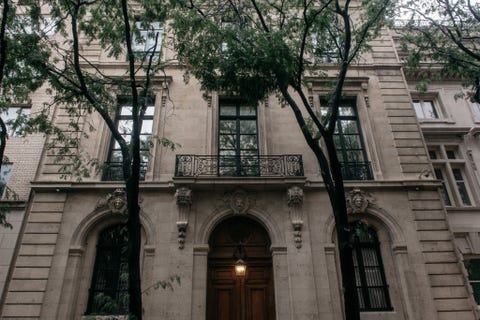 Located at 9 East 71st Street, many high-profile guests visited Epstein at the mansion. It was later described as Epstein's "house of horrors," as he was accused of sexually abusing minors in the home.
According to the docuseries, Epstein also purchased his Boeing 727 from Wexner's The Limited. Epstein later used the jet, which tabloids dubbed Epstein's "Lolita Express," to traffick underage girls between his homes in Palm Beach, New Mexico, and his private island, Little St. James.
Epstein Allegedly Posed as a Victoria's Secret Model Scout
Epstein reportedly used his ties to the lingerie brand to prey on women. Model and actress Alicia Arden says she was sexually assaulted by Epstein in 1997. Arden claims that he lured her to a Los Angeles hotel with the premise of hiring her to model for the Victoria's Secret Catalog. After the incident, Arden filed a sexual battery report with the police, but Epstein was never charged. Wexner claims that he had no knowledge of Epstein's conduct.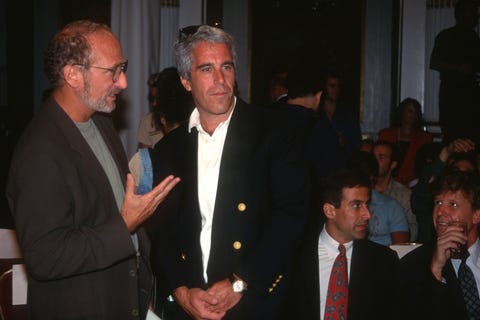 Ed Razek, a Top Executive at L Brands, Once Worked With Harvey Weinstein
In 2000, Razek, who was the Chief Marketing Officer for L Brands, collaborated with Weinstein to produce the Victoria's Secret Fashion Show in Cannes, France. The now-disgraced film mogul sexually assaulted women since at least the 1970s, per the New York Times.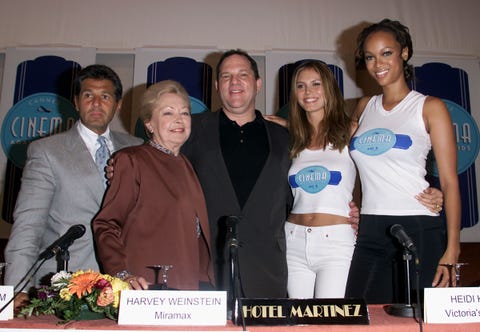 Razek left L Brands in 2019. A year later, the New York Times accused him of sexually harassing models and bullying employees when he worked at the company.
Razek rebuffed these allegations in a statement to the New York Times: "The accusations in this reporting are categorically untrue, misconstrued or taken out of context."
Shareholders eventually sued certain former L Brands executives for enabling a hostile work environment, naming Wexner and Razek in their complaints. In 2021, these lawsuits were settled without any admission of wrongdoing. As part of the settlement, L Brands committed $90 million to inclusion measures and to revamping its sexual harassment policies.
Playmates Inspired the Victoria's Secret Model Aesthetic
In one meeting, Fedus-Fields said that Wexner showed her a copy of Playboy: "He wanted to make the point that the models had perfect bodies, and no freckles or moles."
Victoria's Secret eventually faced backlash for its promotion of unrealistic beauty standards, which the company is attempting to distance itself from today.
Wexner Made More Money After Distancing Himself from L Brands
When Epstein was arrested in 2019, his controversial relationship with Wexner created a media firestorm. The following year, after the New York Times claimed that Victoria's Secret harbored a culture of misogyny, Wexner stepped down as CEO of L Brands.
Despite these scandals, Wexner maintains his billionaire status. After selling millions of L Brands shares in 2021, he added $2 billion to his fortune.
In a 2019 statement, Wexner denied having knowledge of Epstein's crimes, and said that he had cut ties with Epstein over a decade ago in 2007: "I would not have continued to work with any individual capable of such egregious, sickening behavior as has been reported about him," Wexner said.
Today, Victoria's Secret is changing its image. The company nixed its famous fashion show in 2019. (However, in a 2021 Victoria's Secret investor call, CEO Martin Waters implied that the company was considering getting back into the fashion show business, but no official plans have been announced.) And its Angel spokesmodels are a thing of the past. They've been replaced with the VS Collective: a board of diverse women who will assist in advising the brand's new direction. The group includes soccer player Megan Rapinoe, actress Priyanka Chopra, and model Paloma Elesser.
"When the world was changing, we were too slow to respond," Martin Waters, the current Chief Executive Officer of Victoria's Secret, told the New York Times. "We needed to stop being about what men want and to be about what women want."
Wexner, Razek, and Victoria's Secret did not respond to requests for comment.
Victoria's Secret: Angels and Demons is streaming on Hulu now.
Source: Read Full Article