She 'couldn't go into an ivory tower'
CATHERINE MURIEL JAMES BASSETT February 15, 1931-May 14, 2022
Cath James Bassett was the second child of leading Melbourne doctor Vera Scantlebury Brown, who served as a surgeon in World War I and between 1926-1946 developed Victoria's universal maternal and child health service.
Her father was Edward Byam Brown, associate professor of electrical engineering at the University of Melbourne. Her older brother Edward was born in 1928. Cath's adored mother advised her that life as a woman doctor was never an easy one and that she should consider the newly developing profession of social work. Dr Scantlebury Brown believed strongly in the need for professional social workers and was a colleague of the charismatic first head of the University of Melbourne's social work course, Jocelyn Hyslop.
Although her mother died in 1946 when Cath was just 15, she took her mother's advice to heart. Cath was brought up with the Scantlebury Brown family values; that everyone deserved an equal chance, that there was good in all people and that working with others was a collaborative effort with all parties contributing. As a child, she also learnt about being a woman with a profession. In 2010, she recalled what it was like growing up with a mother dedicated to a career. "You get a picture from a professional home. As a child, I travelled back and forth as my parents dropped each other off at work. There was a tight integration between work and home and the personal and the professional at a time when many women put away their books when they got married."
Cath completed an arts degree and a diploma of social studies at the University of Melbourne in 1955. Professional social work was in its establishment phase and when Cath began her social work studies the course had only been taught at the University of Melbourne since 1940 and student numbers were very small.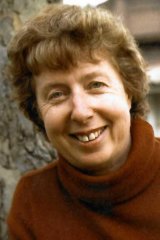 Cath Bassett.
She began her career by working with the Citizen's Welfare Service where Dr Len Tierney, a life-long mentor for Cath, was director and would later become a leader in the development of social work education and practice at the university. In 1961, she took up her second position at St Vincent's Hospital. For the eight years between 1955 and 1963, she also taught classes in the university's social work program and began a lifelong commitment to linking the theory and practice of social work so that each informed the other.
She invited social workers to teach in her courses and contributed actively to their work as practitioners. Australian universities offered master's level study in social work for the first time in the 1970s and Cath immediately undertook a master's by research. She looked to social workers in the field so that she would research a topic that would provide them with useful practices supported by researched theory.
Cath's research and writing took her overseas to England in 1978 and to the University of Connecticut in the US in 1984 to examine the practice of social work in health settings. From her overseas studies and the professional contacts she nurtured, Cath recognised the benefits Australian social workers would gain from experiencing social work as it was practised across the globe. Throughout her long teaching career at the University of Melbourne, she also established programs to strengthen the profession and provide professional development for practitioners through:
Inaugurating the creation of international social work exchange programs with the Beth Israel Hospital in Boston and the Mount Sinai Medical Centre in New York.
Being part of a small international planning team that developed the 1st International Conference in Social Work in Health and Mental Health in 1995, the latest being in 2019 at the University of York in England.
Her early research into HIV and AIDS and the role of the social worker researching the status of social workers in Victoria, particularly in rural hospitals, and initiating a case-mix research group with colleague Helen Cleak. In the 1980s and 1990s, Cath led social work conferences on topics such as case-mix funding, discharge planning, and elder abuse and organised visits from Professor Helen Rehr, of the Mount Sinai Medical Centre, to teach Australian social workers.
Contributing academic input to the Health Social Work Directors' Group of the Australian Association of Social Workers between 1982 and 2002.
Cath was a self-effacing person who worked quietly behind the scenes providing opportunities for others. Underneath her slightly flustered exterior, there was always a steely resolve to nurture her beloved profession of social work. The significance of her contribution was recognised in 1999 when she was honoured with a life membership of the Australian Association of Social Workers.
After her retirement and marriage to physicist Dr Ian Bassett, Cath moved to Sydney. The door to their house in Wollstonecraft was always open and an effusive welcome guaranteed. Cath was a warm, kind and generous person and a loyal friend to many. She loved a long chat, a good wine and a lamb roast. Cath was pre-deceased by her son Antony Brockenshire in 1985 and is survived by one son Edward Brockenshire, five grandchildren, three great grandchildren and six stepchildren.
Doctors Heather Sheard and Jane Miller were Cath Bassett's colleagues.
Most Viewed in National
From our partners
Source: Read Full Article