Facebook whistleblower Frances Haugen headlines Festival of Dangerous Ideas
Social media's terrifying ambitions, the joy of random tattoos from a stranger, and bestiality are all on a diverse menu for this year's Festival of Dangerous Ideas.
Held at Carriageworks, it's the 11th iteration of the two-day event and will be held in person for the first time in two years.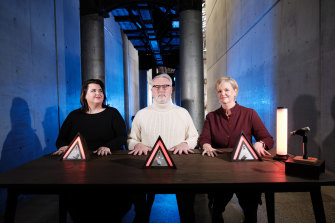 FODI director Danielle Harvey (left), with co-curators Simon Longstaff and Ann Mossop.Credit:Oscar Colman
"To have the opportunity to get people together, to allow them to follow their curiosity and present people from across Australia and across the world live to them actually feels incredibly dangerous," says director Danielle Harvey.
"We're trying to provide a place for people to come together and listen to ideas, some that they won't agree with and some that they might agree with but just to listen and be curious about the world we live in."
Headlining the event, presented by the Ethics Centre, will be US data engineer Frances Haugen, who last year released tens of thousands of internal documents from Facebook, demonstrating how the social media behemoth repeatedly puts profit before public welfare.
Haugen testified to the US Congress that Facebook's lack of oversight had caused "more division, more harm, more lies, more threats and more combat".
"In some cases, this dangerous online talk has led to actual violence that harms and even kills people," she continued.
Sharing the bill with Haugen will be controversial linguist and social psychologist Steven Pinker. Twice a finalist for the Pulitzer Prize, Pinker regularly raises the ire of liberal intellectuals with his views on free will and rationality.
And British historian Joanna Bourke, author of Loving Animals: On Bestiality, Zoophilia and Post-Human Love, will present a session entitled, "The Last Taboo", that will ask, "what does loving animals mean?"
"Joanna is an amazing communicator but she's also someone not afraid of touching those really spiky human things from history," Harvey says.
Alongside the talks there will be an arts program including a "game show" that invites a volunteer to hook up to a polygraph and be quizzed by strangers, as well as a "live-action installation" called Whole Glory, conceived by US tattoo artist Scott Campbell, whose customers have included Courtney Love and Sting.
Campbell will invite visitors to stick their arm through a hole in a wall for him to tattoo with the design of his choice.
"You don't get to ask him what you want," says Harvey. "He doesn't talk to you. He doesn't even look at you."
Will she do it?
"I'd be up for it," she says. "What an amazing story to tell."
The Festival of Dangerous Ideas runs September 17-18.
A cultural guide to going out and loving your city. Sign up to our Culture Fix newsletter here.
Most Viewed in Culture
From our partners
Source: Read Full Article