"Proud Dad" Machine Gun Kelly Celebrates Daughter Casie's 13th Birthday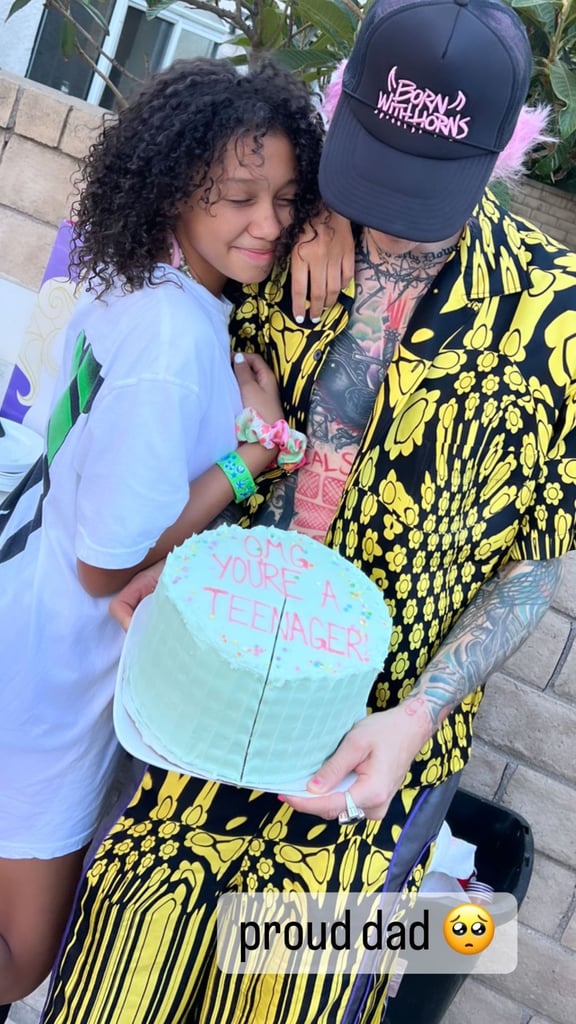 Machine Gun Kelly celebrated his 13-year-old daughter Casie Colson Baker's birthday on July 24 with a few sweet Instagram Stories. "You're officially a teenager today. Happy 13th birthday my love," he wrote alongside a photo of his daughter. In another post, he shared a picture of his daughter, himself, and a lime-green cake that reads, "OMG YOU'RE A TEENAGER 🎂❤️." He wrote on that image: "proud dad 🥺." The third photo appears to be a screenshot of a FaceTime session with his daughter, with MGK on one end and a pink cake reading, "happiest 13th birthday Casie," on the other.
MGK has posted about his daughter a lot recently. On July 11, he shared a carousel of photos starting with a picture of him and Casie wearing matching striped orange hats, along with the caption, "'dump' is a funny word." And on July 7, he shared a video of himself, his daughter, and a few other people rapping JAY-Z's verse in "Crazy in Love," captioned simply, "parenting."
Baker recently appeared in "Life in Pink," a documentary about MGK's life that premiered on June 28. In it, she shared some of her thoughts about her dad's career, his relationship with Megan Fox, his struggles with depression and past traumas, and more.
Source: Read Full Article