Accused Perth kidnapper was not on any court orders, Premier says
West Australian Premier Mark McGowan says the man accused of kidnapping and indecently dealing with a nine-year-old girl in Doubleview was not on any bail or parole orders when he was arrested.
Ashley James Bropho, 39, appeared in court on Wednesday after his arrest the day before. Police found him not long after he allegedly took the girl, who is not known to him, from a nearby park.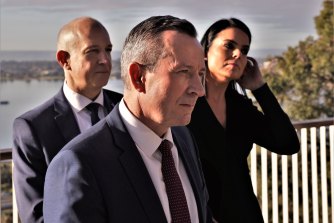 Mark McGowan has said his thoughts go out to the young girl and her family after such a horrific ordeal. Credit:Hamish Hastie
McGowan said it had been "shocking" to hear about the incident, and that the focus would now be on providing support to the young girl and her family.
"Obviously what has occurred is very, very distressing and all of our thoughts go to the victim and her family," he said.
"There are matters now before the courts, which makes it difficult for me to comment upon these issues because I do not want to, in any way, prejudice any criminal matters that might be brought against any individual.
"I am advised that the accused person was not subject to any orders, parole, bail, justice orders, there was no orders against that person."
He said there was no link between the disability support he accessed and the alleged kidnapping, when questioned whether Bropho's carer should have been present.
"There was some disability support provided to him but that was not related to the justice system, so they were not 24 hours a day," he said.
"Under the NDIS, I understand there was only a certain number of hours allocated to this individual each day, and I don't know within those hours, what the exact arrangement was."
Bropho has been remanded in custody while a home detention report is prepared and will reappear in court on July 27.
His defence lawyer Elliott Tilbury on Wednesday tried to argue Bropho's name should be suppressed, due a family link later revealed to be Terence Kelly – Bropho's step-brother – who was arrested for kidnapping Cleo Smith from a Carnarvon campground.
He said because the two cases were similar, releasing Bropho's name could prejudice any future trial, but Magistrate Peter Malone said this was not a valid reason to grant a suppression order.
Kelly and Bropho were both raised by Aboriginal elder Penny Walker, who was Bropho's grandmother, and who took Kelly in at two years old because his mother "did not want him".
Walker, who has since died, told a parliamentary inquiry in 2014 that she was Bropho's full-time carer.
"For the last 26, 27 years that I have had Ashley, he is 31 years old now, I never had a break," she said.
"I never had a nervous breakdown because I am so calm and I manage and I am 24/7 with him."
Follow WAtoday on Instagram, LinkedIn, Facebook and Twitter for handpicked selections of the day's biggest local, national and international news.
Most Viewed in National
From our partners
Source: Read Full Article